Nonna Pia's Gourmet Sauces
Nonna Pia's Gourmet Sauces Ltd. (Nonna Pia's) creates a line of superior quality balsamic reductions.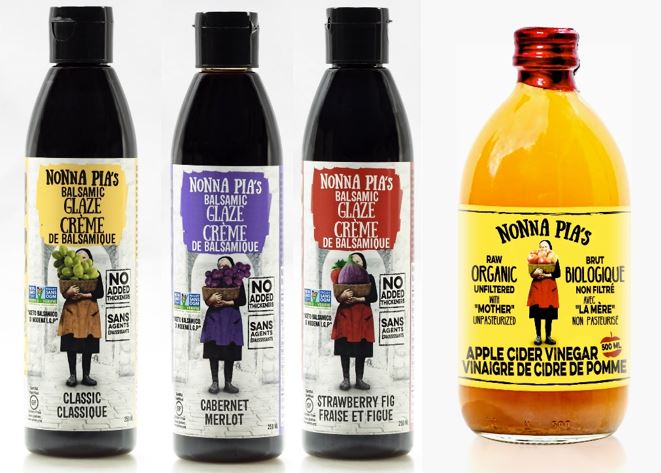 As balsamic vinegar ages, it becomes more robust, concentrated and viscous, with a sweeter flavour profile. Nonna Pia's Balsamic Reductions are designed to emulate the flavour and texture of aged balsamic vinegar, without bearing the significant costs, and without using thickening agents, artificial flavours or colours.
The company's Balsamic Reductions are made with 100% balsamic vinegar sourced from Modena, Italy, which is slow cooked for 12 hours while being infused with fresh fruit and herbs. Nonna Pia's offers a variety of Balsamic Reduction products for export, in flavours including: Classic; Strawberry Fig; Cabernet Merlot; Chili Lime; Garlic and Pink Grapefruit a white Balsamic Reduction. All products are non-GMO and gluten-free certified, are low in sodium and contain no fat. Our reductions are an incredibly versatile condiment and we continue to attract customers who are looking for clean, robust flavours.
Nonna Pia's was established in 2010 in Whistler. Owned by Norm and Natasha Strim, the company was named after Norm's mother Pia, or "Nonna" as she is known by her grandchildren. With the assistance of their children, they began making their balsamic reductions at home and selling them at local farmer's markets. After a few years of growth, an appearance on Canada's venture capital reality show Dragon's Den landed them an investment and launched them to the international stage. The company is committed to sustainability, having made a concerted effort to reducing shipping material waste, sourcing local ingredients and using 100% recyclable packaging.