Golden BonBon
Asti Holdings Ltd. (Asti) is a producer of artisanal, gourmet Italian nougat candies that are loved around the world.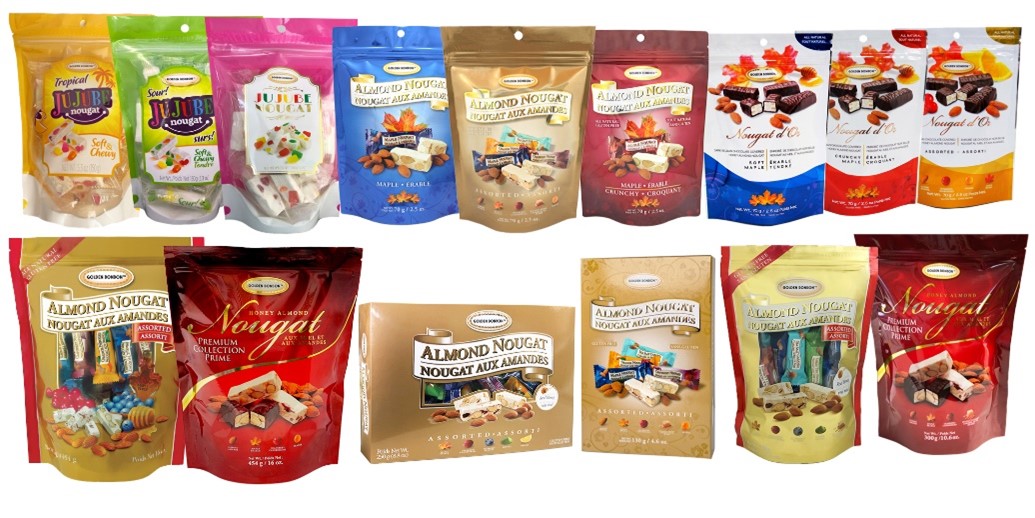 Asti is the only company in Canada that specializes in this premium confectionary, which they market under their Golden Bonbon brand. The candy is available in a classic bar shape or as individually wrapped bite sized pieces, and is known to be very fragrant and not overly sweet. Traditionally this has been a seasonal item, but by packing it in bite-sized pieces and using high-quality B.C. ingredients, Asti has created year round demand for their products. Golden Bonbon nougat comes in a variety of flavours, including: maple; cranberry; blueberry; coffee; green tea; and cashew. The company also offers a line of Nougat D'Or products that are coated in 55% dark belgian chocolate. A Hazard Analysis and Critical Control Points (HACCP) system is used to ensure product safety, and Asti is currently working towards Safe Quality Food (SQF) and British Retail Consortium (BRC) certification.
Following a time-honoured tradition, the products are largely hand-made and contain only the freshest ingredients. Toasted almonds, which form up to half of the product's weight, are combined with honey, sugar, corn syrup and egg whites at high temperatures in traditional confectioner's copper bowls. Following a unique cooking process, no artificial flavouring, colouring or preservatives are used, and the resulting nougat is all natural, cholesterol and trans fat free, and is certified kosher and halal.
Asti's Golden Bonbon line is the living heritage of three generations of the Mazzucco family. Originating from Asti, a small city in northern Italy renowned for its nougat, the company relocated to Vancouver in 1991. Keeping sustainability in mind, Asti uses an internal recycling program and sources ingredients from small producers.