Nana's Kitchen
Nana's Kitchen produce convenient comfort foods inspired by the culture, caring and kitchen memories of grandmothers all over the globe.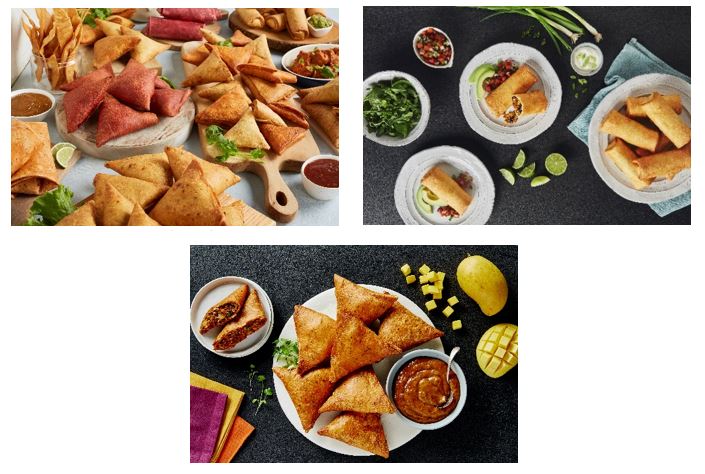 The company offers a wide range of ready-to-eat savoury foods, inspired by the food from "your Nana's Kitchen", including: handmade samosas, available in flavours such as Vegetable, Butter Chicken, Chicken Tandoori, Chicken, Beef, Lentil, Cajun, Pakoras, and Savory Sauces that include Butter Chicken paste, Mango Date Sauce, and Tamarind Sauce. The Mexi food line includes Chicken Chimichangas, Burritos and our Southwest Samosa. Nana's Kitchen now also offers individually wrapped samosas in four flavours: Vegetable, Chicken Tandoori, Butter Chicken, and our new clean label Vegetarian samosa. The package is microwave, oven and freezer safe.
With humble origins serving family-style ethnic meals out of a small restaurant in Burnaby, Nana's Kitchen was established in 2000 in Surrey by founders Nasim and Shelina, to keep up with the ever-growing takeout orders for their pastry items. Nasim retired in 2019 with Shelina and Nawaz now having ownership.
The company's mission is to create "Convenient Comfort Foods with a Global Taste". Fueled by a strong vision to produce to the highest standards, Nana's Kitchen made a passionate commitment to Hazard Analysis and Critical Control Points (HACCP) certification and opened their state-of the art, Canadian Food Inspection Agency (CFIA) inspected facility which received British Retail Consortium's (BRC) Global Standard for Food Safety. The company keeps sustainability in mind by preferring to source from local suppliers.