COVID-19 vaccines for children 5 to 11

Vaccines for children are safe and effective against COVID-19.
English | 繁體中文 | 简体中文 | Français | ਪੰਜਾਬੀ | فارسی | Tagalog | 한국어 | Español​​ | عربى | Tiếng Việt | 日本語 | हिंदी
Last updated: December 29, 2021
Get your child's first dose
---
Vaccine safety and eligibility
Health Canada has approved the Pfizer-BioNTech Comirnaty mRNA vaccine for children ages 5 to 11. All COVID-19 vaccines for adults and children follow the same review and approval process.
Like all COVID-19 vaccines in Canada, vaccines for children are free, safe and effective. When you get your child vaccinated, you protect them from severe illness from COVID-19 and reduce the spread of infection in your community.
Dosage of the Pfizer mRNA child vaccine
The Pfizer mRNA vaccine for children uses a smaller dosage of the same vaccine used for youth and adults.
Children need a smaller dose of the vaccine to get the same protection from COVID-19.
If your child turns 12 in 2022, it's your choice to wait and have them vaccinated with the full dosage for youth and adults.
Eligibility is based on birth date
Eligibility is based on your child's birth date. They must be 5 years of age or older to get vaccinated.
Eligibility examples
A child's birth date is September 13, 2016. They are eligible now.
A child's birth date is July 2, 2017. They are eligible on July 2, 2022.
---
Consent is required for every child
Give consent at the vaccine appointment
Consent is required for children ages 5 to 11 to get a COVID-19 vaccine.
Consent for a child can be provided by a:
Parent, legal guardian or foster parent
Custodial caregiver like a grandparent or relative
Only 1 parent, legal guardian or foster parent is required to give consent. You'll be asked to provide consent at the clinic location.
I have questions about parental consent
---
Register your child for dose 1
Registering your child is easy. It's the same registration system you used to get vaccinated.
Fastest option: Online
To register online, you must provide:
Child's first and last name
Child's date of birth
Postal code of child's primary residence
Child's Personal Health Number (PHN)
An email address that gets checked regularly or

a phone number that can receive text messages
Other registration and booking options
You can register in-person at all Service BC offices.
Office hours vary by location. Check before you go.
Every child can get vaccinated, even if they don't have a PHN or other documentation.
It doesn't matter if your child is a Canadian citizen or not. All information will be kept private and will never be shared with other agencies or parts of government.
---
Book the best appointment for your child
After you register, you'll get invited to book an appointment. Booking online or by phone is easy, convenient and guarantees your vaccination at the clinic. Health authorities are operating child-friendly clinics, with extended hours after school and in the evenings.
You can bring your child to get vaccinated when you get your booster dose. You must both have an appointment.
Clinic options
When you book a vaccination online, you have a choice of clinic. Vaccines for children are not available at pharmacies.
| 5 to 11 (family) clinic | 12+ clinic | All-ages clinic |
| --- | --- | --- |
| For children ages 5 to 11 and their caregivers | | |
If you have multiple children, they each need an appointment
You can take more than 1 child to get vaccinated at once. They each need to have their own appointment for the same day and same clinic, but the appointments don't need to be at the same time. You can arrive at the clinic at any of the appointment times you booked, and all family members will be vaccinated at the same time.
For example, if you have 2 children that you would like to get vaccinated after school on December 16:
Book 1 appointment for 3:30 pm on December 16
Book another appointment at any available time at the same clinic on December 16
Take both children to the appointment at 3:30 pm
---
What you can expect at your child's appointment
Expect to be at the clinic with your child for 30 to 60 minutes in total.
Arrive prepared
Get your child ready for their appointment:
Talk to your child before you arrive about getting the vaccine
Bring their ID and booking confirmation
They need to wear a short-sleeved shirt and you both need to wear a mask
They don't need to fast. Drinking water is encouraged
Getting the shot
We want you and your child to feel comfortable:
A nurse or health practitioner will greet you and your child. You can both ask questions
During the shot, use distractions like puzzles, videos or talking
The shot only takes a few seconds to administer. It will pinch or poke a bit
After the shot, wait in an observation area for about 15 minutes
After the vaccine appointment
Just like adults and youth, your child may experience side effects after getting the vaccine.
Common symptoms at the injection site
Less common side effects 1 to 2 days after the vaccination

Swollen lymph nodes in armpit
Headache
Fever and chills
Muscle or joint soreness
---
Timing of dose 2
To get the most effective protection against serious cases of COVID-19, your child needs two doses of vaccine. The second dose will be offered 8 weeks or more after the first dose.
You will get an invitation by text, email or phone call to book your child's second dose appointment. Like the first appointment, you'll select a location, date and time.
---
Materials for children
Talking to your child about COVID-19 and getting vaccinated is important.
Full colour comic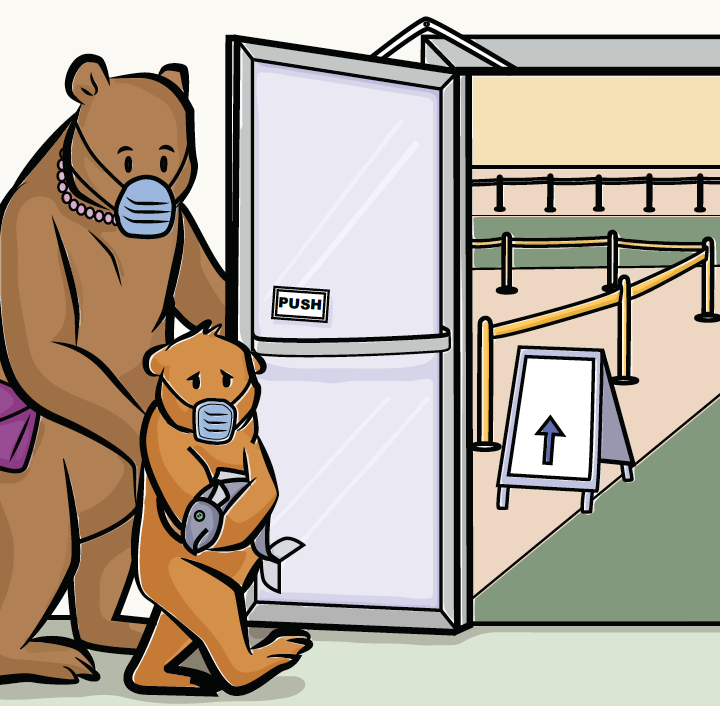 You can read the Vaccine Superhero comic with your child before their appointment.
Colour-in comic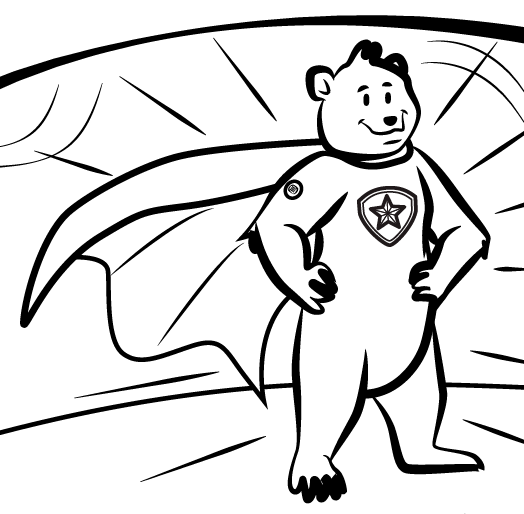 You can print and colour in this comic with your child before their appointment.
Colour-in crest
Your child can colour their own superhero crest for getting vaccinated.
---
Children do not need to show proof of vaccination
Children under 12 do not need to show proof of vaccination to:
---
I need help
We recommend you talk to your doctor or pharmacist. They can answer questions about the vaccine.
You can also call HealthLink BC to speak to a nurse.
Call: 8-1-1 | Seven days a week, 24 hours a day, translators are available
Telephone for the Deaf: Dial 711
Video Relay Services (VRS) provides sign language interpretation free for registered deaf, hard of hearing or speech-impaired people.