1960s to 1990s: Emergence of attendance programs
Attendance programs started in the 1960s as corrections initiatives through regional and local offices. They were directed at youth who required more control than what was provided through regular probation supervision. Youth were committed to these programs as a condition of probation. They ranged from daily attendance (e.g. after school), to week-end residential and full-time residential programs.
Some attendance programs included:
Prince Rupert Attendance Program: For eight boys, aged 14 to 16, it featured group discussion, recreation, individual counseling, and outdoor camping trips. The boys were required to attend five evenings a week, with a camp-out every other week-end.
Port Alberni Attendance Program: For juvenile boys, attendance was required four nights per week and two week-ends per month. The objective was to develop more constructive use of leisure time. Group counseling, recreation and outward bound techniques were stressed. Community service projects were undertaken for senior citizens and other community groups.
DARE (Detention and Recreation Extension): This Vancouver program operated daily with the objective of reducing acting-out behaviour by involving youth in physical activity and work experiences. It targeted youth who required more intensive counselling than was available from their social worker or probation officer. Funded by Corrections and the Department of Human Resources.
Other examples of attendance programs were:
Search and Leadership Training Program (SALT), an outward bound based program philosophy
Marpole Probation Hostel (opened 1965), for those youth requiring a condition of residence as part of their probation order
Metchosin Ranch (1969) outside of Victoria
House of Concord
Choin Ranch (a group home/probation resource developed as an alternative to sending juveniles to Brannan Lake Industrial School)
Camp Trapping
Coastline Challenges
PLEA homes
Youth Futures
Joss Mountain Wilderness Project
There was a strong emphasis in B.C. on alternatives to custody programs.
Carpentry Attendance Program (1973-74)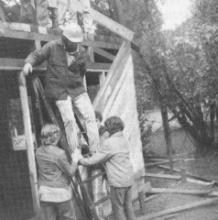 Porteau Cove Attendance Program (1973-74)
SALT training obstacle course
SALT training obstacle course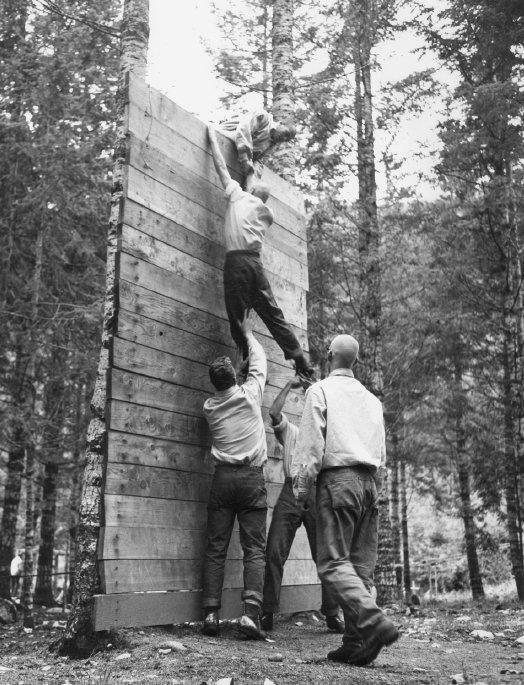 SALT training in rock climbing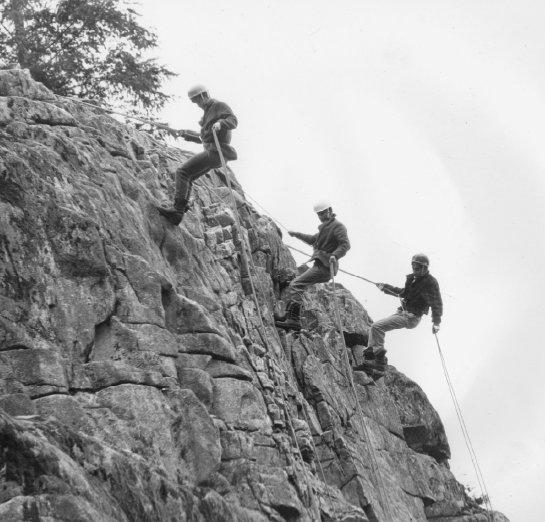 Young Offender learning the ropes as a wrangler
Juvenile assist instructor in a Choin Ranch corral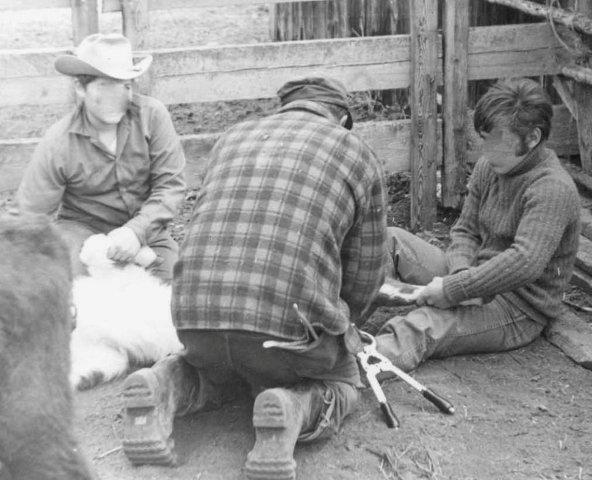 Marpole Probation Hostel (eventually this building became Marpole Community Correctional Centre for adult offenders)