Capital Project Grants
In 2017/18 the Community Gaming Grants program distributed nearly $5 million to capital projects with a total cost of more than $20,000 undertaken by eligible not-for-profit organizations. The application intake period is now closed.
Program information for the 2018/19 intake will be published following a review of the 2017/18 pilot year.
2017/18 Capital Project Grant Recipients
Applications were accepted from not-for-profit organizations undertaking capital projects across B.C. that will provide significant benefit to their communities.
Read the Dec. 20, 2017 news release announcing the 2017/18 recipients of Capital Project Grants. A complete list of 2017/18 recipients is also published.
Overview
of eligibility criteria for 2017/18
Organization Eligibility

Not-for-profit organizations providing programs or services of direct benefit to the broader community.

Project
Eligibility
Viable capital projects that are primarily for community benefit and are accessible to the public will be considered in three categories:

Facilities: construction, renovation or maintenance of facilities.
Community Infrastructure:

public amenities such as docks, parks or playgrounds

.
Acquisitions: the purchase of fixed capital assets for long-term use, including vehicles and equipment.

Financial Eligibility
Applicants must have matching funds.
Grant Amount
Up to $250,000 per project,

for up to 50 per cent of total project costs.



A maximum of one Capital Project Grant will be awarded per project. Successful applicants are ineligible to re-apply for additional funding for the same project in subsequent years.
Application
One application per organization per year.

An organization may apply for both a Capital Project Grant and a Community Gaming Grant/PAC & DPAC Grant in the same year.
Application Period
Apply from Aug 1 to Sept 30, 2017
Final notification*: Dec 31, 2017

*Final notification date is the latest date that applicants will be notified about the result of their application.
Processing Fee
None
Processing Time
Applicants will be notified by the appropriate final notification date (see above).
Capital Project Grants Webinar
The Community Gaming Grants Branch hosted a live webinar to provide information on the new Capital Project Grants Sector. Thank you to everyone across the province who took the time to join us virtually. The application intake period is now closed for 2017.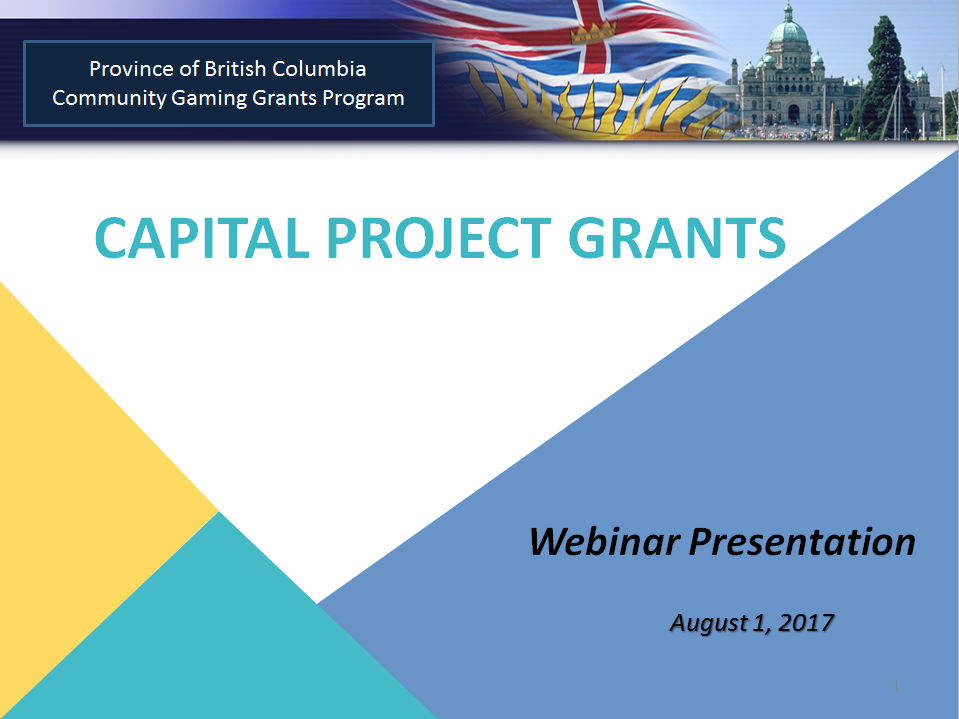 Resources
Additional information, documents, and forms related to the Capital Project Grants Sector are available in this section. Click below to see more information about these resources. Click "expand all" if you want to see all of the information or if you want to print this page.
Contact Us
To inquire about Capital Project Grant applications, please use the email and phone contact information below.