PharmaCare Newsletter
Search the PharmaCare Newsletters
On this page: Guidance on infant formula shortage - June 17, 2022 | Special release - June 13, 2022 | Special release - June 10, 2022 | Newsletter edition 22-006 June 7, 2022 | Previous newsletters
---
Special release - June 17, 2022
Guidance for B.C. pharmacies during specialized infant formula shortage
To conserve hypoallergenic infant formula during the global shortage, the BC Ministry of Health issues this guidance for pharmacies for its sale and distribution:
Keep specialized formulas behind the counter – amino acid-based (AAF) and extensively hydrolyzed formulas (EHF)
Sell specialized formulas in limited quantities – 7-10 day supply. Use judgement if clients face barriers getting to a pharmacy. For example, sell in larger quantities to people in remote communities
Sell specialized formulas only to families with clear medical need. See decision tree
Consider purchase limits on regular formula. The shortage could put pressure on regular formula supply
Post notices indicating that specialized formula is behind the counter and being carefully distributed
This decision tree helps providers guide families to choose the best formula for each family:
These measures are to conserve supply. No formula supply issues exist currently in B.C. More stock of both specialized formula types have been routed to B.C.
See the ministry's information bulletin B.C. takes steps to protect supply of specialized infant formulas.
Background on formula shortage
Due to a global shortage of infant formulas for infants with food allergies and certain medical conditions, Canada is experiencing an acute shortage of:
Extensively hydrolyzed formula (EHF) for moderate food allergies, and
Amino acid formulas (AAF) for complex or severe food allergies
To mitigate shortages, Health Canada has implemented an interim policy allowing the temporary importation and sale of foreign-labelled product.
The BC Ministry of Health is working with Health Canada to address concerns about supply.
Health Canada:
Expects the shortage of hypoallergic formula to last until the fall
Is monitoring for equitable distribution of the limited supply across the country
May allocate supplies to be used in emergency situations
Is importing product from countries with similar manufacturing practices and standards
The temporary shortage was caused by Abbott's interim closure of its formula manufacturing plant in Michigan, and voluntary recall of certain formulas produced there. The facility reopened on June 4; however, production was halted again this week due to local storms and flooding. As production resumes, specialized infant formulas will gradually become more available in the coming months.
We will share further information as soon as possible.
---
Resources
For healthcare providers:
For patients:

Special release - June 13, 2022
In transition: COVID-19 antiviral support line for clinicians
June 24, 2022 will be the last active date for the COVID-19 antiviral support line for clinicians. The support line is staffed by pharmacists and assists with questions related to prescribing and dispensing Paxlovid.
Monday to Friday, 8:30 am to 4:30 pm (until June 24, 2022)
Starting June 27, 2022, questions about prescribing and dispensing Paxlovid should be directed to the Ministry of Health's phone line:
Monday to Friday, 8:30 am to 4:30 pm (starting June 27, 2022)
1-844-915-5005
---
New Paxlovid™ assessment fee and increase to follow-up fee
As of June 13, 2022, pharmacists dispensing nirmatrelvir/ritonavir (Paxlovid™) can claim a temporary $30 clinical assessment fee (PAX-A) in addition to the standard dispensing fee. Also on June 13, 2022, the Paxlovid follow-up fee (PAX-F) will increase from $15 to $25.
Paxlovid Assessment fee (PAX-A)
The new fee takes into account Paxlovid's complexity, the potential for drug-drug interactions (DDIs), and the extra time needed for clinical assessments. B.C. dispensing data to June 5, 2022 indicates that more than 30% of dispenses in B.C. have a DDI management plan, and more than 12% require renal dose adjustments.
Claims for the temporary $30 PAX-A fee (PIN: 66128340) must be submitted on the same day as the Paxlovid claim, from the same pharmacy.
The PAX-A fee can be claimed following an assessment of the Paxlovid prescription. This must include a DDI check with two independent sources, even if no drug therapy problem is identified.
If a pharmacist determines it is inappropriate or unsafe to dispense Paxlovid to a patient with a valid prescription, they may claim a refusal to fill fee, but not the PAX-A fee.
The end date of the temporary fee will be announced in a future PharmaCare Newsletter.
Required activities
Assess the Paxlovid prescription for completeness and appropriateness
Include *DDI* or *Renal* in the SIG field for the Paxlovid dispense, as needed
Communicate with the prescriber as needed to resolve drug therapy problems, including any DDIs and recommended management plans
Keep records as usual.
Submit the PAX-A claim the same day as the Paxlovid claim using
PIN 66128340
*Only one fee can be claimed per treatment course
---
Procedure
Enter the PAX-A PIN 66128340 in the DIN/PIN field
If necessary, enter $0 for drug cost, mark-up and fee
Enter 1 in the QTY field
In the PRACT ID Ref field, enter P1 – College of Pharmacists of BC
In the PRACT ID field, enter your College ID
At start of SIG, enter the 10-digit phone number of the pharmacy where the service took place
---
Paxlovid follow-up fee (PAX-F) increase
As of June 13, 2022, the PAX-F fee (PIN: 66128313) will increase from $15 to $25.
Follow-up should be conducted with the patient or caregiver 6 to 10 days after dispensing Paxlovid.
---
To date:
Pharmacists have followed up on approximately 64% of eligible Paxlovid dispenses
Of those follow-ups:

More than half (54%) of patients experienced at least 1 ADE
Over 2,700 ADEs have been identified, with 76% classified as Mild
89% of patients completed all 5 days of therapy
Reminder
Like other prescription drugs, Paxlovid must be dispensed in accordance with the College of Pharmacists of BC's Community Standards of Practice. When dispensing Paxlovid, pharmacists should ensure they have the knowledge, skills and abilities to do so. Review the prescription for completeness and appropriateness, and review the patient's PharmaNet profile for drug therapy problems, therapeutic duplications and any other potential problems.

Special release - June 10, 2022
Shortage of infant formula
The temporary closure of a large U.S. manufacturing plant has affected global imports of infant formula, especially hypoallergenic formula. There are two types of hypoallergenic infant formula:
Extensively hydrolyzed formula (EHF) for babies with moderate food allergies
Amino acid formulas (AAF) for babies with complex or severe food allergies
To mitigate shortages, Canada has implemented an interim policy. Despite the interim policy, there remains very limited incoming supply of both EHF and AAF to Canada. Shortages are expected to last until mid-June and to affect community/retail supply.
Pharmacists are encouraged to refer families with questions to Health Canada's Information for families during the shortage of formula for infants with food allergies.
The Ministry will continue to monitor the situation and may provide additional guidance in the near future.

Edition 22-006: June 7, 2022 (PDF)
In this issue:

Manual payments
COVID-19 vaccination—weekend premium
As in PharmaCare Newsletter 21-012, PharmaCare added a $4.00 premium to the COVID-19 vaccination administration fee, for vaccines administered on weekends only from December 11, 2021 to March 27, 2022. (Note: "weekend" refers to Saturday, Sundays and provincial statutory holidays.) PharmaCare has assessed the eligibility of the COVID-19 vaccine claims administered on weekends and has calculated the lump-sum payment to the eligible pharmacies for these claims.
Payments for eligible weekend premiums will be included in the weekly payment on June 13, 2022. These payments will appear on the Pharmacy Remittance Advice Form under the Adjustment Code "7–Manual Payment."
Rapid antigen tests—April 2022 payment
As in PharmaCare Newsletter 22-004, effective April 11, 2022, pharmacies would be paid $75.00 per case distributed of the Rapid Response® COVID-19 antigen test (RAT) kit.
PharmaCare has calculated the total monthly fees owed to each pharmacy at the rate of $75.00 per case recorded with PIN 66128325. The April 2022 payment will be included in the weekly payment on June 20, 2022. The payment will appear on the Pharmacy Remittance Advice Form under the Adjustment Code "7–Manual Payment."
Pharmacies are encouraged to order more RAT kits to maintain sufficient stock levels.
---
Temporary coverage for Nicorette lozenges in short supply
Nicorette lozenges RX 2 mg and 4 mg (NPNs 80053099 and 80053100), packaged for BC PharmaCare nicotine replacement therapies, are in short supply.
The over-the-counter (OTC) products (same NPNs) will be temporarily covered as eligible smoking cessation products until the RX versions are available. The OTC products aren't experiencing any supply challenges.
---
Tixagevimab/cilgavimab (Evusheld™) for prevention of COVID-19
Tixagevimab/cilgavimab (Evusheld™) is a long-acting monoclonal antibody, approved by Health Canada for prevention of COVID-19 in immunocompromised individuals.
On May 25, 2022, the BC Centre for Disease Control (BCCDC) released the Clinical Practice Guide for the use of Evusheld™ (PDF, 285KB). Given the lack of evidence demonstrating clear benefit and potential risk of cardiac serious adverse events, Evusheld is not routinely recommended to all immunocompromised patients.
If used on a case-by-case basis, Evusheld should only be prescribed after careful consideration of theoretical benefit and risk and limited to patients who are:
Severely immunocompromised (categorized as Clinically Extremely Vulnerable Group 1), AND
Who have no known cardiovascular disease, AND
Who have additional risk factors or exceptional circumstances that correlate with an extremely high risk of poor outcomes from COVID-19.
Currently, Evusheld is dispensed through the provincial Product Distribution Centre only.
Note: Evusheld is not used to treat COVID-19 infection.
See BCCDC documents for further details:
---
Advance notice: elbasvir-grazoprevir (Zepatier®) delisting
PharmaCare will delist elbasvir-grazoprevir (Zepatier®) 50 mg/100 mg tablet on August 1, 2022, because of the manufacturer's decision to remove it from market.
In April 2022, Merck Canada Inc. announced it was ceasing the sale of Zepatier, after evaluating clinical use and the availability of alternative therapies. The decision was not related to any quality or safety issues, the company stated.
Zepatier was listed as a limited coverage drug on March 1, 2017, as part of a coverage expansion of direct-acting antivirals for chronic hepatitis C (CHC).
Zepatier can still be sold—and will still be covered by PharmaCare—until July 31, 2022, by which the manufacturer estimates remaining inventory will be depleted.
The Adults with Chronic Hepatitis C information sheet (PDF, 129KB) will be updated on August 1, to reflect Zepatier's new non-benefit status.
---
---
Dispensing EDRDs and billing
Pharmacy billing overview
Expensive drugs for rare diseases (EDRDs) in B.C. are considered PharmaCare non-benefits (i.e., not eligible for PharmaCare coverage or by Special Authority request). However, in exceptional cases, coverage may be requested by a treating physician through the EDRD process. Requests are assessed for approval on a case-by-case, last resort basis. Under the EDRD process, the Ministry of Health (the Ministry) is the payer of last resort.
At this time, only Trikafta® is billed through PharmaNet. Payments for all other EDRDs are coordinated with the Provincial Health Services Authority (PHSA) Provincial Specialized Programs (PSP), as outlined below.
Pharmacy billing procedures for EDRD patients
Trikafta patients with no third-party coverage
Claims for patients on Trikafta who do not require coordination of benefits (i.e., those who are fully funded through the Ministry) can be billed directly through PharmaNet.
---
Trikafta patients with partial third-party coverage
Common partial third-party coverage may include patients with a copay, an annual maximum and/or a lifetime maximum. At this time, pharmacy software does not permit PharmaCare to be designated as the secondary payer when adjudicating claims.
To process Trikafta claims for patients with partial third-party coverage:
The pharmacy must set up an account with PHSA for manual invoicing. Email PSP@phsa.ca with the subject "Trikafta: New Pharmacy Account".

If your pharmacy already has an account set up with PHSA for billing of other EDRD drugs, follow the usual process.
Trikafta claims must be adjudicated:

through PharmaCare as the first payer, noting that you will receive a "DIN/Drug is a non-benefit" message, and
the patient's third-party plan as the second payer.

The remaining co-pay, after third-party reimbursement, must be manually invoiced to PHSA PSP at monthly intervals.
For patients with third-party annual or lifetime maximums, inform PSP@PHSA.ca once this maximum has been reached.
---
Claims for all other EDRD therapies
(non-Trikafta patients)
If applicable, the patient's third-party plan must be billed first. Any remaining copay must be invoiced to PHSA.
If your pharmacy already has an account set up with PHSA for billing of other EDRD drugs, follow the usual process.
If your pharmacy does not have an account with PHSA, email PSP@phsa.ca with the subject "EDRD: New Pharmacy Account".
Refill process
Patients who obtain medications funded through the EDRD program must contact their respective pharmacies for a medication refill:
The routine shipping of drugs (or automatic dispensing) to patients is not permitted.
Requesting refills is the responsibility of the patient.

Patients are advised to provide enough time for the pharmacy to order medication refills (recommended 2 weeks notice)
Frequency of dispensing
The Ministry requires pharmacies to dispense EDRD medications in quantities of 30 days or less.
In some circumstances, the dispensing pharmacy and/or patient may request from the Ministry an alternate dispensation interval on a temporary or permanent basis.

Email PSP@phsa.ca in the event a patient needs to exceed this maximum. Requests will be reviewed on a case-by-case basis.
---
Reminders
COVID-19 single-entry claims: don't enter PIN or DIN
Pharmacists are reminded not to submit COVID-19 vaccination claims in PharmaNet under the PIN or DIN. Such claims may be subject to recovery and pharmacies may be contacted to reverse the claims.
As of April 1, 2022, pharmacies only need to record COVID-19 vaccinations once ("single entry"), in the ImmsBC application. The entered information will automatically be transmitted to PharmaNet.

---
Regular benefits
Effective May 31, 2022, propylthiouracil (Halycil™) is covered as a PharmaCare regular benefit:
Drug name
propylthiouracil (

Halycil

™

)
Date effective

May 31, 2022

Indication

Indicated

for

:




•

The medical management of hyperthyroidism




•

In conjunction with radioiodine to hasten recovery while awaiting the effects of radiation




•

For the control of thyrotoxicosis prior to surgery




•

In the management of a thyroid storm in addition to other therapeutic measures

DIN

02521059

Strength and form

50 mg tablet
Covered under plans

Fair PharmaCare, B, C, F, W
Effective May 31, Entuzity™ is listed as a regular benefit:
Drug name

biosynthetic human insulin (Entuzity™

KwikPen®

)

Date effective

May 31, 2022

Indication
diabetes mellitus
DIN

02466864

Strength and form

500 U/mL pre-filled vial
Covered under plans

Fair PharmaCare, B, C, F, W, P
---
Limited coverage benefits
As of May 17, 2022, limited coverage benefits has expanded to include the following product:
Drug name

trientine (MAR-trientine)

Date effective

May 17, 2022

Indication

Wilson's disease

DIN
02504855

Strength and form

250 mg capsule
Covered under plans

Fair PharmaCare, B, C, F, W
---
Non-benefits
As of May 10, 2022, PharmaCare has determined the products will not be covered per the DINs below:
| | |
| --- | --- |
| Drug name | pegfilgrastim (Ziextenzo®) |
| Date effective | May 10, 2022 |
| DIN | 02497395 |
| | |
| --- | --- |
| Drug name | pegfilgrastim (Nyvepria™) |
| Date effective | May 10, 2022 |
| DINs | 002506238 |
---
Your Voice: Patient input needed for drug decisions
The knowledge and experience of patients, caregivers and patient groups is integral to B.C.'s drug review process.
The Ministry depends on pharmacies and practitioners to help connect patients and their caregivers with opportunities to give input. If you have a patient currently taking one of the drugs under review or who has the condition the new drug treats, please encourage them to visit http://www.gov.bc.ca/BCyourvoice.
Currently input is needed for the following:
| | |
| --- | --- |
| Drug | anifrolumab (Saphnelo™) |
| Indication | systemic lupus erythematosus (SLE) |
| Input Window | May 25 to June 22, 2022 |
| | |
| --- | --- |
| Drug | faricimab (TBC) |
| Indication | neovascular (wet) age-related macular degeneration (nAMD) |
| Input Window | May 25 to June 22, 2022 |
| | |
| --- | --- |
| Drug | cariprazine (Vraylar®) |
| Indication | bipolar disorder |
| Input Window | May 25 to June 22, 2022 |
| | |
| --- | --- |
| Drug | pitolisant hydrochloride (Wakix®) |
| Indication | narcolepsy |
| Input Window | May 25 to June 22, 2022 |
| | |
| --- | --- |
| Drug | dapagliflozin (Forxiga®) |
| Indication | chronic kidney disease (CKD) |
| Input Window | May 25 to June 22, 2022 |
---
FNHA Partnership series: Coming Together for Wellness
This article is part of a 10-article series by the Ministry of Health and the First Nations Health Authority (FNHA) to increase awareness of First Nations issues and build cultural humility, and as a result, safety in B.C.'s health system. The series began in the PharmaCare Newsletter, edition 21-010.
Article #8: Accessing the first BGTS fill
Article 6 of this series indicated that FNHA can add a Certificate of Training in Blood Glucose Monitoring for its clients who live with diabetes. This article explores the topic in greater detail.
PharmaCare covers blood glucose test strips (BGTS) for eligible B.C. residents who have completed blood glucose monitoring training at an accredited diabetes education centre (DEC) or a designated primary care network (PCN). A Certificate of Training needs to be in the client's PharmaNet profile in order for a pharmacy to receive payment for a BGTS claim.
Historical and geographical context
FNHA functions as a DEC for clients who can't access training from the usual DEC or a PCN. Distance has been a barrier to access training and education. This is one example of the health disparities faced by First Nations in B.C. due to the lasting effects of structural racism and colonization existing in the healthcare system and broader determinants of health.
Article 2 of the series highlighted how colonization and forced dislocation of First Nations disrupted access to healthy, traditional foods and food practices. First Nations living in rural and remote regions have inequitable access to quality, healthy and affordable food and medicines. Furthermore, intergenerational trauma stemming from experiences in Indian hospitals and residential schools led to mistrust and avoidance of the healthcare system. These combined factors have contributed to an increased risk of type 2 diabetes and related complications in First Nations people, showing higher prevalence than non-First Nations residents of B.C.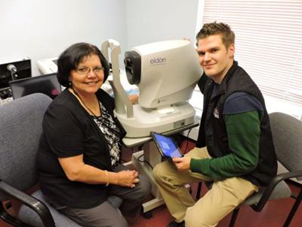 The Carrier Sekani Family Services clinic team provides mobile diabetes prevention and intervention education, check-ups and testing in communities across northern British Columbia.
FNHA's DEC program continues to evolve as many First Nations communities have holistic diabetes programming focused on managing diabetes through nutrition, activity, medications and emotions. There are well-developed programs like the mobile diabetes clinics run by Seabird Island Band and Carrier Sekani Family Services that have provided culturally safe diabetes care to First Nations communities for years.
How FNHA clients can get the first BGTS fill
The first fill of BGTS can be pre-activated for Plan W beneficiaries by calling First Nations Health Benefits at 1-855-550-5454.
Healthcare providers, diabetes educators, health directors, and health advocates may also call Health Benefits on behalf of a client.
Pharmacy support
Pharmacists can support FNHA clients in the following ways:
Support access for an FNHA client who visits the pharmacy for BGTS for the first time and has no coverage in place. The pharmacist should contact Health Benefits and consider using the FNHA Transitional Payment Request (TPR) (PDF, 208KB) form to provide the client immediate access
Encourage ongoing learning about diabetes and counsel on how to monitor their blood sugar levels with purpose (PDF, 205KB)
Seek opportunities to strengthen care-team relationships and collaboration with diabetes care providers at local First Nations Health Service organizations
>> Next in the Coming Together for Wellness Series: Next Steps in Indigenous Healthcare in British Columbia
Suggested reading

Previous newsletters
Find topics of interest by using the search bar at the top of the page.
---

About the PharmaCare Newsletter
PharmaCare newsletters are published on the first Tuesday of each month, with special releases sometimes published mid-month. Newsletters communicate drug listings, PharmaCare and PharmaNet policy updates, and other pertinent information.

Territorial acknowledgement
The PharmaCare Newsletter team works from the territory of the Lekwungen peoples, including the Songhees and Esquimalt Nations. Our gratitude extends to them, and all the Indigenous peoples on whose territories and lands we build relationships.