Averill Creek Vineyard
Averill Creek Vineyard Ltd. (Averill Creek) produce premium quality, single-vineyard wines in the Cowichan Valley wine region that showcase the terroir of the Vancouver Island appellation.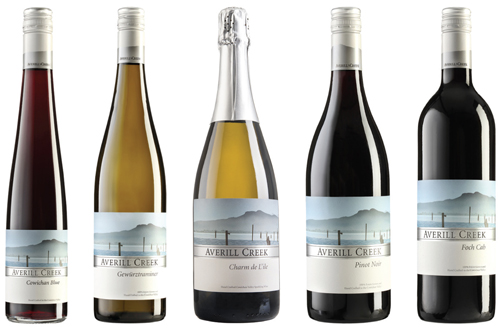 The company currently offers a range of handcrafted quality wines, such as: their signature Pinot Noir, currently offered in a 2012 vintage, which is a silky, medium-bodied red, with an alluring nose and bright red berry flavours mingling with delicate clove spice, earthy minerality and soft tannins; a 2012 Foch Cab that is medium bodied, with seductive aromas of ripe black fruits, espresso, cedar and eucalyptus, and flavours of spicy black currant and chocolate cherry; Cowichan Black, a non-vintage wine that is an elegant expression of pure wild Vancouver Island blackberries, which is medium sweet and smooth, with a lasting warm finish; and their non-vintage Charme de L'ile, a classic Charmat Method sparkling wine, offering a bright full mousse with aromas of apple and pear, with a lively palate delivering flavours of apple, sweet pear, almond and biscuity lees.
Averill Creek was established in 2001 in Duncan, by vintner Andy Johnson, driven by his lifelong love of wine and his experience working at wineries in Tuscany, Australia, France and New Zealand. All of the company's wines are made from grapes that grow on their 40 acre property, which are submitted for lab analysis to ensure safety. The grapes are grown in a region of clean air, water and unpolluted soil, located in the heart of Canada's only dry-summer subtropical/mediterranean climate zone. The vineyard consists of 30 acres of planted vines at elevations between 118 and 240 meters above sea level.