Averill Creek Vineyard
Averill Creek Vineyard Ltd. (Averill Creek) produce premium quality, single-vineyard wines in the Cowichan Valley wine region that showcase the terroir of the Vancouver Island appellation.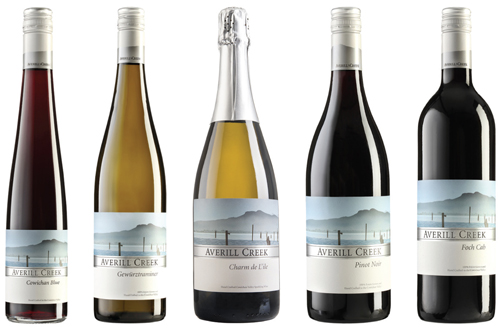 The company currently offers a range of premium red table wines and sweet blackberry dessert wines. Selections include the award-winning Somenos Pinot Noir, full-bodied red blends, Prevost and Somenos Foch Cab, and medium sweet fruit wines Cowichan Black and Somenos Tawny. All wines are handcrafted from 100% estate grown grapes or locally sourced wild blackberries. Varietals include Pinot Noir, Marechal Foch, Cabernet Foch and Merlot. All of the company's products are submitted for lab analysis prior to retail to ensure compliance with food safety.
Averill Creek is a 30-acre estate winery on Vancouver Island that specializes in distinctive, terroir-driven wines. The company was established in 2001 by vintner Andy Johnston, driven by his lifelong love of wine and vast experience of working at wineries around the world, including Tuscany, Australia, France, and New Zealand.
The company's Cowichan Valley vineyard is located on the sun-drenched mid-slope of Mount Prevost at an elevation between 118 and 240 meters above sea level. At the heart of Canada's only dry-summer subtropical/Mediterranean climate zone, the valley's moderate weather, clean water and air, as well as warm and well-drained soils provide exceptional conditions for viticulture.