Old Growth Forests
Managing forests in British Columbia is changing in response to pressing ecological and community needs. Nowhere is this more evident than in the way we are changing how we manage our oldest and rarest forests.
We are engaging with First Nations and collaborating with sector participants across the province as we accelerate the protection of these vital ecosystems. New Forest Landscape Planning tables are underway to ensure science, established and innovative practices, and indigenous knowledge guide our decisions as we contend with extreme events like wildfire, beetle kill and invasive species.
On this page:
What's new
Forests in British Columbia, and the benefits they provide, are foundational to the strength and wellbeing of people across the province. Our new approach to old growth management is one of the ways we can make sure it remains so.
---
Collaboration events with First Nations
The province has held two collaboration events with First Nations to support the co-development of an Old Growth action plan and BC Biodiversity and Ecosystem Health Framework:
The First Nations Old Growth Collaboration Forum (held January 30-31, 2023) - Explored, listened and developed the vision, values, and principles to guide the action plan and the Framework.
The Multi-Sectoral Old Growth Forum (held February 6-7, 2023) - Brought together provincial staff, First Nations, and key sector participants to begin identifying solutions and actions to support the development of the action plan and ensure B.C.'s long-term ecosystem health and economic well-being.
---
Upcoming Regional Workshops
Throughout April and May 2023, there will be opportunities to discuss the proposed content of an action plan and the Framework on Ecosystem Health and Biodiversity through a series of regional workshops.
---
A new approach to old forests
The province is committed to a new integrated management approach for old growth that provides for environmental, economic and reconciliation benefits. This approach includes:
More inclusive and collaborative governance mechanisms
Setting clear and measurable forest-related targets and objectives
Continuing to manage for healthy multi-valued old forests
Effective inclusive planning that provides clear direction
Increased understanding and awareness through transparent and fulsome information
In 2019, the Government of B.C. embarked on this new approach to old forests, commissioning an independent panel to engage British Columbians and collect their views on the importance and future of old growth in the province. The response was clear from First Nations, communities, industry and organizations: it is time for change.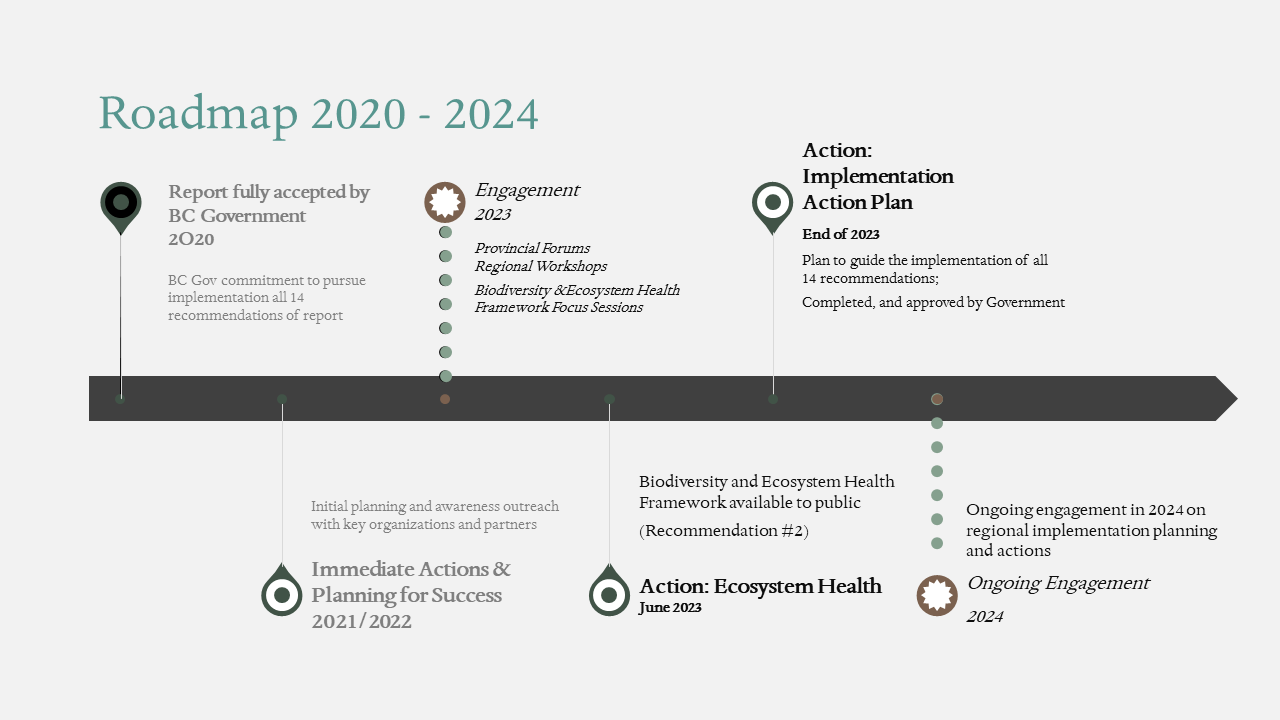 Roadmap:
2020 - Report fully accepted by B.C. government: Province commits to pursue implementation of all 14 recommendations of report
2021/2022 - Immediate actions and planning for success: Initial planning and awareness outreach with key organizations and partners
2023 - Engagement: Provincial forums, regional workshops, Biodiversity and Ecosystem Health Framework focus sessions
June 2023 - Action: Ecosystem health: Biodiversity and Ecosystem Health Framework available to the public (recommendation #2)
End of 2023 - Action: Implementation Action Plan: Plan to guide the implementation of all 14 recommendations; completed and approved by Government
2024 - Ongoing Engagement: Ongoing engagement in 2024 on regional implementation planning actions
Learn more about the independent panel's strategic review
---
Work underway
Since receiving the independent panel's report in 2020, the province has taken decisive action on the Panel's recommendations, beginning with the immediate and first priorities outlined in its report:
Engaging First Nations leaders and organizations to review the report and work with the province on any subsequent policy or strategy development and implementation

Province held two collaboration events for First Nations to support the co-development of an Old Growth action plan and BC Biodiversity and Ecosystem Health Framework
Regional workshops are underway to identify solutions and actions to support the development of the action plan and ensure B.C.'s long-term ecosystem health and economic well-being

Identifying and temporarily deferring more old growth in collaboration with First Nations
Addressing information gaps, updating inventory and improving public access to information
Involving industry, workers, environmental groups, community-based organizations and local governments in discussions about the future of old growth forests