Old Growth Values
Characteristics of old growth can include tree species, tree age, tree size, surrounding forest structure, ecological function, and historical disturbance. While these characteristics vary according to location and species, old-growth forests tend to have more diverse plant and animal life than younger forests.
Old growth trees are often larger, and the forest canopy is layered with openings that allow light to reach the forest floor, encouraging the growth of ferns, berry bushes and mosses.
The Biodiversity Guidebook (1995) provides a more detailed and technical definition of an old-growth forest.
Last updated: May 19, 2021
On this page:
---
Planning and timber supply review
The Timber Supply Review (TSR) process is an in-depth, technical process that examines how current forestry management practices and land use decisions affect an area's timber supply, economy, environment, and social conditions. The information gathered in the TSR is then used to help determine the allowable annual cut (AAC), which limits how much wood can be harvested in an area each year.
Timber supply review & allowable annual cut
Harvesting
Timber harvesting land base
The timber harvesting land base (THLB) in British Columbia is public forest land where timber harvesting is allowed and is economically feasible.
The THLB is approximately 20.3 million hectares, of which about 3.6 million hectares is old-growth forest. To put this in perspective, British Columbia is roughly 95 million hectares in size. Approximately 57 million hectares of British Columbia is forested land.
Old-Growth harvesting
On average, around 200,000 hectares of forested lands are harvested every year in B.C. (based on 2014-2018 data). This is about 1% of the overall timber harvesting land base. About 27% of the annual harvest comes from old growth. The majority is from non-old-growth stands. Regional harvest levels are illustrated in the table below.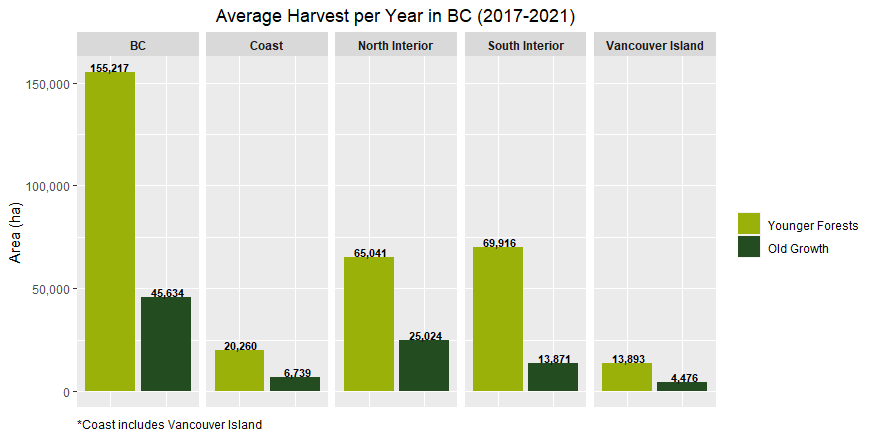 ---
Employment and economic values
The forest sector has always been a cornerstone of British Columbia's economy.
In 2020, the forest sector was responsible for $11.5 billion of B.C.'s total exports and it is the primary employer in several parts of the province. Forestry-related activities directly support over 6,700 businesses and employ almost 50,000 people. Forest products represent 29% of B.C.'s commodity exports. Roughly 80% of B.C. forest product value is sold to international markets.
In fiscal year 2020/21, the B.C. government reported that $1.3 billion in government revenue was attributable to the forest sector, primarily from timber sales. Forest sector companies and their employees also pay income tax and commodity taxes, generating more revenue on top of the $1.3 billion. This revenue funds infrastructure and government services that British Columbians depend on.
The forest sector is made up of several separate but inter-connected activities, such as:
Management unit planning and Timber Supply Review
Managing for non-timber values
Operational planning and road building
Harvesting
Planting
Wood product manufacturing (primary and secondary)
Pulp, paper and bio-refining
The Province also continues to encourage the advancement of wood use in architectural and structural applications to demonstrate that B.C. is a leading supplier of innovative wood-based products and building systems including mass timber construction as part of the CleanBC plan.
Old growth is harvested on B.C.'s coast, on Vancouver Island and in both the northern and southern interior. Trees are logged by large and small independent companies, by community forest associations, by Indigenous Nations, and by other communities and individuals with woodlot licences.
Wood from old-growth trees is often desired for high-end and specialty products such as fine furniture, musical instruments, specialty finishing products and shake and shingle manufacturing. Old-growth trees are also used to make lumber. Wood waste from harvesting and milling is used by the pulp and paper sector. Old-growth cedar trees are particularly valuable to certain sectors of the forest industry.
Relevant links:
---
Ecological values
Forests play a significant role in reducing greenhouse gas emissions and in reducing the rate and impacts of climate change.
Forests remove carbon from the atmosphere and store that carbon as above-ground and below-ground organic matter (living and dead).
Some of the many ecological functions performed by forests include:
regulating water cycles (purifying water and preventing flooding)
regulating climate extremes
maintaining biodiversity
For more information on carbon sequestration and storage and forests, review A New Future for Old Forests and the Forest Carbon Initiative.
Old growth ecosystems
Old-growth ecosystems support diverse flora and fauna, from mosses and liverworts to large mammals and some species at risk. These forests also provide habitat for many birds, mammals and amphibians.
Government has protected old-growth forests in areas throughout the province to support species that depend on them. These include:
marbled murrelet
northern goshawk
fisher
marten
pileated woodpecker
caribou
---
Social and cultural values
Old-growth forests and iconic trees are valued by many British Columbians and visitors for their social and cultural significance, particularly on the West Coast. B.C.'s diverse old-growth forests are symbolic of B.C.'s natural heritage. Old-growth forests attract visitors from around the world and are enjoyed for their outdoor recreation opportunities.
Indigenous Peoples of B.C. have a long-standing cultural and spiritual connection to the Province's forests, including old growth. Old-growth forests are also important to Indigenous practices that have been passed down for generations (e.g., the practice of altering or modifying trees). The Heritage Conservation Act protects these culturally modified tree, altered by Indigenous Peoples before 1846, as part of their traditional use of forests.
The Province is committed to true, lasting reconciliation with Indigenous Peoples through the implementation of the UN Declaration. This work will foster increased and lasting certainty on the land base while ensuring that the benefits of sustainable forest harvesting are realized equitably by those engaged in and impacted by the forestry industry.
To learn more about how the Government of B.C. is working with B.C. First Nations to protect Indigenous values through management of the land base, refer to:
B.C. Declaration on the Rights of Indigenous Peoples Act