BC Timber Sales
On January 24th, government announced the new BCTS Value-Added Manufacturing Program. This program will be open to facilities that produce high-value products and have minimal or no forestry tenure and will replace Category 2.
BC Timber Sales (BCTS) manages about 20 per cent of the province's allowable annual cut for Crown/public timber, generating economic prosperity for British Columbians through the safe, sustainable development and auction of public timber. BCTS operates in 33 communities and directly supports over 8,000 jobs across B.C.
On this page:
Data from our operations are used to help determine the market value of the timber harvested from public land and ensures British Columbians receive fair value from their timber resources.
BC Timber Sales (BCTS) supports government's commitment to true, lasting reconciliation with Indigenous peoples in British Columbia; this includes the implementation of the Declaration on the Rights of Indigenous Peoples Act (Declaration Act) and the Calls to Action of the Truth and Reconciliation Commission (CTA).
BCTS' goal, objectives and key strategies are set out in its annual business plans. Performance against the plans is reported quarterly and annually.
Timber sale licences
BCTS provides a reliable supply of timber through competitive auctions of timber sales licences, making Crown timber available to loggers, wood processors and other forestry businesses.
Contracting
In addition to auctioning timber sales licences, BCTS builds and maintains Forest Service Roads and reforests harvested areas. Our activities generate economic prosperity for all British Columbians and directly contribute over $150 million to rural economies each year.
Seedling services
BCTS manages the seed inventory and the production, storage and distribution of seedlings for the reforestation of Crown lands administered by BCTS. BCTS also supplies seedlings to reforestation programs such as Forests for Tomorrow and projects funded through the Forest Carbon Initiative.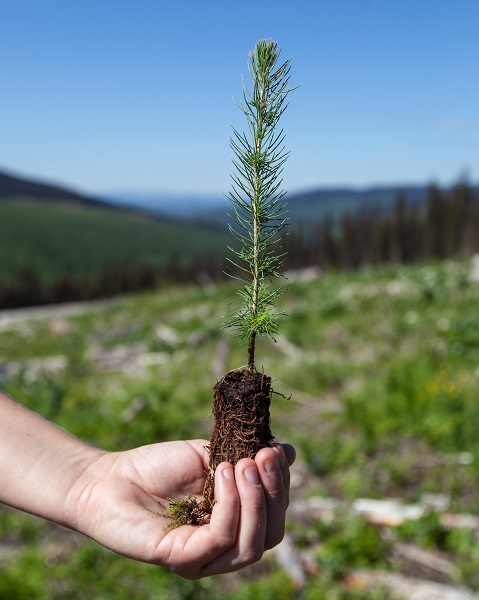 In spring 2020, BCTS delivered its billionth tree seedling for government-funded planting initiatives. On average, BCTS manages more than 90 million seedlings a year from a mix of over 20 different native tree species seed to help maintain ecosystem processes, resilience and diverse habitats.
Safety
Worker safety is critical and BCTS takes a preventative approach to workplace accidents and injuries. As a member of the B.C. Forest Safety Council, BCTS endorses a culture of safety and is committed to the safety of all people affected by its operations.
Indigenous relations
In 2018, BCTS adopted a new overarching principle to guide our operations: Reconciliation with Indigenous Peoples.
Forest certification
Certification of forestry activities is a best practice in forest and sustainable resource management. BCTS is committed to maintaining an environmental management system and adhering to third-party sustainable forest management standards.
Forest stewardship plans
A forest stewardship plan is legally required under the Forest and Range Practices Act and provides a high-level overview of proposed forestry activities. Forest stewardship plans are publicly available for review and comment. BCTS advertises when the plan is available and allows at least 60 days for comments to be received.
Climate change action
Sound forest stewardship is highlighted in BCTS business principles and priorities.
Careers
BCTS employees work in an environment where continuous learning and finding new solutions to complex problems is encouraged and supported. In addition to an exciting career, working for BCTS is an opportunity to positively impact B.C.'s economy, forests, communities and residents.
BCTS is a proud supporter of the Indigenous Forestry Scholarship Program, a partnership between the First Nations Forestry Council, BCTS, the Indigenous Relationship branch and the Aboriginal Skills and Employment Training Strategy. During the four-month work term portions of the program, BCTS staff provide one-on-one mentorship to students. The program is an excellent opportunity for Indigenous people to enter the forest sector with hands-on skills in a variety of positions.
Learn about the Indigenous Forestry Scholarship Program
Councils and committees
BCTS is working to continuously improve and strengthen relationships with industry and contractors through the Timber Sales Advisory Council and the BCTS Contractor Advisory Committee.
Guidance and resources
Learn about BCTS business and performance goals, policy and legislation.