Leeks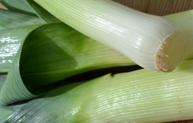 Growing Leeks
Leek Weed Management
Weed control can be achieved by mechanical methods. Timely and frequent cultivation to fill in the trench and hill up the rows will effectively smother weeds. For chemical control, see tables below.
Leek Insect Management
Both onion maggots and thrips can cause damage to leeks, but to date have not been major problems in B.C. There are no products registered on leeks for onion maggot control. If experience has shown thrips control to be necessary, use one of the products listed in the tables below.
Leek Disease Management