Corn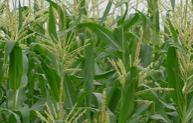 Growing corn
Corn weed management
Weed control is best achieved with a combination of cultural, mechanical and chemical methods. Rotate crops and herbicides to limit the buildup of difficult weeds such as atrazine-resistant redroot pigweed, lamb's-quarters and groundsel.
Light cultivation with a rotary hoe or tineweeder, prior to crop emergence and through to the 3 – 4 leaf stage, can effectively kill emerging weeds and improve activity of some pre-emergence herbicides. When the crop is well established, use a rolling cultivator to throw soil into the row to smother escaped weeds.
Effective chemical weed control begins with knowledge of the major weed species in the field. Often a combination of preplant, pre-emergence and post-emergence treatments is necessary. See tables below.
Corn insect management
Corn disease management
Two smut diseases occur on sweet corn. Common smut is more widespread although head smut has been detected. Head smut is a potentially more serious disease as it can survive in the soil for several years. The first symptoms are swellings on the tassels and ears which are covered with a papery membrane. Eventually the interior of these galls turns into a mass of black spores which fall to the ground and remain there to infect subsequent corn crops. With common smut, the galls may appear on stems and leaves as well as ears and tassels. High temperatures (21-34°C) favour disease development.
Control
Plant tolerant or resistant varieties. Plants infected with head smut should be removed and burned as soon as they are detected to prevent inoculum buildup in the soil. Spores can be spread with harvesting equipment. Clean equipment thoroughly before entering a clean field.
Fields infested with head smut should be planted to crops other than corn at least 3-4 years. In small plantings, cut out galls before they burst and burn them.