Request MSP Account Confirmation
MSP Account Holders and Spouses can use the online MSP Account Confirmation form to request an MSP Account Confirmation letter which will indicate MSP enrolment status. (This information may also be requested by contacting Health Insurance BC by mail or telephone.)
The MSP Account Confirmation letter provides the name, coverage effective date, coverage end date (if applicable), MSP enrolment status, and BC Services Card status for one or more individuals on an MSP account.
This document may be used to demonstrate MSP coverage (i.e.: for third-party insurance), but may not be used to obtain medical benefits. One MSP Account Confirmation letter can be mailed per request.
Request MSP Account Confirmation
Required Information to Complete Your Request
The online form will take 1-2 minutes to complete, and must be completed by an MSP Account Holder or Spouse.
To complete your request, you will be required to provide information about yourself and any individuals covered under your MSP account. This includes Personal Health Number (PHN), birthdate, and address information from your MSP account.
Your PHN can be found on the back of your BC Services Card as indicated below: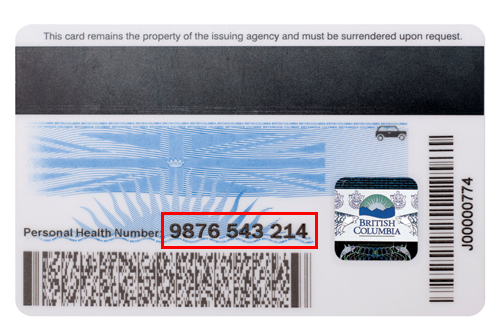 Once the MSP Account Confirmation request has been submitted, a reference number will be displayed. Please allow two to three weeks to receive the MSP Account Confirmation letter in the mail.
Please use one of these web browsers: Internet Explorer 11 or the latest version of Mozilla Firefox, Google Chrome or Apple Safari.
The data you enter will remain locally on the computer or device you are using until you close your browser window. If you close the window you are working in, all data will be lost.
If you use a screen reader or assistive device, please contact HIBC.
Studying Outside British Columbia? Residents of B.C. who leave the province temporarily to attend a recognized educational facility must contact Health Insurance BC prior to their departure and upon their return to B.C. to confirm eligibility. For more information, please visit: