Wildfire aviation
Helicopters and airtankers are a vital part of wildfire response in British Columbia, but they can't contain wildfires on their own. The main purpose of aircraft is to support the work of ground crews.
The BC Wildfire Service has a fleet of around 40 aircraft with access to many more if needed. Aircraft are deployed based on needs of crews in the field. They perform a variety of functions like:
Water and retardant delivery
Crew and personnel transportation
Gear delivery
Logistics support
Fire patrols
Infrared scanning
Using aircraft is important because they help crews on the ground:
Protect critical values
Slow wildfire spread
Support control lines
Reduce heat
Rotary-wing aircraft (helicopters)
Rotary-wing aircraft, usually called "helicopters," are an essential tool for fighting wildfire.
The size and specifications of a helicopter determine the type of tasks it may be assigned. In general, larger helicopters can carry more weight, but cost more to operate. The BC Wildfire Service works closely with aircraft suppliers to use helicopters as effectively and efficiently as possible.
Helicopters may be used to:
Transport firefighting crews
Use buckets or belly tanks to drop water on a fire
Transport gear and equipment
Conduct infrared scanning
Watch videos about different helicopters used by the BC Wildfire Service: medium-lift helicopters and light utility helicopters.
The BC Wildfire Service also maintains exclusive access to a specialized fleet of helicopters designed to work with Rapattack crews. These helicopters are equipped with rappel and hoist equipment.
Airtankers
The BC Wildfire Service uses specialized fixed-wing aircraft called "airtankers" to support wildfire crews on the ground. There are two types of airtankers used in B.C.
Land-based airtankers
These airtankers are equipped with tanks that are specially designed to contain and drop fire retardant. They are capable of hitting multiple targets in one flight. Examples of these aircraft include the Convair CV-580, Avro RJ-85 and Lockheed L-188 Electra.
Water-skimmers
Water-skimmers get their name from their ability to land on water and fill their tanks while moving. They are smaller in comparison to land-based airtankers and deliver water to support active firefighting operations. An example of this aircraft is the Air Tractor AT-802F Fire Boss.
Birddogs
All airtankers work in groups that are led by a "birddog" plane. Air attack officers, highly trained and experienced firefighters, sit beside the pilot in the birddog and coordinate the other aircraft on the mission. These aircraft fly above the others in order for the air attack officer to observe them. An example aircraft is the Turbo Commander TC-690A.
Other fixed-wing aircraft
The BC Wildfire Service also uses other fixed-wing aircraft to transport crews, conduct fire patrols and provide logistics support. Below are two examples used as jumpships for parattack crews.
Turbine DC-3
Holds 13 smokejumpers and 2 command spotters, as well as all their gear.
Twin Otter DHC-6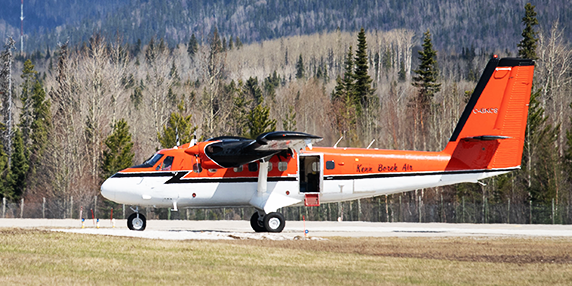 Short takeoff and landing aircraft that can transport seven smokejumpers as well as one command spotter.
Frequently asked questions