Incident management teams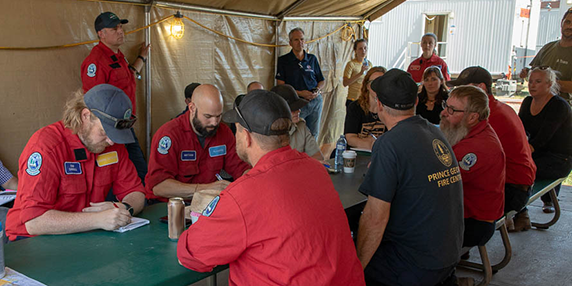 The BC Wildfire Service Incident Management Teams (IMT) program has a long history of providing emergency management response in B.C. IMTs consist of a diverse group of skilled personnel dedicated to a common goal of managing complex wildfire events.
BC Wildfire Service Incident Management Teams follow the Incident Command System (ICS). ICS is a standardized organizational structure employed by many companies and government agencies to manage major emergencies. The IMT helps to relieve pressure from local fire centres and zones, allowing them to focus on responding to new fire starts. It is built around five major management activities.
The IMT consists of:
Command
Command is typically made up of an Incident Commander, an Information Officer, and Liaison and Safety staff. The Incident Commander sets objectives and priorities, and has overall responsibility at the incident or event.
The Incident Commander has many years of wildfire and IMT experience and wears a green vest, while the rest of the Command section (typically Information, Safety and Liaison staff) wear red.
Operations
This group develops tactical operations to carry out plans, develops the tactical objectives, organization and directs all resources. This is the largest group on the IMT and includes teams such as aviation, heavy equipment, firefighting leads and rehabilitation. Operations staff wear orange vests.
Planning
Planning develops the action plan to accomplish wildfire response objectives, collects and distributes valuable information, and maintains resources. This group includes technical specialists such as geographic information system (GIS) technicians and fire behaviour analysts. Planning staff wear blue vests.
Logistics
Logistics provides support to meet incident needs, such as firefighting equipment and vehicles. They also oversee catering, medical needs and facilities in addition to any services needed. Logistics staff wear yellow vests.
Finance and Administration
Finance and administration monitor costs related to the incident, provide accounting, procurement, time recording and cost analyses. Finance staff wear grey/silver vests.
An IMT manages an incident, on average, for a two-week period until the incident is transitioned to another IMT or until an IMT is no longer required. IMTs develop in-depth knowledge about a particular fire and the area it is burning in, as well as build connections with affected communities allowing them to better serve the stakeholders in the area. IMT roles are performed by trained BC Wildfire Service employees with additional support provided from other trained BC Public Service and out-of-province personnel when needed.