Wildfire management strategies
The tactics and strategies used to manage wildfires depend on several factors. The top priority is always human life and safety. Confronted by an average of 1,600 wildfires each year, highly trained fire crews are successful in containing 94% of all wildfires (rank 1-4) in B.C. by 10 a.m. the following day.
On this page:
Fire suppression
Planning is critical to success. Wildfire management strategies and tactics are determined based on location and proximity to values, fire weather, fire activity and resources available. Following are some key wildfire management strategies to suppress active wildfires. BC Wildfire Service reports on the progress of wildfire management using stages of control.
The BC Wildfire Service considers these questions when managing a wildfire.
The basic principle of fire suppression is to break the fire triangle. That means removing at least one of either heat, fuel or oxygen.
The Fire Triangle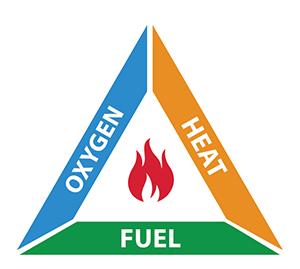 Reducing heat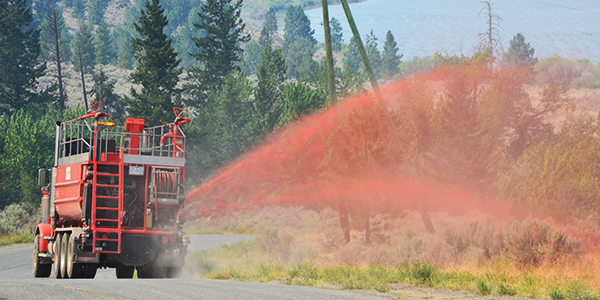 Heat is a key factor in wildfire growth. By reducing heat, crews can control the movement of a wildfire.
The best way to reduce heat on a wildfire is to add water. Water cools the temperature of fuels and creates humidity, which reduces fire intensity. Water is delivered precisely using ground crews, equipment and aircraft by:
Setting hose lines and spraying water directly on the fire or near the fire to prevent it from advancing
Bucketing with a helicopter
Spraying water from a water tenders (water truck)
Dropping water from a water skimming aircraft
Reducing fuel
Removing fuel is a common firefighting tactic. While it does not put the fire out, it can slow a fire's progress significantly and cause it to burn itself out.
Control lines
An effective way to slow down a wildfire's progress is to establish control lines, also called fire guard. These look like wide paths or dirt roads where all fuel is removed from the ground. Control lines can be built by hand or with heavy equipment like bulldozers and excavators. They vary in size depending on the size of the fire. Control lines can also be built using natural features such as lakes, rivers and ridges. Aggressive wildfires are too dangerous to attack directly, so control lines are built farther from the fire's edge.
Planned ignitions
Another effective tactic to control an advancing fire is to "burn-off" fuel between the fire's edge and control lines. Burn operations are coordinated by skilled and experienced firefighters and risk is mitigated with careful planning using fire weather information. Even though igniting unburned fuel adds more fire to the landscape, it allows BC Wildfire Service to control the spread of wildfire and protect critical values.
Reducing oxygen
Fire retardants, foam and water can help suppress a fire by cooling it down and smothering it. Retardant and foam are the most effective because they don't evaporate as quickly as water.
Retardant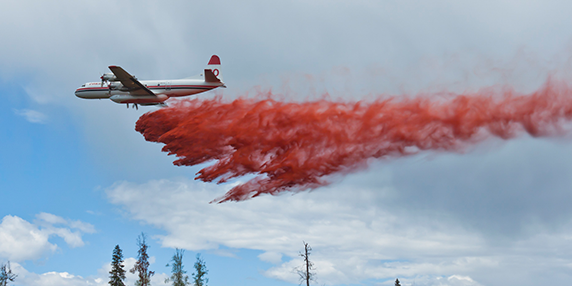 Retardants, commonly recognized by their bright red colour, are usually dropped ahead of an advancing fire by airtankers and helicopters to help contain the wildfire. The colouring allows fire crews to easily see where the retardant has landed.
Retardants contain ammonium salts and are essentially water-soluble, industrial-strength fertilizer (with colouring added) that affect the burning process of forest fuels. When flames come into contact with retardant, the resulting reaction releases a combination of water and carbon dioxide that helps cool and suffocate the fire.
Foam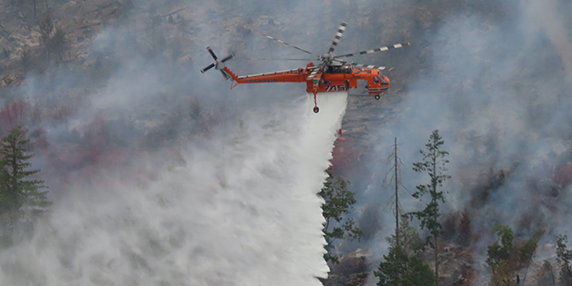 Foam can also be used to help suppress a wildfire. It absorbs the heat from combustion while its bubble structure slowly releases water, which is absorbed by wood fuels.
Depending on the ratio of water to foam concentrate, the resulting mixture is either a "dry" or "wet" foam. Dry foams have smaller, high-insulation bubbles that offer greater heat absorption, while wet foams have larger bubbles that allow water to penetrate forest fuels more easily. Wet foams are generally considered to be more effective fire suppressants because dry foams are difficult to apply effectively (often getting caught in wind currents or tree canopies).
For further information, learn more about the response types and attack methods employed by BC Wildfire Service.
Frequently asked questions
The BC Wildfire Service prioritizes its response to wildfires to help protect our most valuable assets:
The top priority is always human life and safety.
The second priority is property.
The third priority is the protection of areas with high environmental values (community watersheds, habitat for species at risk, etc.)
The fourth priority is resource values (timber harvesting sites, resource extraction sites, etc.)
Yes, the BC Wildfire Service recognizes wildfire can be a valuable ecological process. Wildfire is a natural component of B.C.'s ecosystems, so when a wildfire is burning away from people, property, environmental values or resource values, it can actually be more beneficial than harmful in the long term.
Yes, once aware of an incident, the BC Wildfire Service responds to every wildfire in British Columbia. The type of response varies greatly depending on the location and behaviour of a wildfire. "Response" might be as simple as just monitoring the wildfire.