Partners and additional support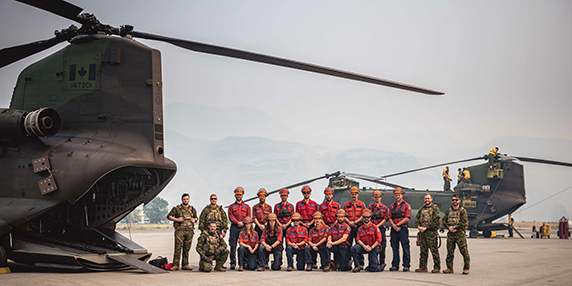 In years with significant fire activity, the BC Wildfire Service calls for additional support from contract firefighters, out-of-province agencies, the military and more.
Provincial support
The BC Wildfire Service receives local support from several partners around B.C. Partnering with local and provincial stakeholder groups allows the BC Wildfire Service to receive input and expertise from a diverse set of professionals and enables more informed decision making.
BC Wildfire Service's partners includes:
Indigenous communities
Cultural organizations
Forest industry professionals
Law enforcement agencies
Community education programs
Municipalities
Out-of-province personnel and equipment
The BC Wildfire Service receives assistance from other wildfire response agencies across Canada and around the world. Incoming professionals provide support in all areas of wildfire management, including filling leadership roles to give existing staff rest. Out-of-province personnel may be assigned as:
Initial Attack Crews
Unit Crews
Incident Management Teams and personnel
Operational leadership
Logistics staff
Planning staff
Other supportive roles
Mutual aid agreements are established to allow efficient transfer of resources in and out of B.C. This means that if other regions, such as Australia or California, require additional assistance, the BC Wildfire Service can deploy its available resources to help others.
Military assistance
The Canadian Military also provides assistance in several ways during a busy wildfire season:
Aviation support (Transportation and Logistics)
Search and Rescue operations
Medical evacuations
Personnel for mop-up, patrol and low-risk fireline activities
Community assistance
Frequently asked questions
The BC Wildfire Service calls on the skills and expertise of many contractors each year and selects qualified and appropriate resources for its fire operations.
If its own personnel are stretched to capacity, the BC Wildfire Service can call upon other resources from local contract crews and "fire suppression specialists", or from its national and international partners.
The BC Wildfire Service has arrangements with dozens of companies from many areas of the province to provide contract firefighters and support personnel.
If you are interested in working as a contract firefighter, it is best to reach out directly to the company you'd like to work for. Review the current list of contract companies.
If you are interested in providing contract services to the BC Wildfire Service, learn more about contract opportunities.
From a firefighting personnel perspective, our focus is on using trained and experienced firefighting personnel from across Canada before engaging the military in the on-the-ground response to the wildfires.
During busy wildfire seasons like 2017, 2018 and 2021, the Canadian military liaises with the BC Wildfire Service to determine if they can provide support. In the past, the Canadian military has provided personnel for mop-up and patrol activities, as well as aircraft and logistics equipment for transporting personnel, gear, vehicles and more.
The Canadian military may also assist with emergency medical procedures when required.