Proof of vaccination information for businesses

Some events, services and businesses are required to check a person's proof of vaccination for access to their venue or space. The requirements are made by the Provincial Health Officer (PHO).
English | 繁體中文 | 简体中文 | Français | ਪੰਜਾਬੀ | فارسی | Tagalog | 한국어 | Español | عربى | Tiếng Việt | 日本語 | हिंदी
Last updated: January 25, 2022
On this page:
---
PHO order on proof of vaccination
By order of the PHO, some events, services and businesses are required to check a person's proof of vaccination for service and access to their venue or space. This applies to all people born in 2010 or earlier (12+).
You must verify that people are fully vaccinated. Failure to follow the PHO order may result in a fine. The requirement is in place until June 30, 2022 and could be extended.
Places proof of vaccination is required for entry
You must verify every customer's proof of vaccination, every time they enter your business or event:
Indoor organized events

For example, weddings, funeral receptions (outside of a funeral home), organized parties, conferences, trade fairs and workshops

Indoor concerts, theatre, dance and symphony events
Licensed restaurants and cafes and restaurants and cafes that offer table service (indoor and patio dining)

Includes liquor tasting rooms in wineries, breweries or distilleries
Table service means providing any service to a customer at their seat, or from anywhere but behind a counter

Pubs, bars and lounges (indoor and patio dining)
Nightclubs, casinos and movie theatres
Post-secondary student housing
Indoor organized group recreational classes and activities

For example, pottery studios, art classes or choir rehearsals

Swimming pools and activities at pools. Pools at hotels and apartments are exempt
Indoor ticketed sporting events
Indoor adult group and team sports for people 22 years old or older
Spectators at indoor youth sporting events

Non-employee supervisors,

coaches and assistants of indoor sports and group activities for people 21 years or younger
Indoor skating rinks
Businesses offering indoor exercise/fitness
Gyms, exercise and dance facilities or studios

Includes these activities happening in recreation facilities
Examples of places that don't require proof of vaccination
You don't have to check proof of vaccination at places like:
Grocery stores, liquor stores and pharmacies
Unlicensed restaurants that don't offer table service

For example, fast food, coffee shops, food courts, food trucks and takeout
Table service means providing any service to a customer at their seat, or from anywhere but behind a counter

Tasting rooms without seating attached to wineries, breweries or distilleries
Local public transportation (BC Transit, TransLink, BC Ferries)
Salons, hairdressers and barbers
Hotels, resorts, cabins and campsites

Does not include settings or events covered by the PHO order, for example, a licensed hotel restaurant, wedding reception or conference
Does not include exercise/fitness facilities for guests

Banks and credit unions
Retail and clothing stores
Public libraries, museums and art galleries

Does not include events hosted in these venues
Food banks and shelters
Escape rooms, laser tag, indoor paint ball and arcades

Only if they are unlicensed or don't offer food-related table service

Post-secondary on-campus cafeterias
Airport food courts and restaurants
Health care services, rehabilitation or exercise therapy programs, and drug and alcohol support group meetings
Social services provided to people in need
Events like:

Indoor youth recreational sport for people 21 years old or younger
Before and after school programs for K to 12 students
Student events and activities in K to 12 public and independent schools
Parenting and breastfeeding programs
---
What the BC Vaccine Card looks like
People can save the digital version to their phone or tablet or print a paper copy to carry in their wallet. Businesses must accept both options.
Digital card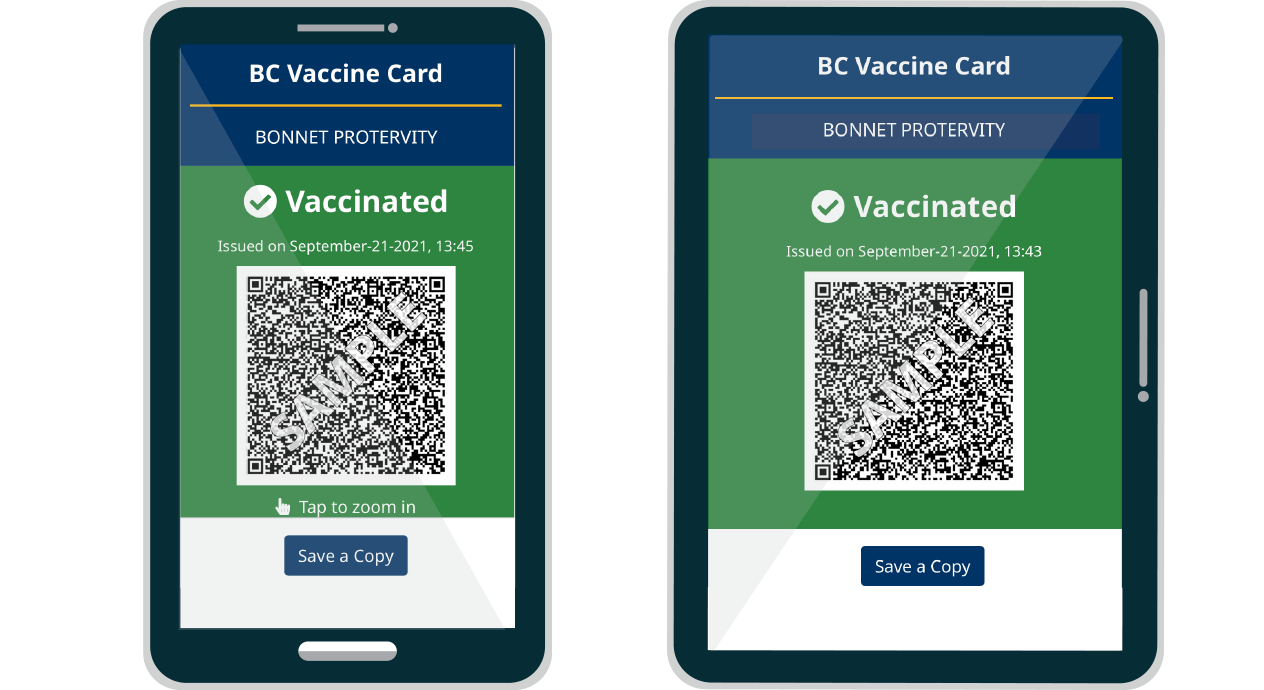 Paper card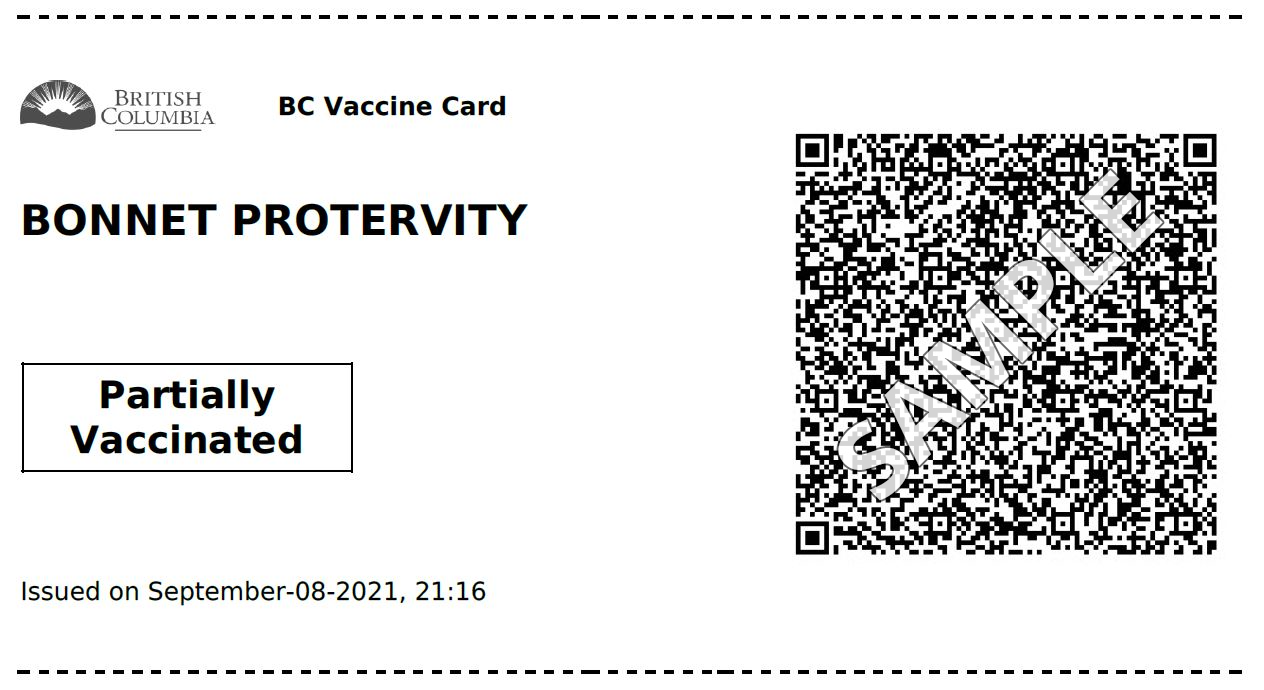 ---
Verifying proof of vaccination
Step 1: Scan proof of vaccination
You must use the BC Vaccine Card Verifier app to scan a customer's QR code to verify their proof of vaccination. The QR code will be on their phone or a piece of paper. You can scan:
Note: There are no cards or documents that allow people to be exempt from showing proof of vaccination. Everyone must show proof of vaccination to access events, businesses and services that require it.
Step 2: Review ID
After verifying proof of vaccination, you must also review ID. By reviewing ID, you match the name listed on the BC Vaccine Card or other form of proof of vaccination with the person you're verifying. You don't need to check ID for youth aged 12 to 18.
Accepted forms of valid government photo ID, for example:
B.C. driver's licence or BC Services Card

​​Customers can use their interim driver's licence, usually printed on yellow paper

Passport
There are many reasons why someone's ID may not correctly reflect their name, gender or appearance. This is particularly true for Two-Spirit, transgender and non-binary people. Businesses have a responsibility to protect patrons' safety and privacy.
If you are unsure whether you can verify a person's identity, you can:
Request an additional piece of ID
Discreetly and respectfully ask for more information
Take steps to ensure that conversations about a person's identity happen in a safe and confidential way:
Move the discussion away from other customers
Use a quieter voice
Avoid reading the person's name aloud
Some people may have a 'carry letter' from their primary care provider to help explain why the name, photo or gender marker on their ID is different from their physical appearance. This may be useful in verifying their identity, but is not required as proof.
Gender identity and expression are protected under the B.C. Human Rights Code (PDF, 112KB).
---
​Verifying out-of-province proof of vaccination
You may have people who aren't from B.C. accessing your events, services and businesses. They must follow the same requirements and provide proof of vaccination and ID. Follow the same 2 steps, verify proof of vaccination and review ID for a name match.
---
Use the BC Vaccine Card Verifier app
Download the BC Vaccine Card Verifier app from the Apple App Store and Google Play Store. The app is free to download and works on smartphones and tablets.
For iOS devices (iPhone/iPad)
Requires Apple iOS 11 or later
For Android devices
Requires Android 8.1 or later
Introduction
The BC Vaccine Card Verifier app of the Province of British Columbia is designed to allow businesses to verify BC Vaccine Cards in order to reduce the spread of COVID-19.
Once the QR code from a BC Vaccine Card is scanned by the BC Vaccine Card Verifier App, the app will display only the customer's first and last name and protection status to the person reading the QR Code.
Note: This privacy policy does not apply to the third-party online or mobile store from which you downloaded the BC Vaccine Card Verifier app.
1. General Limitations
Your personal information may only be viewed by authorized persons, and only in the context of the functions assigned to them.
2. Collection and Permissions
The information that will be readable when the QR code is presented and read with the BC Vaccine Card Verifier app of the Province of British Columbia are:
Last name
First name
Protection status
2.1 Collection of information in the BC Vaccine Card Verifier app
The BC Vaccine Card Verifier reads and displays the information presented in the QR code within the camera's view.
The result of this processing is not stored on the verification device nor transmitted outside of the BC Vaccine Card Verifier. No usage statistics are collected.
2.2 Permissions requested from devices
Access to the phone camera is required in order to read QR codes. No image from the camera is recorded nor is it transmitted or processed outside of the BC Vaccine Card Verifier.
3. Secondary purposes with anonymized personal information
No device data is collected through the BC Vaccine Card Verifier.
How to use the app
With an internet connection, download the app to your device. You can download the app on multiple devices. You must allow the app to access your device camera.
After you've finished downloading, you can continue to use the app offline. No internet connection is required to scan QR codes.
A QR code is the square shaped image and is a type of bar code that can be read by a digital device. B.C. is using the SMART Health Card QR code format, a requirement of the federal government. This means the QR code only stores the absolute minimum level of information and is not connected to other health records.
How to scan proof of vaccination
Use the app to scan the following types of vaccination proof:
Allow access to camera
Scan a digital card
Scan a printed copy
What you'll see after scanning
Partially vaccinated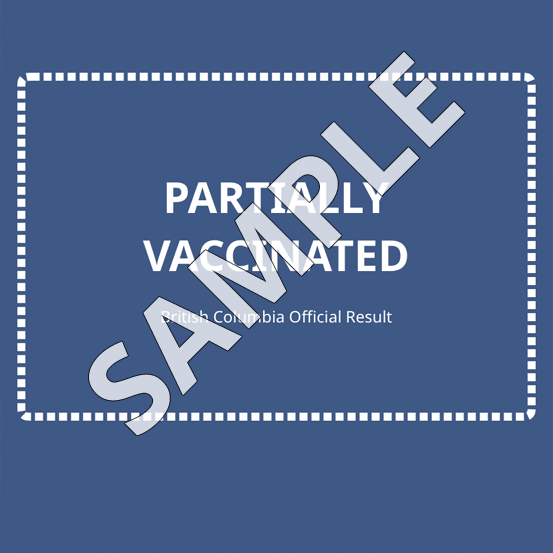 Fully vaccinated
Invalid QR code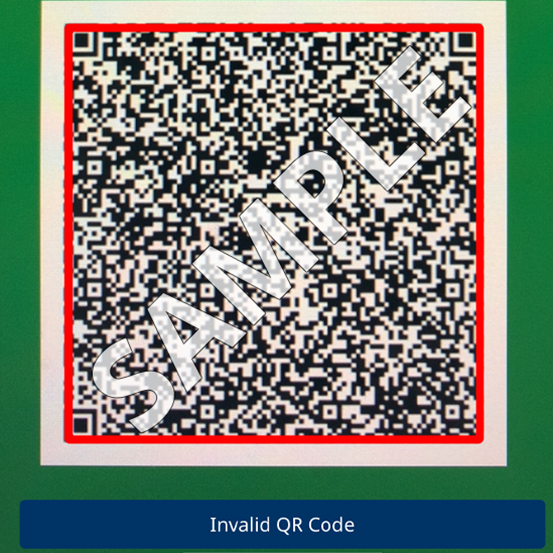 ---
Privacy
The QR code is a personal document. You can't take a photo of a customer's vaccine card, even if they consent. If a customer is concerned about privacy, you can tell them:
The BC Vaccine Card Verifier app does not store any data
The QR code contains the minimum information required to verify a vaccination record
The vaccine card system is not connected to any other health records
Recording customer proof of vaccination
To make return visits easier, you can record a customer has provided proof of vaccination. For example, a gym may wish to record a member has already shown their vaccine card for quicker access.
If you wish to record a customer's proof of vaccination status, you must:
Get the customer's written consent
Allow the customer to withdraw their consent later
Delete all records once the proof of vaccination requirement is lifted, or when the customer withdraws consent
Employee privacy
Businesses should not ask to see an employee's BC Vaccine Card, unless the employee is accessing the location or event as a customer.
Organizations can enforce their own vaccination policies, but they must do their own due diligence.
---
Get support
We know this is an added step to welcome customers to your venue or business. By verifying proof of vaccination, you're keeping everyone in B.C. safe.
Print-ready posters
Proof of vaccination required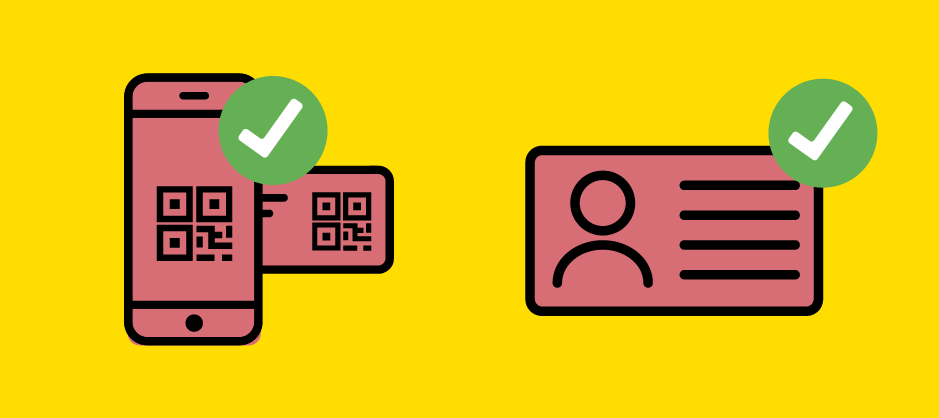 Accepted forms of proof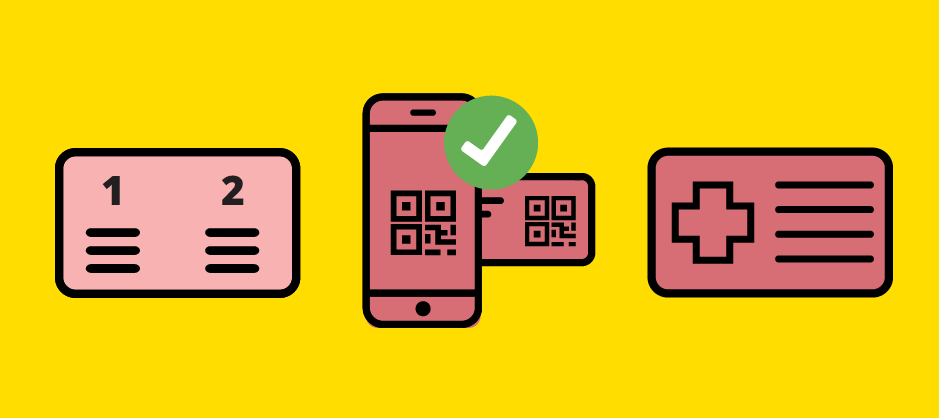 How to check a BC Vaccine Card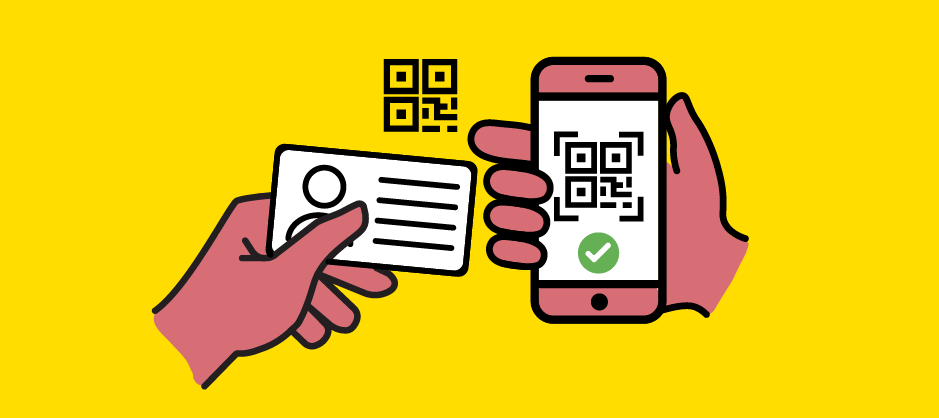 Guidance documents
Verifier reference guide

B.C. vaccine records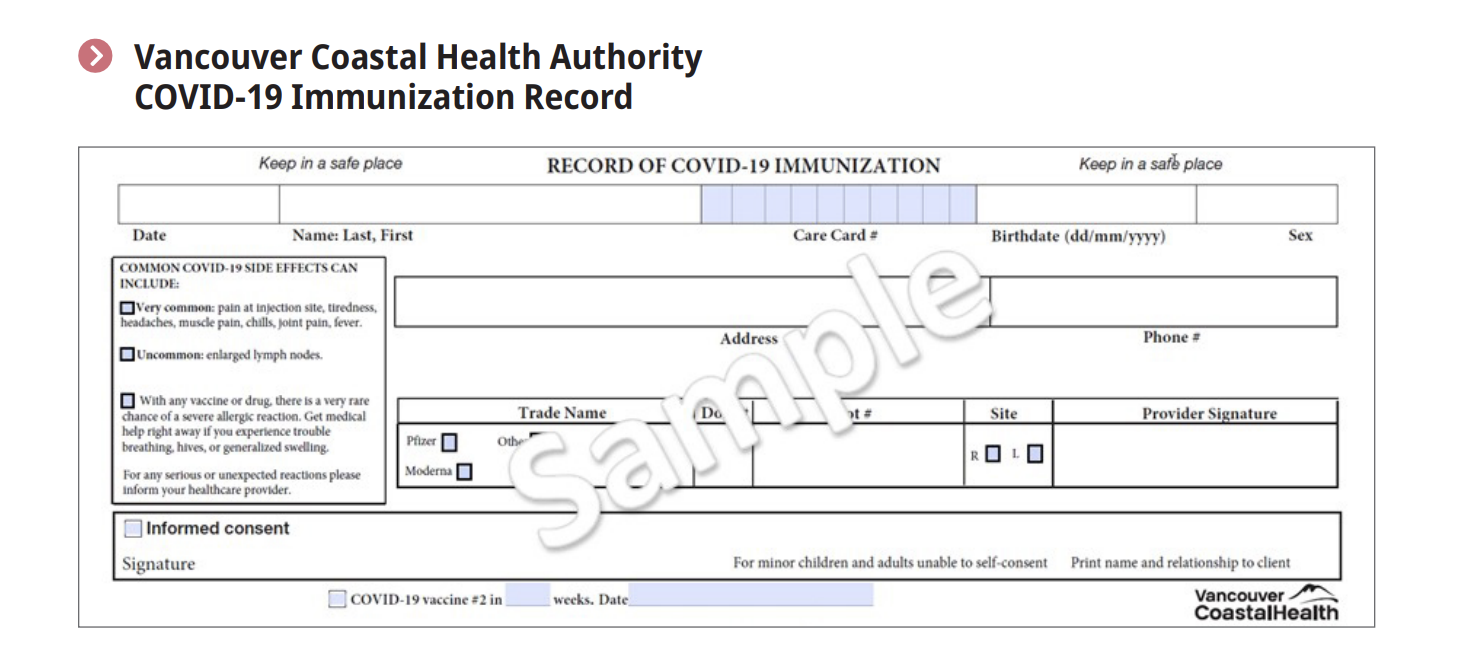 Canadian vaccine records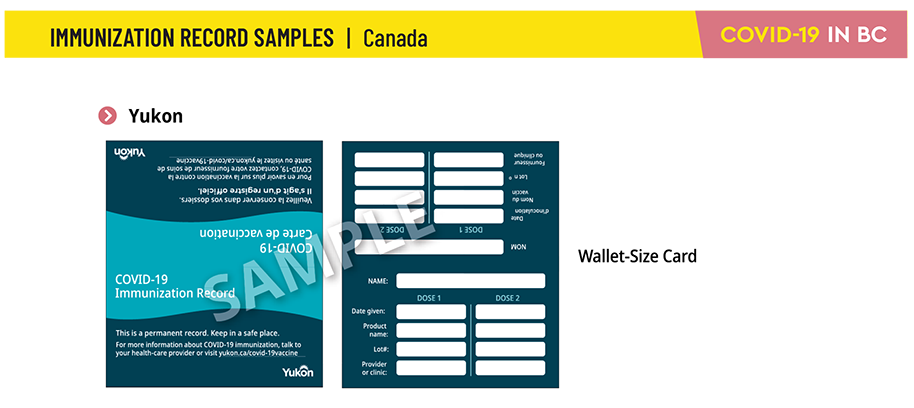 I still need help
If you need more information or have questions about the BC Vaccine Card, talk to a phone agent.
Call: 1-833-838-2323 Select option 1, then option 3
Outside Canada and the USA: 1-604-681-4261
Translators are available | Seven days a week, 7 am to 7 pm (PDT)
---
Enforcement
Businesses and organizations that do not comply with the PHO order may be issued a violation ticket.
Depending on the violation, individuals could be subject to a $230 or $575 violation ticket. Owners, operators and event organizers could be subject to a $2,300 violation ticket.
Employees will not be fined for failing to check someone's vaccine card. Owners, operators and event organizers are responsible for ensuring compliance with the PHO order.
Enforcement of the COVID-19 Related Measures Act is at the discretion of enforcement officers, including police, liquor and cannabis inspectors, gambling investigators and conservation officers. Environmental Health Officers from local Health Authorities may issue violation tickets under the Public Health Act.
Customers who refuse to show proof of vaccination
You must not permit any customer who has not shown proof of vaccination to remain on the premises. You have the right to refuse service to anyone who is not abiding by the PHO orders.
If any employee feels threatened, they should avoid confrontation and call 911.
Legal liability
Businesses that are included in the BC Vaccine Card PHO order are protected for actions they take under the order.
Businesses not covered by the PHO order are not protected, and must do their own due diligence.