B.C. Highway Flood Recovery Projects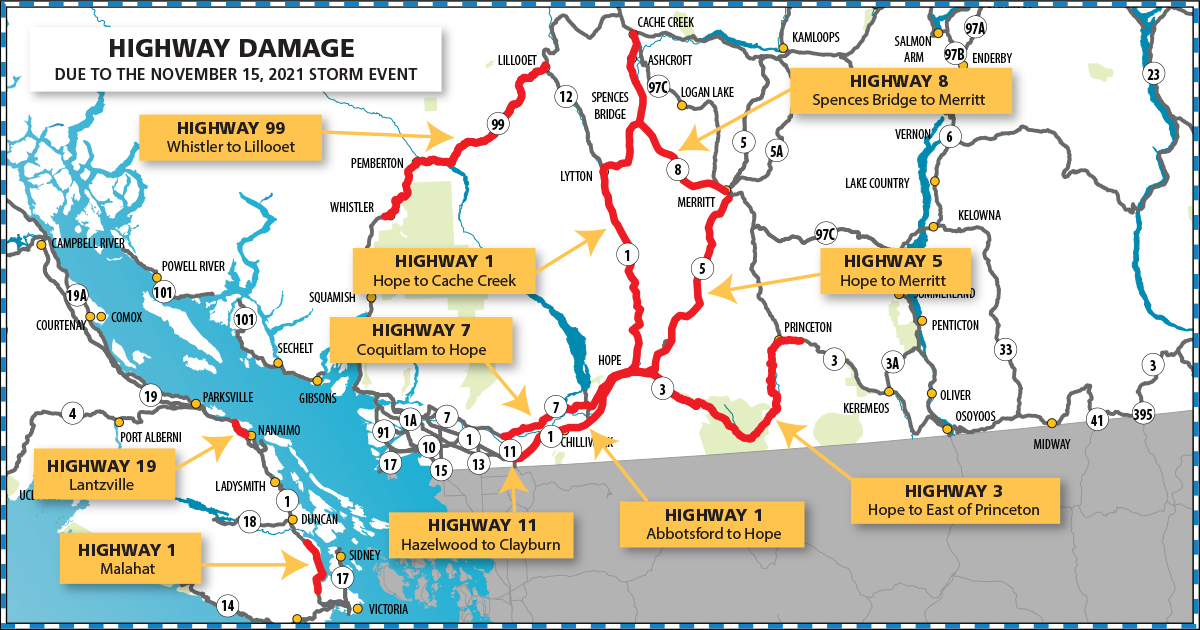 In November 2021, an atmospheric river brought an unprecedented amount of rain to the province just as winter was beginning. Highway infrastructure including roads and bridges was heavily impacted by the water. High water levels and slides damaged bridges and culverts, as well as large road sections. This resulted in cutting off main access routes to several areas of the province.
Slides can be complex and challenging to mitigate. They are often massive, and extremely difficult and expensive to stabilize.
The 2021 B.C. Highway Flood Recovery Projects are being undertaken to address the transportation impact on these routes (Highways 1, 3, 5, 7, 8, 11, 19, 99 and other side roads).
The people who build and maintain roads in B.C. have a reputation second to none, and their response to this disaster was remarkable. Working day and night they have completed temporary repairs that allowed many areas to reopen. However, the damage is extensive and will take years to fully recover.
Over the coming months project teams will be engaging with communities, local governments, Indigenous communities, and stakeholders to discuss the potential long-term transportation solutions at each project site.
DriveBC

Plan your route, find out about current road conditions, or report a highway problem.
Go to DriveBC
TranBC Blog

Find stories about flooding.
Answering your flooding questions
Photo Gallery
Photos from the November 2021 Emergency Flood Event
2021 Flooding Event Photo Gallery
Video Gallery
Videos from the November 2021 Emergency Flood Event
2021 Flooding Event Photo Gallery