Planning your visit
Planning a visit to a recreation site or trail in B.C.'s rugged back-country?
Use these resources to help plan a safe and enjoyable experience.
Map information
General information on recreation sites and trails is available on the "new" interactive map. This mapping application provides an overview and summary of conditions at recreation sites and trails throughout the province.
Recreation Sites and Trails B.C. does not produce hard-copy recreation maps for sale or distribution. But Backroad Mapbooks is a B.C. company producing high quality recreation maps, mapbooks and navigation tools. Many of their publications have recreation sites and trails information. Check with your local outdoor adventure retailer for Backroad Mapbooks products.
Additional map data layers compiled from across the B.C. Government and other public sector agencies are available on iMapBC.
Maps of historical Ministry of Forests ("Forestry") campsites have been out of print since the late 1990's. Enthusiasts found outdated maps for many years after that.
Follow the campers code
Camp responsibly this summer (and forevermore) by taking the pledge to follow the Camper's code. These 9 rules are simple and easy to follow:

• Plan ahead and be prepared
• Take only photos
• Control your pets
• Respect others
• Practice fire safety
• Store food safely
• Respect staff and signs
• Don't litter
• Respect wildlife
If all campers adhere to them, then the camping experience becomes exponentially great for all—campers, animals, and nature, too. It's our responsibility as a camping community to do the right thing to respect these incredible outdoor spaces we enjoy so much.
Choose to camp responsibly. Take the pledge.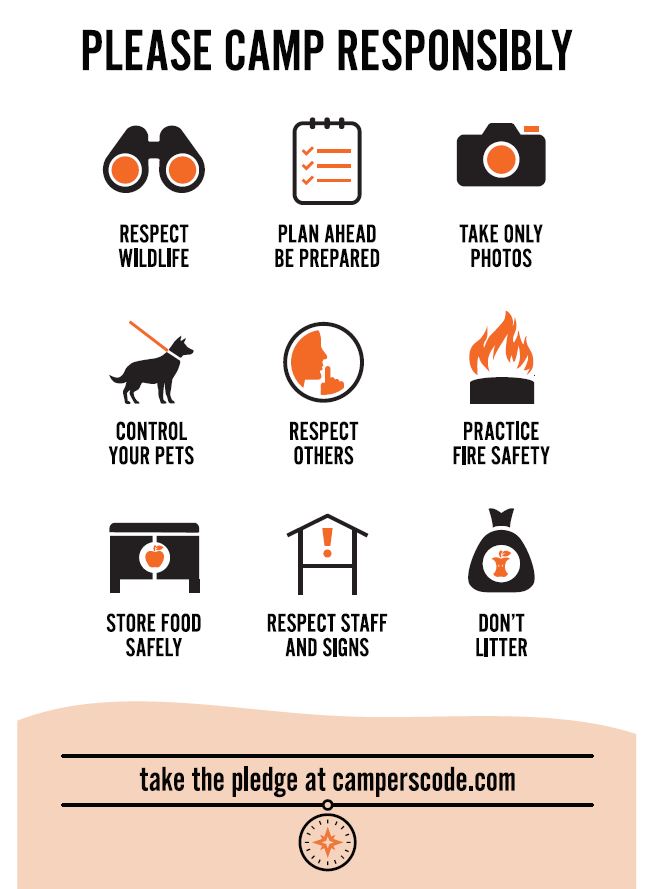 Wildlife safety and ethics
WildSafeBC is the provincial leader in preventing conflict with wildlife through collaboration, education and community solutions.
Campers should practice "wildsafe" camping and keep a "bare" campsite to reduce unpleasant wildlife interactions.
To learn more, review these WildsafeBC brochures:
In marine environments, limit interactions with whales and other marine wildlife. Read the brochure be whale-wise: guidelines for watching marine wildlife.
Useful information on invasive species, ecosystems and species at risk