Structure protection
BC Wildfire Service firefighting crews are not trained or equipped to fight structural fires. However, we can deploy structure protection specialists whose function is to help protect homes and other types of buildings that may be threatened by wildfire.

Structure protection specialists perform the following activities:
Plan and oversee structure protection tactics
Set up sprinklers
Conduct fuel management operations
Prioritize objectives in critical situations
Structure protection units
Structure protection specialists operate out of trailers called "structure protection units" and contain gear such as pumps, hoses, sprinklers and water delivery attachments and tools. These units are strategically placed and transported to areas that may be threatened. BC Wildfire Service owns and operates eight structure protection units, with access to over 40 more through contractors and local fire departments during wildfire season.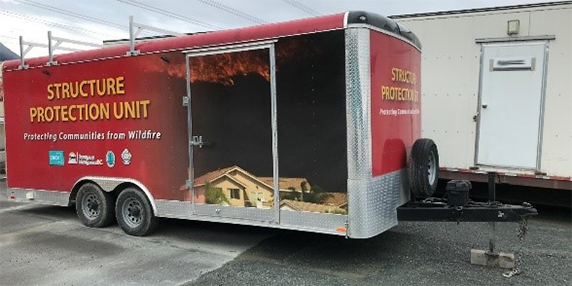 Structure protection tactics
One of the most important tactics used in structure protection is to create a "humidity bubble" around a structure. This is done by running sprinklers on and around a structure. Adding moisture to the air increases the relative humidity and reduces the chance that embers and burning debris ignite structures within the bubble.
In addition to setting up a humidity bubble around the structure, crews can use the hoses and sprinklers to set up a "wet line" to slow or stop an advancing ground fire.
Frequently asked questions