1930: Earliest community supervision and support of adult offenders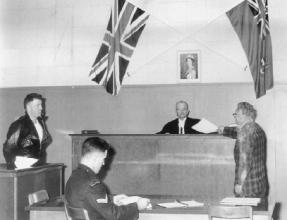 In the 1930s, community groups formed to assist offenders by developing programs within the institutional setting and following release. Many programs started by these groups later became part of the provincial correctional system. For example, in 1931, the John Howard Society of B.C. was established as an after care and rehabilitation service for inmates under the Executive Secretary, the Rev. J. Dinnage Hobden. The John Howard Society became deeply involved in reforming efforts for federal and provincial inmates in British Columbia.
Vancouver's Senior Police Magistrate, Herbert S. Wood, and J.D. Hobden were influential in the development of the first probation service for adult offenders. A voluntary probation service was initiated by the John Howard Society under the direction of J.D. Hobden in the Vancouver court of Magistrate Wood in October 1941. Thirty-five men and women were referred to volunteer probation officers before the provincial government assumed responsibility the following year.