Shipping - 7.4 Loading & Unloading
If food, livestock or inputs are not properly loaded or unloaded, damage, contamination or spoilage can occur.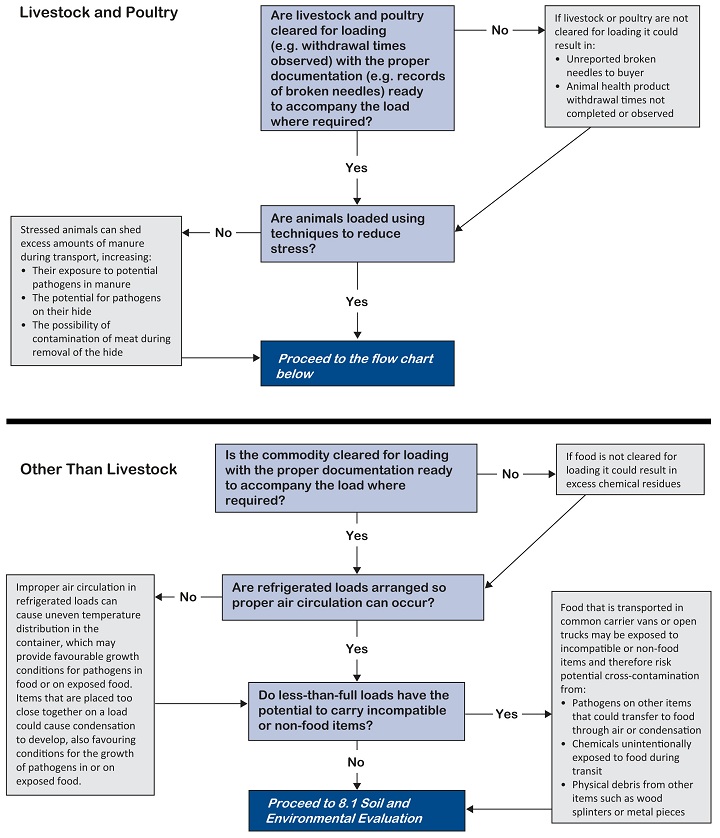 This good agricultural practice applies to all farms.
What Needs to Be Done
Load and unload food, livestock/poultry and inputs in a manner that prevents damage, spoilage or contamination from occurring.
How to Do It
Food & Inputs
Assemble each load in such a way as to prevent the final products from being crushed, broken and/or scattered during transport.
When products are being loaded into refrigerated transport vehicles, arrange them to allow for proper circulation of cold air.
Do not load fresh produce with incompatible inputs (for example, pesticides or fuels).
Livestock & Poultry
Take steps to minimize the amount of stomach fill and the amount of manure on hides/feather for livestock and poultry that are shipped for slaughter. To do this, consider:
The amount of bedding used during housing and transportation, and
Feed withdrawal periods prior to shipping.
As stressed animals shed more pathogens, reduce the amount of stress during loading and unloading by:
Using ramps,
Handling animals in a calm, quiet manner, and
Discouraging the use of electric prods.
Do not load downer/non-ambulatory animals. Refer to Canadian Food Inspection Agency requirements for downer animals.
Make sure pre-harvest intervals and withdrawal times have been met before loading and shipping.
When a needle has been broken and remains in the animal, pass this information on to the next stage of production.
In General
Prior notification of shipments to the next stage may be required. Ensure the appropriate documentation requested by the buyer accompanies the load.
Keep the information required for traceability of the product that has been shipped, and be prepared to share it if necessary. Learn more about the required data to record.
If You Need an Audit
Be prepared for the auditor to:
review production records (for example, pesticide use records, animal health product use records) to verify shipping requirements are met,
review shipping documentation where required by the buyer, and
observe loading and unloading occurring during the audit.?
Laws & Regulations that Apply
There are few laws that directly impact on food safety regulating loading and unloading practices for agricultural production. However, there are various laws that prohibit the transport of certain plants or animals or require permits. These are often part of disease management or control regulations. As many of these do not have a human food safety implication, such as plant diseases, they are therefore out of the scope of this document.?