Shipping - 7.3 Transport Vehicles
If transport vehicles are not properly designed, constructed, maintained or suitable for the materials being transported, a number of food safety hazards can result.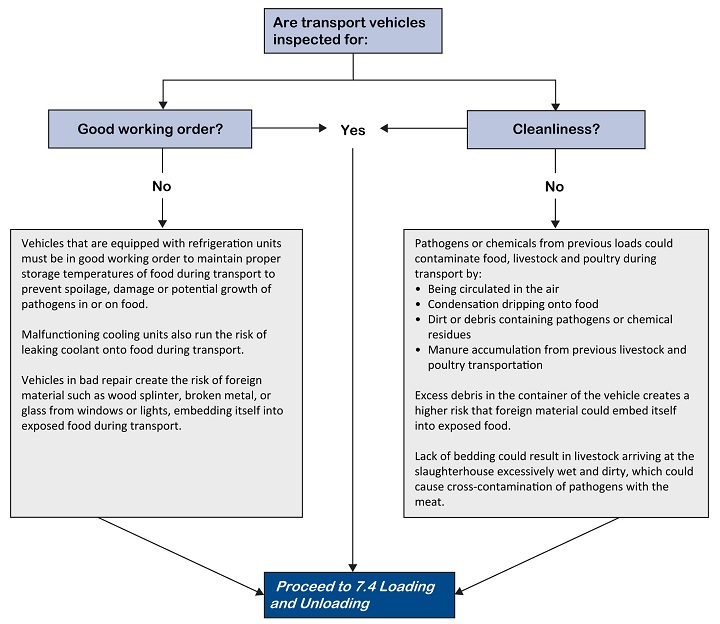 This good agricultural practice applies to all farms.
What Needs to Be Done
Observe all transport vehicles before loading or unloading to ensure they are clean and suitable for the products being transported.
How to Do It
Make sure transport vehicles are in good repair and suitable for the food or livestock being transported:

When refrigeration is required, the cooling system should be functioning properly and there should be no coolant leaks.
When transporting livestock and poultry, the vehicles should be properly designed, provide proper ventilation, and have no sharp, protruding objects that may cause injuries.

Make sure transport vehicles are easy to clean and sanitize and constructed of non-absorbent, non-toxic, smooth, corrosion-resistant materials that can hold up to repeated cleaning.
Clean transport vehicles between loads and sanitize them where necessary.
When transporting livestock, add sufficient bedding to the transport vehicle to minimize contamination from manure.
Examine all transport vehicles prior to loading. Consider the following:

Are the floors free of debris?
Is there any damage to the walls or doors?
Does the seal around the door appear to be damaged?
Does the vehicle allow for effective separation of the product from potential cross-contamination occurring during transport?
If You Need an Audit
Be prepared for the auditor to:
Observe whether transport vehicles that are the property of the farm are well maintained, clean and in good repair.?
Review records that prove products are loaded into a clean vehicle (e.g. provide trucking affidavit or truck examination documentation).?
Laws & Regulations that Apply
Vehicles to transport livestock must be suitable. The Health of Animals Act (Canada), 1990, c. 21, s. 141 requires animals that are incompatible to be segregated during transport.
There are no specific provincial laws and regulations for transportation of dead or sick animals. Vehicles that will be used to transport poisonous (toxic) substances, pesticides, biohazards or infectious substances (Class 6) must meet the safety standards set out in the Transport of Dangerous Goods Act, R.S.B.C. 1996, c. 458 and Transport of Dangerous Goods Regulation, Reg. 203/85, and the federal Transportation of Dangerous Goods Act (Canada), 1992.