Farm Building and Access - 2.1 Facility Maintenance
Food safety hazards can arise when buildings, yards, internal structures and fittings are not suitable, or maintained in good repair.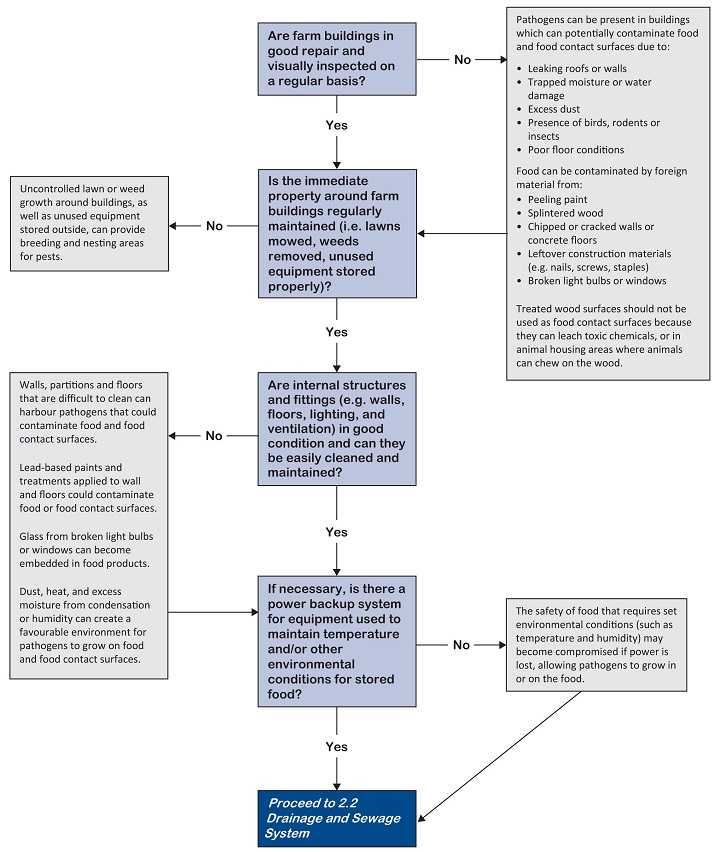 This good agricultural practice applies to all farm buildings.
What Needs to Be Done
Make sure the construction and condition of buildings, yards, internal structures and fittings are structurally sound, are appropriate for the activities intended, and allow for cleaning and proper maintenance.
How to Do It
Buildings & Yards
Make sure buildings and structures are in good condition to prevent hazards from occurring near food or food contact surfaces.
Carry out any necessary repairs to buildings in a manner that does not compromise the safety of the food housed in that building.
Allow for adequate property maintenance (e.g. lawn cutting, weed removal) and provide designated storage locations for equipment and other items.
Internal Structures & Fittings
Make sure wall surfaces, partitions and floors are non-toxic to food products (e.g. no lead-based paints).
Where appropriate, make sure walls and partitions have a smooth non absorbent surface for easy cleaning.
Make sure floors are constructed to allow adequate draining and cleaning.
Make sure ventilation systems are working properly to reduce excessive heat, humidity, vapours, dust and condensation.
Use shatterproof light bulbs or protective light bulb shields in areas containing food or packaging material to prevent contamination from broken glass.
In General
Perform regular visual inspections of the buildings and yards.
Consider having backup systems in place (e.g. power generators) to minimize disruptions due to uncontrollable circumstances.
Make sure the facility lay out considers traffic patterns to minimize the potential for cross-contamination
If You Need an Audit
Be prepared for the auditor to:
Review documentation on facility maintenance. You may be asked to provide monthly inspection reports for the exterior and interior of buildings, which may include:

Date of inspection,
Description of hazard or failure, if applicable,
Repair details and date repairs completed.

Observe the facility or request to review a site map of the buildings.
Laws & Regulations that Apply
There are few laws that directly impact food safety regulating the production unit and surrounding area in agricultural production. Generally, these requirements are laid out in laws regarding the processing of meat, fish and other food products, or egg-grading stations, which are outside the scope of this document. Note that commodity groups may specify requirements for production units
However, a number of laws apply to buildings, including farm buildings, location of buildings on properties, and activities on any given property that may indirectly affect food safety.
If the farm or a farm building is on a flood plain or if a waterway runs through it, contact the local government to determine requirements for premises under the Local Government Act, R.S.B.C. 1996, c. 323 and the Regulations. Any drainage plans must conform to the Drainage, Ditch and Dike Act, R.S.B.C. 1996, c. 102.
When building a new structure or expanding existing structures to house livestock, you are required to comply with the Code of Agricultural Practice for Waste Management under the Agricultural Waste Control Regulation (Reg. 131/92). Learn more about location of on-farm manure
Under the Milk Industry Act, Milk Industry Standards Regulation, Reg. 464/81, s. 10, 17, 22, 25, every producer shall keep all buildings or premises where animals are stabled or milked clean and in a sanitary condition; keep flies under control and prevent entry of rodents, birds, animals and insects; as free as possible from dust; adequately lighted; and ventilated sufficiently to prevent odours from affecting the milk or cream. S. 17 (1) (b), (6), s. 21 (b), s. 22 (1), s. 25 (1) (i), (ii), (4), s. 33 (1), (3) specify that a milk house be attached to or adjacent to buildings where animals are milked and in a location that ensures good drainage; and provides a loading area that is accessible for a tank truck.
Posters