Information Security Awareness
Jump to a Security Awareness page:

| | | |
| --- | --- | --- |
Security Tip of the Week

Use unique passwords for each of your work device and accounts that differ from your personal passwords. If your personal passwords become compromised, this will help better protect your work passwords from becoming compromised.
Summer Social Media Security
Take the NEW the August Summer Social Media Security Quiz!
"Sunshine, surfing, and social, oh, my!​"
With summer vacation and staycation plans, you might feel tempted to share the latest and greatest events on social media. But social media communication is not done without risk.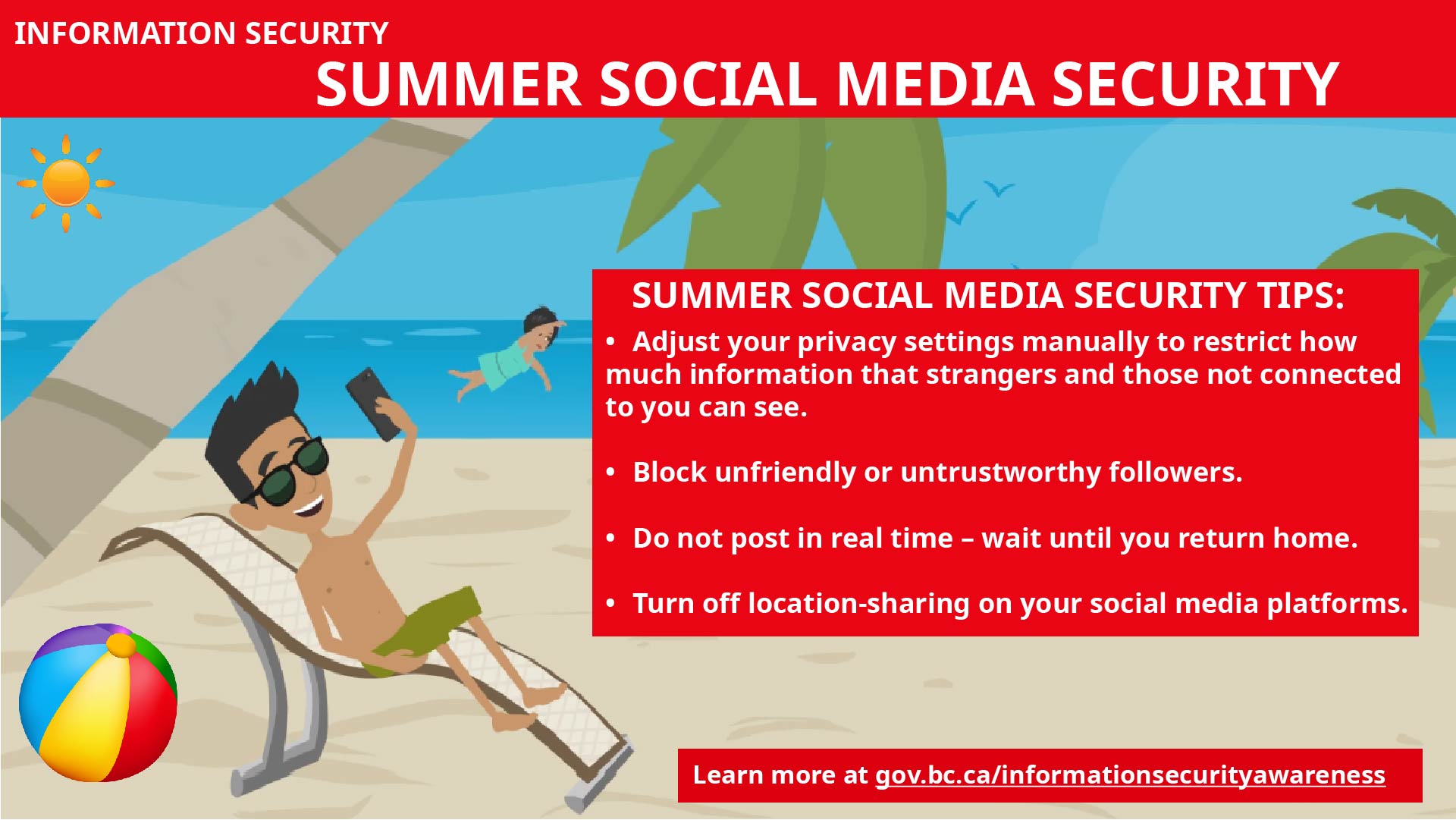 Connect and share safely this summer with these social media security tips:
Adjust your privacy settings.
Almost all social networking sites have pre-set or default privacy settings. Adjusting your privacy settings manually, rather than only using the social media account's pre-set or default privacy settings can help you restrict how much information strangers and people who are not connected to you can see. Check on these settings periodically, as changes to privacy options or policy can cause them to drop back down to the default (i.e. lowest) level.
Block unfriendly or untrustworthy followers.
Most social networking platforms offer a means to protect yourself from harassment or unwanted contact. When you join a social network, familiarize yourself with how to block another member. Once you block someone, they can no longer interact with you. Many media platforms also offer a means to report individuals who are engaging in harassing or threatening behaviour. You can also visit https://www.bullyingcanada.ca/get-help/ if you need help.
Do not post in real time – wait until you return home.
Wait until you return from vacation to share your photos on your social media platforms, since revealing that you are traveling can leave you vulnerable.
Turn off location-sharing on your social media platforms.
Location-sharing on your social media platforms decreases your security. For instance, if you check-in at a location, such as the place you are staying while traveling, you're alerting everybody who follows you that you're not at home. Increase your online safety by turning off location sharing on your social media platforms.