Security Day - November 7, 2018

"What's App with AI? A Dual Theme."
The Province organizes and hosts two "Security Day" events each year (Spring and Fall), free of charge. Government employees, representatives from the broader public sector, school districts, post secondary institutions, municipalities, and crown corporations are encouraged to attend.
Our theme for November is "What's App with AI?" This represents two themes; a brief touch on Mobile Apps in the first two presentations and a deeper, more thought provoking topic, Artificial Intelligence, throughout the rest of the day.
We have an esteemed cast of sponsors and government representatives giving expert presentations as well as a panel of stimulating conversation on the present and future of Artificial Intelligence from those in the know ... you won't want to miss this!
Security Day is a highly regarded event in the security community and by B.C. Government employees across every region of the Province, we invite you to attend whether in person or via webcast.
REGISTRATION IS NOW OPEN, there are four ways to view the event:
Live audience, 4000 Seymour Place, Victoria (Registration opens on Oct. 24th)
In-person group-cast, 623 Fort Street, Victoria (Office of the Auditor General)
In-person group-cast, Telus Gardens, 510 Georgia Street, Room 009-007, Vancouver
Virtual attendance from your own device: http://video.web.gov.bc.ca/citz/live/securityday.html.
Host your own Security Day ~ book a boardroom and live stream the event in your workplace, have stimulating discussions with your colleagues throughout the day. If you wish to attend one of the groupcasts or the general webcast and receive HR credit, register through the 'MyLearning' link ~ search 'Security Day'.
Please view the proposed agenda below (click on agenda to see larger view):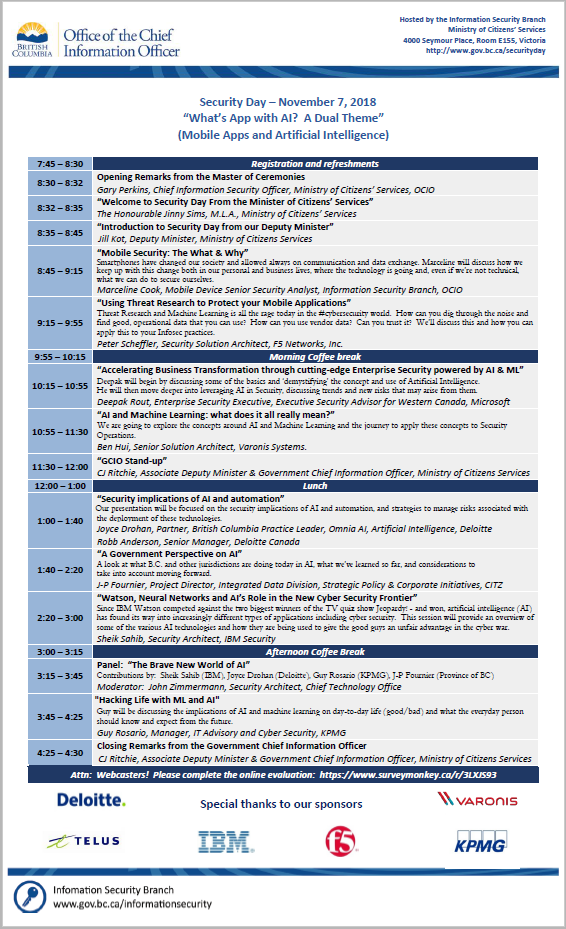 Our website will be continually updated with new information and agenda items as confirmed.
The previous Security Day videos and presentations may be found here.