Seniors Celebrate Seniors Week
In celebration of B.C. Seniors Week, June 5-11, 2011, the BC Seniors Living Association (BCSLA) and its members across the province hosted an assortment of social events, entertainments and activities for residents, friends and family.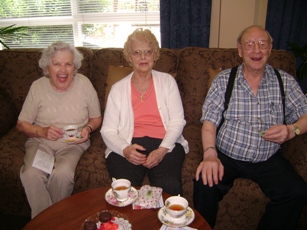 Events in different locations gave seniors a chance to shine in talent and fashion shows, share their flair for art and story-telling, and exercise their brains at a spelling bee and a brain fitness workshop. Folks also got moving with a variety of sporting events – including bocce ball, hockey, and wheelchair races – and shook things up at a Rockin' 50's dance.
BCSLA represents over 120 Independent and Assisted Living communities in B.C.
A good time was had by all! Big smiles at the Vintage Car Show at Berwick Royal Oak in Victoria and the Strawberry Tea at the Willow in Maple Ridge.