B.C. Seniors' Fall Prevention Awareness Week 2011
Seniors' Falls Prevention Awareness Week in British Columbia will be held Nov. 7-13. The goal of the week is to raise awareness around the prevention of falls and injuries among older adults, and to encourage leadership and collaboration among health authorities across the province.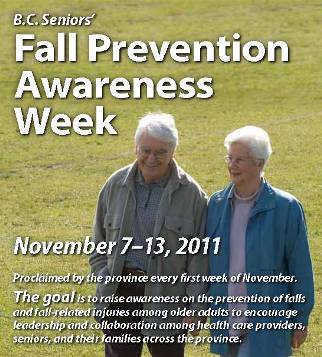 Related events include:
• Special event to announce recently released Vitamin D Protocols for Residential Care, Fraser Health
• Launch of new Universal Fall Precaution Tools for Residential Care, Interior Health
• Launch of new Primary Care Fall Prevention Multimedia Package, Canadian Injury Prevention and Safety Promotion Conference, Vancouver
• Campaigns held across B.C., with champions on site at various locations providing information on fall prevention initiatives.
For more information on Seniors' Fall Prevention, visit: