Celebrating BC Seniors Week with Circuits 4 Seniors
Over 200 people celebrated B.C. Seniors Week, June 5-11, and got tips on keeping fit, by taking part in Circuits 4 Seniors, a series of open houses held at Seniors' Community Parks across the province.
Circuits 4 Seniors events were held in Burnaby, Courtenay, Kamloops, Kelowna, Nanaimo, North Cowichan, Oak Bay, Prince George, Richmond, Terrace and Vancouver. Certified trainers were on hand at each of the community parks to lead participants through a series of movements on the outdoor fitness equipment.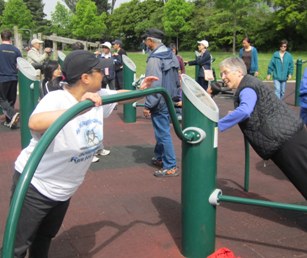 Participants included not just seniors, but people of all ages.
"We had several younger people attend and we emphasized the fact that the park is multigenerational and encouraged them to bring their families out," said Cheryl Livingstone-Leman, Recreation Co-ordinator for the City of Prince George.
The Circuits 4 Seniors open houses were organized by the Health Promotion Supports and Engagement Branch and the Seniors' Directorate of the Ministry of Health, and the British Columbia Recreation and Parks Association (BCRPA).
The B.C. Government has funded 18 Seniors' Community Parks around the province.