Purple Martin
While working on a foreshore restoration project near Campbell River on Vancouver Island, Ministry of Transportation and Infrastructure (MOTI) staff passed a Purple Martin colony that was established by the installation of specialized nesting boxes on the tops of abandoned wood pilings near the shoreline. Seeing how successful this species at risk recovery project was MOTI biologists realized that this would be a great feature to add to their ongoing restoration work around the coastlines of Vancouver Island.
The Nanaimo-based Western Purple Martin Foundation and the Georgia Basin Ecological and Restoration Society supplied the MOTI with useful information about their work with Purple Martin nesting boxes and species recovery. A quick partnership was formed with these organizations, community biologists and MOTI staff and a decision was made to install nest boxes at the MOTI Green Shores foreshore restoration project.
This Campbell River site was more wind-exposed and open and somewhat atypical of Purple Martin nesting sites. Installing upright logs was experimental for Purple Martin nesting poles, but at the minimum they would function as wildlife snags for other species and provide additional biodiversity features, foreshore roughness and complexity. Over the winter, volunteers constructed nesting boxes. Purple Martin nesting boxes have very specific requirements that have been developed through many decades of tweaks and customization. Five boxes were installed at the Green Shores site in 2013 and all boxes were occupied by Purple Martins the first breeding season after installation!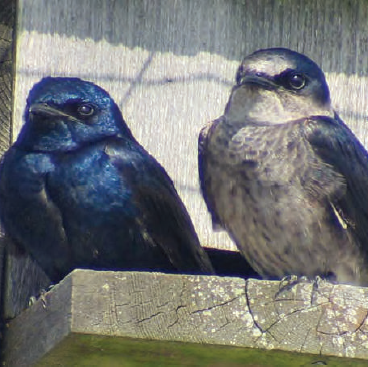 In 2014, MOTI began work on another foreshore restoration site along West Saanich Road through Tseycum First Nations lands near the Victoria International Airport. While stabilizing a failing road embankment along Patricia Bay was a goal of the project, an equally important part of the project was assisting the band in assessing and protecting part of a Tseycum traditional village site. MOTI partnered with the Tseycum First Nation to complete this project in a manner that was sensitive to Tseycum history.
This site seemed like another great opportunity to install Purple Martin nesting boxes. This area was more conducive to Purple Martin nesting than the Green Shores site as it was very well protected. Three clusters of nesting poles and five boxes were installed in 2014.
Human encroachment and development caused the loss of almost all natural Purple Martin nesting spots, typically tree cavities along foreshore areas, to less than 10 in British Columbia in the 1980s. Through recovery efforts, there are now 1,150 nesting pairs and 90 colony sites. The artificial nest box program accounts for almost all Purple Martin nesting today. This species was almost extirpated (locally extinct) in BC and through recovery efforts is now listed as a species of special concern (blue-listed).
This could not have been done without the leadership of experts and the willingness of people to implement these recovery efforts with support of many funders and volunteers. Purple Martin recovery in BC is a success story and continues only through the efforts of many recovery partners and volunteers.