Oliver Mountain
Oliver Mountain contains some of the last traces of intact Antelope Brush in B.C. - one of Canada's most endangered ecosystems - and is an area rich in Indigenous culture and values. Many of the plant and animals that depend on this fragile environment are species at risk in Canada, and are listed as either endangered or threatened in B.C.
Oliver Mountain contains critical habitat for many species that are federally identified under the Species at Risk Act. The multitude of endangered flora and fauna located at Oliver Mountain are highly susceptible to human disturbance and habitat degradation.
On this page:
Planning process
In 2013, a planning process began to help lessen the pressure motorized recreation was placing on the sensitive species at Oliver Mountain. This planning process included multiple government ministries and an advisory committee of stakeholder groups that investigated management options for Oliver Mountain during 2014-2015. Their aim was to protect sensitive species while maintaining recreational opportunities. After both public and First Nations consultation, the decision was to follow a two-pronged approach:
Prohibit motor vehicle use on 348 hectares of Oliver Mountain through a Motor Vehicle Closure Area (under the Wildlife Act)
Create a 29 hectare Recreation Site (under the Forest and Range Practices Act), which only allows dirt bike use on designated recreational trails
Monitoring
Monitoring is critical to track the effectiveness of this two pronged approach.
A monitoring plan has been established that includes:
An inventory of threatened species (is the presence of key species, photo points and vegetation plots staying stable?)
The effectiveness of the closures (what is the number of unauthorized users in restricted areas?)
The effectiveness of the recreation site (are motorized vehicles staying on designated trails only?)
Is the ecosystem recovering?
Further management action may be considered if sensitive species continue to be negatively impacted by recreational use of Oliver Mountain.
Key species at risk
Oliver mountain is the home for many species that are at risk of disappearing from the province. The species at risk in this area include:
South Okanagan Wildlife Management Area
Please be aware that there are two parcels of South Okanagan Wildlife Management Area (SOWMA) land adjacent to the northeast and southwestern portions of Oliver Mountain. It is important to protect these areas as they play a vital role connecting habitat for sensitive species. These areas are important to preserve as they offer a point of reference for intact and healthy functioning ecosystems. Anyone found damaging habitat within a Wildlife Management Area may be subject to enforcement action.
Illegal trail construction and use of e-bikes
Illegal trail construction
Illegal recreation trail construction is a serious and growing issue in the South Okanagan. Because these areas are so dry, impacts from illegal trail building can take ecosystems several decades to recover, even if use of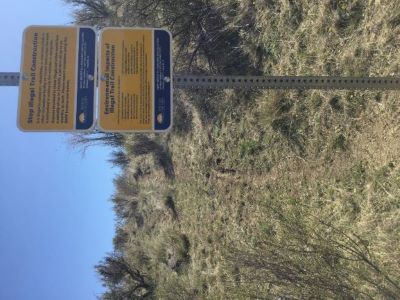 the trails stops. While trail construction may not sound like a serious problem, trail networks tend to start small, and gradually grow over time.
Unauthorized trail construction can result in:
Spread of invasive plants
Disruption of wildlife, including species at risk
Disruption of sensitive plant communities and associated ecosystems
Soil erosion and soil compaction
Negative effects on water quality or water flow
Safety and liability concerns due to improperly built or maintained trials and structures
Grasslands compose less than 1% of the land base in BC (Grasslands Conservation Council of BC). To preserve this area for the future, it is critical that the land be treated with respect and care. It is illegal to develop trails without proper authorization. Report a violation if you see it.
E-bikes also prohibited under Wildlife Act Motor Vehicle Closure
Under the Wildlife Act Motor Vehicle Prohibition Regulation, e-bikes are now included:
Section 2: A person commits an offence if the person uses or operates a motor vehicle or electric bicycle in an area described in Schedule 1 during the period specified in that schedule for each area.
Invasive plants
Introduced plants, such as Puncturevine, have invaded these very dry habitats. Being a non-native species with no natural enemies, these plants invade natural areas and compete with native plants. Off-road vehicles, shoes and animals can carry the seeds of invasive plants to new locations.
Please check your tires and footwear before entering and leaving this area. Further information can be found at www.oasiss.ca