Western Rattlesnake
In 2001, Thompson Rivers University (TRU) researchers and provincial staff teamed up to determine where Western Rattlesnakes, a species at risk, utilized habitat adjacent to the City of Kamloops. There were only a couple of known winter hibernacula or dens in the area, but they knew snakes occupied sites beyond those known locations. Between 2001 and 2007, 12 new rattlesnake dens were found within 2 kilometres of the city limits. The City of Kamloops continued to grow and around 2006, provincial biologists and their TRU partners started to notice a problem. The Batchelor Heights subdivision in Kamloops was the source of a number of calls to the Province about rattlesnakes in residential backyards. In addition, TRU research at one of the dens closest to the subdivision made biologists aware of the increasing development close to the den.
Provincial biologists immediately began working more closely with the City of Kamloops. Meetings with the City revealed there were additional areas zoned and approved for residential development in Batchelor Heights and that development would continue over the next several years.
The Province secured funds in 2008 to install snake-proof fencing along 500 metres of the oldest section of Batchelor Heights that is closest to the rattlesnake dens. In addition, the Kamloops planning department now requires developers to install snake-proof fencing for new subdivisions in rattlesnake habitat.
These were great wins for the snakes, but there was an additional 900 metres of subdivision that was already approved and would have no snake-proof fencing. The Province secured funding from the Habitat Conservation Trust Foundation in 2011 and the Land Base Investment Strategy in 2013 to fence-off the remaining areas of the subdivision.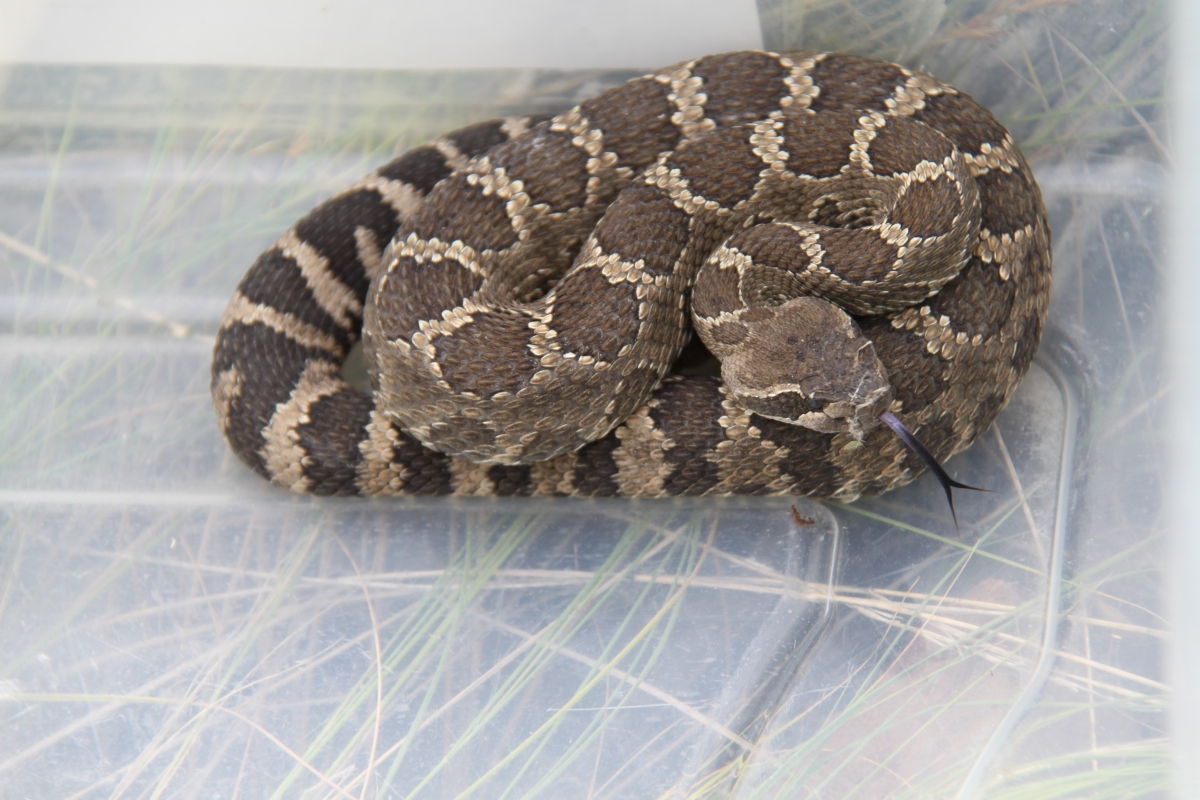 The City of Kamloops, Thompson Rivers University and the Province of B.C. worked together to locate Western Rattlesnakes and to make the city safer for snakes and people, but this story does not end here. Snakes still occasionally find their way into the subdivision and provincial biologists started working on addressing this through public education, ensuring snakes could be removed from backyards, and through regular snake-proof fence maintenance.
Since 2009, biologists have worked with Kamloops bylaw officers to provide education about rattlesnakes and other snake species in the city. Since 2013 the Province of B.C., the City of Kamloops and WildSafeBC have provided annual training at the BC Wildlife Park for bylaw officers on how and where to move rattlesnakes. With all of these partners, there should be enough hands-on-deck to address rattlesnake issues in the city.
Through all this work a great partnership has been formed. Every year the City of Kamloops, provincial biologists, and WildSafeBC determine the snake stewardship needs for the coming year. Provincial biologists and Kamloops parks staff maintained the entire section of snake fencing in 2015. Provincial biologists and WildSafeBC have done outreach with local residents each year to make sure they are knowledgeable on these shy, non-aggressive snakes and what to do if they find a snake in their yard or when recreating in the grasslands. The outreach also focuses on teaching residents how to maintain their own portion of the installed snake-proof fence.
We are hoping that all this hard work pays off and that Western Rattlesnakes can persist within Kamloops city limits. Provincial biologists are working this year to monitor the closest snake dens to help understand the number of snakes and trends over time.