Northern Spotted Owl Recovery & Breeding Program
The Northern Spotted Owl historically thrived throughout the old-growth forests of the Pacific Northwest, with as many as 1,000 owls residing within Canada. Today, due to habitat loss from human disturbances and increasing competition with expanding Barred Owl populations to occupy the remaining old-growth forests, the Spotted Owl is one of Canada's most endangered species with fewer than a dozen Spotted Owls in British Columbia.
To help save the species from extirpation (local extinction), the Province of BC committed to key recovery actions that will help protect and recover this species. A first key action was to protect 325,000 hectares of habitat; sufficient to support a minimum 250 Spotted Owls. This target was established by the Canadian Spotted Owl Recovery Team. To achieve this target, the provincial government engaged in extensive engagement and negotiation with the forest industry and stakeholders, and designated approximately 175,000 hectares of Spotted Owl habitats for legal protection as Wildlife Habitat Areas under the Forest and Range Practice Act. An additional 150,000 hectares of Spotted Owl habitat are also protected within existing protected areas such as Provincial Parks and the Metro Vancouver watersheds.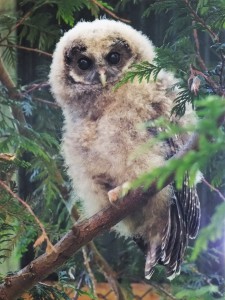 A second key action was the removal of Barred Owls (a species whose range only recently expanded to overlap with Spotted Owls) from habitats protected for the recovery of Spotted Owls. This was needed to reduce the negative competition effects with Barred Owls for foraging and nesting habitats. To achieve this action, over 150 Barred Owls have been removed from protected Spotted Owl habitats. Preliminary results suggest the removal of Barred Owls enabled new Spotted Owl territories to be established and improved the overall breeding success. Where Barred Owls were removed, 10 new adult Spotted Owls were discovered and 12 juvenile Spotted Owls were produced.
A third key action was to establish of a Captive Breeding and Release Program dedicated to restoring the Spotted Owl population back to self-sustaining levels throughout its entire Canadian range. As of 2016, the captive breeding program is comprised of 17 Spotted Owls, 8 of which were born in captivity. The other 9 owls were caught from the wild in British Columbia and Oregon. The breeding facility will eventually house a minimum 10 breeding pairs (20 owls) and produce annually up to 20 captive-born owls ready for release back into the wild. The first year of Spotted Owl release is expected to occur in the spring of 2018.
To support spotted owl recovery research, the breeding program also breeds Barred Owls. As Spotted Owl surrogates, they are used to refine and improve husbandry and artificial incubation techniques that are then applied to Spotted Owls. This reduces the need to test these techniques on Spotted Owls at the facility. The captive-born Barred Owls will also be used to test which release strategy may work best for future Spotted Owl releases. These release strategies will be tested when nine captive-raised Barred Owls are released in 2017.
All recovery actions are led by Provincial Biologists with support from the British Columbia Conservation Foundation and Grouse Mountain Refuge for Endangered Wildlife. In 2016, the program was financially supported by the Fish and Wildlife Compensation Program, TD Friends of the Environment, BC Hydro, Innergex Renewable Energy and through donations to the Captive Breeding Program.