Climate preparedness and adaptation
Preparing for climate change strengthens our ability to respond to extreme events like wildfires, flooding and heatwaves, as well as more gradual changes like water shortages and sea level rise. B.C.'s Climate Preparedness and Adaptation Strategy helps to protect ecosystems, lower long-term costs and keep people and communities safe.

On this page:
Climate Preparedness and Adaptation Strategy
B.C.'s Climate Preparedness and Adaptation Strategy outlines a broad range of actions for 2022-2025 to address climate impacts and build resilience across B.C.
Actions prioritized for the strategy are supported by more than $500 million of investments and took into account feedback from public engagement on the draft Climate Preparedness and Adaptation Strategy and other factors such as the 2019 Preliminary Strategic Climate Risk Assessment and the extreme weather events of 2021. Actions in the strategy are grouped into four key pathways and build on the work already underway across governments, First Nations, businesses, academia and non-profits.
Together, we're working to ensure our communities, economy and infrastructure are ready for climate change while safeguarding the ecosystems that support us all.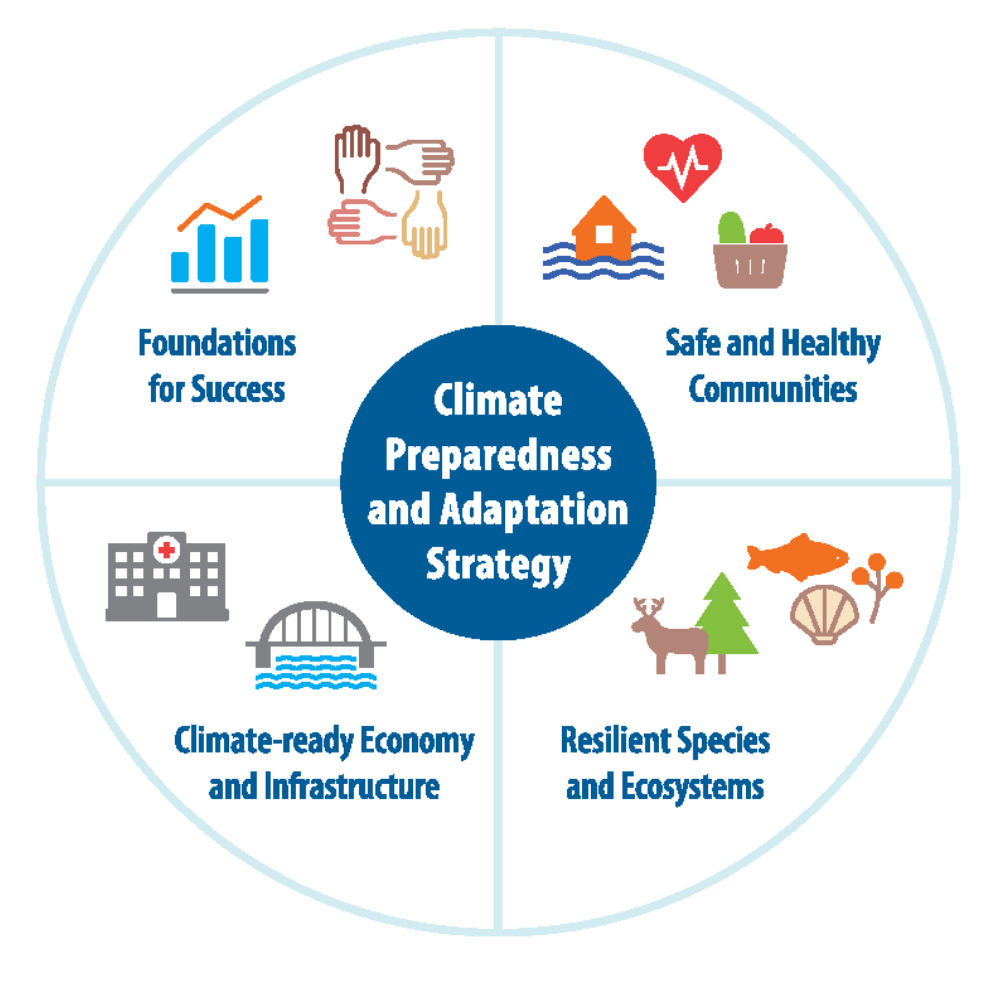 2021 Draft strategy documents
Past engagement
Why prepare?
The climate influences everything from the foods we can grow and the temperature in our homes, to the design of our roads and the types of plants and animals that make up an ecosystem.
While the province has always had events like wildfires, floods and droughts, climate change will increase their frequency and severity. These changes are driven by higher levels of greenhouse gases in the atmosphere, created by many decades of activities such as burning fossil fuels and clearing land.
We can't undo the past and avoid the effects of climate change, but we can be better prepared to adapt and reduce the impacts. Preparing now will help protect us from future shocks and strengthen the resilience of our communities, ecosystems and economy.
There's also a strong business case for preparing. Research has shown that every dollar spent on measures to prepare for climate impacts results in savings of between $2 to $10 in the future.
How climate change affects B.C.
B.C.'s climate is already changing. Historical data from 1900 to 2013 indicates that the average annual temperature has risen by 1.4 °C. Winter night temperatures increased by an average of 3.1 °C. While that doesn't sound like a lot, this means that extreme temperatures become even more extreme, and the temperature change is already having profound affects across the province that will continue to increase in severity over time.
Annual precipitation has increased across the province overall, though summers tend to be drier than in the past. Sea levels have also risen along most of the B.C. coast, and rivers have become warmer in the summer, negatively impacting salmon and other species.
To learn more about climate change trends in B.C. visit Environmental Reporting BC.
Future impacts
In the future, B.C. is projected to have warmer temperatures in all regions, though each region will face different climate impacts. Generally, climate change in B.C. is likely to include:
Warmer temperatures in all seasons
More intense and more frequent heavy-rain events
Changes in growing seasons for crops and gardens
Increased drought and water shortages
Larger and more frequent wildfires
Changes in streamflow patterns and lake levels
Stronger storm surges and rising sea levels
Changes in plant and animal distributions, and forest conditions
Smaller snowpack and loss of glaciers
Lowering the pH of the ocean (ocean acidification)
Read the British Columbia Chapter in Canada in a Changing Climate: Regional Perspectives Report.
Visit ClimateReadyBC to:
Understand disaster and climate risks
Find funding and supports to make communities more resilient
To explore specific climate impacts for your region, visit ReTooling.ca or check out the Plan2Adapt tool.
How B.C. is preparing for climate change
The actions in the Climate Preparedness and Adaptation Strategy expand on a number of existing programs and initiatives to prepare for climate change across government. Read examples of work underway to prepare for climate impacts.