Climate Preparedness and Adaptation Strategy
B.C.'s draft Climate Preparedness and Adaptation Strategy outlines four pathways to strengthen our capacity to anticipate and respond to the impacts of climate change – like wildfires, floods and heatwaves, loss of habitat, changes in growing seasons and rising sea levels.
The strategy contains actions the Province is taking in 2021 and 2022, as well as proposed actions to be taken in 2022 to 2025. It builds on the substantial work already underway in B.C.to prepare for climate change and is informed by the 2019 Preliminary Strategic Climate Risk Assessment, which examined some of the greatest risks to B.C. as a result of climate change.
Public engagement is now closed
Public engagement on the draft strategy and guiding principles was held from June 9 to August 12, 2021. This feedback is being used to finalize actions and inform the implementation plan for the next phase of the strategy, anticipated for release in 2022.
Pathways and actions
Actions in the Climate Preparedness and Adaptation Strategy are divided into four key pathways: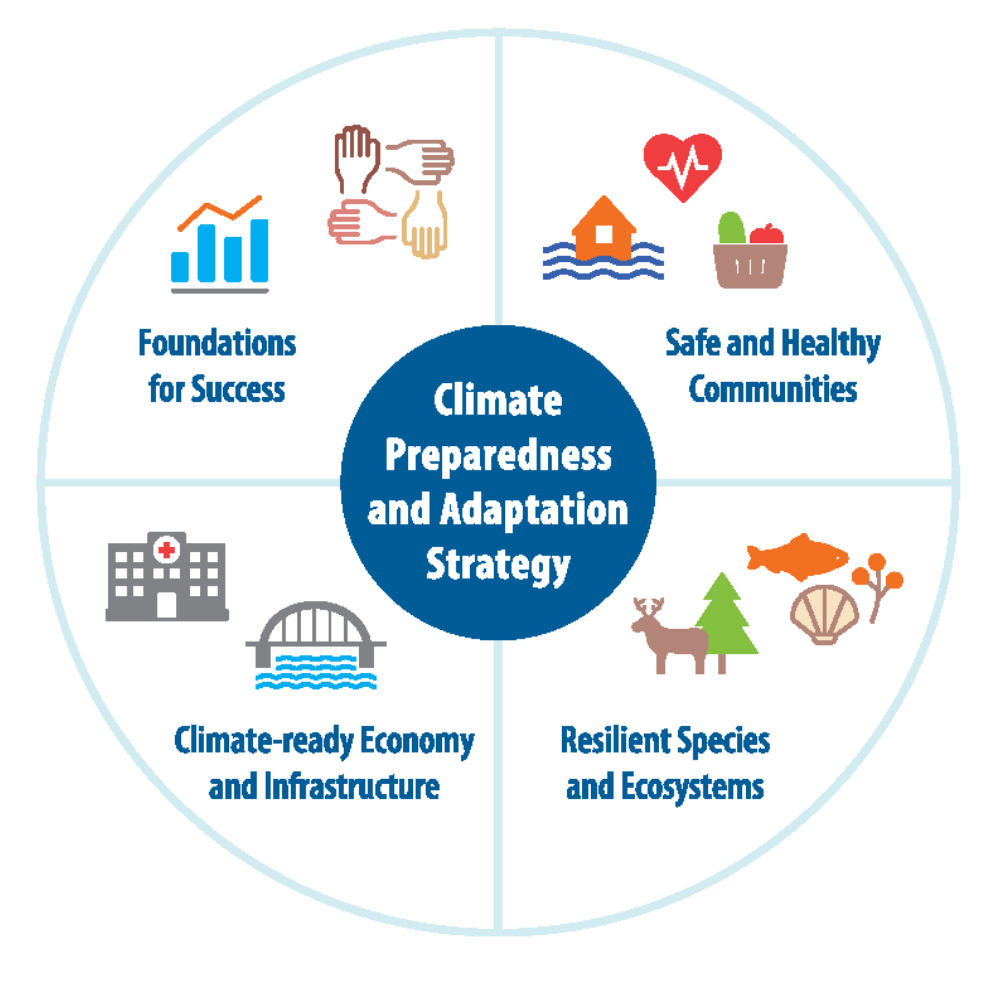 1. Strengthen foundations for success: data, monitoring, education and partnerships
This pathway will help to improve our understanding of the changing climate and how it will influence our lives. Actions aim to build capacity through training and education programs, bring climate knowledge into decision-making and create partnerships to plan for the changes that will happen in the decades to come.
Work with Indigenous Nations and organizations to increase community resilience to climate change
Increase understanding of climate risks through improved data, monitoring and forecasting
Improve public understanding of wildfire threats and B.C.'s changing climate
2. Enhance community climate resilience
Communities across B.C. are directly affected by the impacts of climate change and are the first line of response to severe weather events and disasters. For this pathway, the Province will partner with Indigenous Nations and organizations as well as municipalities, regional districts and non-governmental organizations to identify opportunities to adapt to climate impacts.
Conduct initial work on a B.C. Flood Strategy in collaboration with other levels of government
Expand community planning and disaster risk management through enhanced use of climate data
Improve the provincial response to extreme heat and wildfire smoke for unhoused and housing insecure populations
Increase understanding of climate impacts on health infrastructure
Broaden the Province's understanding of food security within the context of a changing climate
3. Foster resilient species and ecosystems
B.C. is home to a rich diversity of species and ecosystems. For this pathway, the Province will work with Indigenous Nations, including Knowledge Holders, and others to ensure our landscapes and ecosystems in B.C. are managed to promote resilience and connectivity. We will also work to strengthen the resilience of the marine environment and enhance B.C.'s watershed security.
Identify opportunities for using nature-based solutions for climate adaptation and greenhouse gas reductions, in collaboration with partners
Assess climate risks and vulnerabilities to B.C. fisheries and aquaculture

Conduct initial work on a watershed security strategy and assess risks to water quality from contaminated sites under future climates

Improve understanding of climate impacts on BC Parks' infrastructure and operations
Key themes proposed for actions for 2022 to 2025
4. Advance a climate ready economy and infrastructure
Climate change has significant impacts on B.C.'s business and industrial sectors, as well as the infrastructure we all rely on – from roads and bridges to communication and energy systems, to schools and hospitals. This pathway works to ensure that B.C. business and industry can address the risks of climate change, while also helping to maintain a resilient workforce and build food security.
Promote reliable transportation networks by assessing climate impacts on vulnerable highway culverts and resource roads
Improve the Province's understanding of agricultural water infrastructure and climate risks to mining and energy industries
Enhance use of the Climate Change Informed Species Selection Tool in the forest sector
Expand the Province's understanding of climate risks to coastal communities and economies
Promote a climate-ready public sector through assessing climate risks on government buildings
Key themes proposed for actions for 2022 to 2025