Deputy Sheriff Career Opportunities
What is a Deputy Sheriff?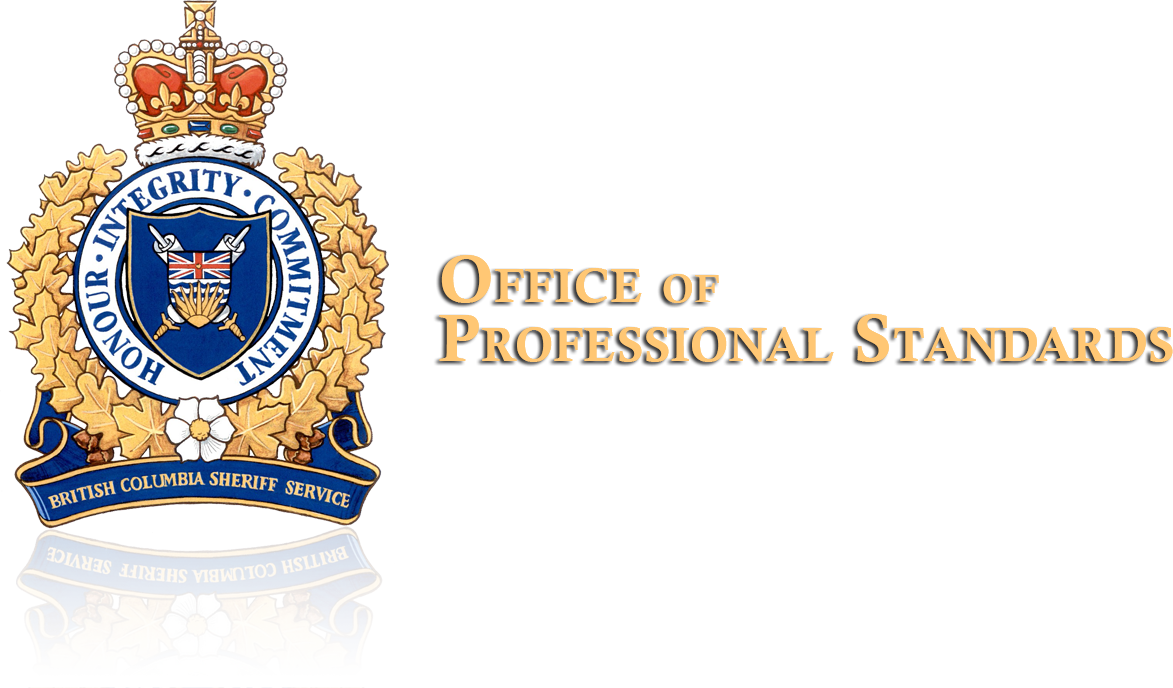 BC Sheriff Services (BCSS) is a division of the Court Services Branch in the Ministry of Attorney General. BCSS offers exciting careers in a law enforcement environment in 43 court locations throughout the province.
Deputy Sheriffs are provincial peace officers who work closely with different partners in the Justice System to ensure all levels of courts in the province are operating smoothly and safely. They coordinate appearances, enforce court orders, execute arrest warrants, are involved in jury selection and sequestering, as well as provide for various document services. Deputy Sheriffs also: provide intelligence and risk assessment services; train, plan, prepare and execute high security appearances and transports; as well as provide protective services for the judiciary, crown, defence, public, court staff, and all participants in the system so they may work in a safe environment while participating in or delivering justice related services for the province.
Deputy Sheriffs work under the provincially-mandated British Columbia Emergency Response Management System (BCERMS) when planning and delivering security for high security and high-profile trials.
Responsibilities include:
Intelligence gathering
Providing for the safety of the courts and its users
Ground and air prisoner escorts
Jail and jury management
Document and Canada wide warrant services
Assisting the coroner's court
Defined as a Peace Officer within the Criminal Code of Canada, you will be required to be physically fit and pass firearms and force options training on a yearly basis.
New recruits enter the BCSS as deputy sheriffs and are provided with opportunities for continuing education, skill specialization and career advancement. Deputy sheriffs are able to advance their careers by pursuing opportunities to become sergeants, staff sergeants, inspectors and superintendents. The highest ranking sheriff is the chief sheriff, followed by deputy chiefs.
Qualifications:
Competent with computers, you are able to keyboard with speed and accuracy with a minimum of 25 words per minute, you have Grade 12 education or equivalent, you possess sound problem solving, decision making, and teamwork and conflict resolution skills. You have an unrestricted class 4 driver's licence and First Aid Certificate with CPR-C. You have excellent written and verbal communication skills and remain calm during tense situations. You are also dedicated, motivated, and committed to making a difference. For more information about this role, please read the Deputy Sheriff Job Description (PDF,647KB).
Does this sound like you? More details are provided in the Deputy Sheriff Recruitment Requirements (PDF, 120KB).
Application Process Update
The Deputy Sheriff Recruitment Centre accepts applications in December and June each year. View and apply for current opportunities through the Current BC Government Job Postings page and accessing the Career Centre. To receive email updates when a new job posting is created you can create a Job Search Agent and select the category Court and Judicial Services.
The Online application will record responses on how applicants meet the listed qualifications. In addition to completing the online application, all applicants will be required to submit documented proof of their qualifications. This includes emailing copies of their identification, certificates, and transcripts to the Recruitment & Selection Centre prior to the closing date of the job posting.
Applicants selected to move forward will be tested on their keyboarding skills (25 words per minute minimum). Applicants will also be required to complete The Sheriff Officer Physical Abilities Test (SOPAT), a physical fitness test that must be completed in less than 4 minutes and 15 seconds.
To see a demonstration of the SOPAT please visit the Justice Institute of BC website.
Applicants who successfully pass the SOPAT will be required to complete a pre-employment written assessment and must agree to a detailed personal background check and comprehensive medical examination prior to receiving confirmation of employment. Results of the pre-employment written assessment and background check are verified through a Computer Voice Stress Analysis test. A copy of the Pre-Employment Written Assessment (PDF, 461KB) is provided for your convenience.
All successful applicants are hired by the Court Services Branch (CSB) Office of Professional Standards (OPS) and will be required to attend the mandatory Sheriff Recruit Training program facilitated by the Sheriff Academy at JIBC at no cost to the recruit.
What we offer
A benefits package and defined pension plan that support employees and their families
A collaborative and engaging team
A diverse workplace
A flexible work environment
Competitive salaries
Continual learning and individual development
An opportunity to build and advance your career in the public service
Paid Training
Upon hiring, new recruits are scheduled to attend mandatory Sheriff Recruit Training (SRT) at the Sheriff Academy at the Justice Institute of B.C. Typically, training is offered once or twice a year. There is no cost to recruits for training and a training wage is provided.
Prior to beginning training and as a condition of employment, a recruit will be required to sign a 'Return of Service agreement'. The agreement states that if the individual does not remain in the employment of the BC Public Sector for two years after hire, they are committed to repay their training costs on a pro-rated basis, based on how long they have been employed.