Retroactive home owner grant
The home owner grant may be available retroactively if you qualified for the grant last year and you did not apply.
You may qualify as a homeowner who is:
You can apply retroactively for last year's home owner grant, if you meet the following requirements:
You qualified for the grant on December 31st of last year
You're still the registered owner of the property
You did not apply for a home owner grant on another property
The home owner grant was not applied for on your property by a previous owner last year
Anyone with your permission can apply on your behalf.
How to apply
Your application must be received by December 31st of the current year to claim last year's home owner grant.
The fastest and easiest way to apply for a retroactive home owner grant is online. You can also apply by phone.
If you do not have a computer or access to the internet, you can visit a Service BC location.
Apply online
The online application process for a retroactive home owner grant is the same as the application process for the current year, except that, on the application, you'll select that you are applying for the previous tax year.
To apply, you need the jurisdiction and roll number for the property. These numbers can be found on any of the following:
Your property tax notice
Your BC Assessment notice you received in January (see sample below)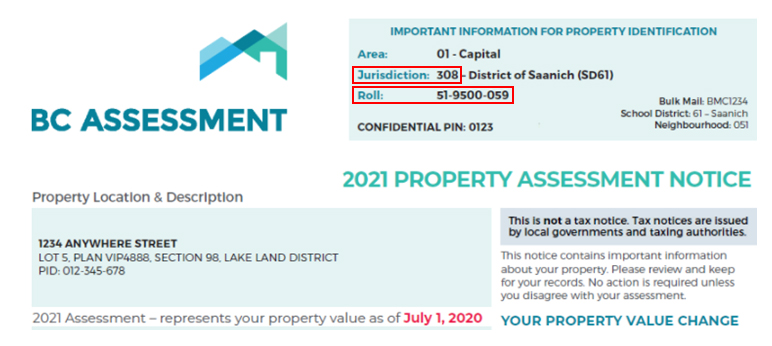 You'll also need your social insurance number. Your personal information is encrypted at the time of entry to ensure your information is kept secure.
We will contact you if we require additional documents to support your application. To provide additional documentation, use our secure portal through eTaxBC to upload your documents.
After you apply, you can check your application status online using your confirmation number or case ID.
Apply by phone
You can apply by phone 24 hours a day, 7 days a week using the self-service phone system. If you need assistance, agents are available Monday to Friday, 8:30 am to 5:00 pm, excluding statutory holidays. Translation services are available.