Kamloops Fire Centre bans and restrictions
Prohibitions apply to all public and private land, unless specified otherwise. Please check with your local government authorities for any other restrictions and assess conditions before lighting any fire.
View all bans and restrictions for the Kamloops Fire Centre, which spans between Blue River in the north to the U.S. border in the south and from Bridge River in the west to Monashee Mountains in the east, including the Southern Okanagan and the Lytton and Lillooet area.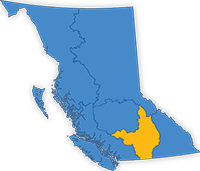 Current Kamloops fire bans and restrictions
​The following activities and equipment are currently prohibited throughout the Kamloops Fire Centre:
Fireworks
Sky Lanterns
Binary Exploding Targets
Burn Barrels or Burn Cages of any size or description
Air Curtain Burners
An Area Restriction Order is in place north of Heffley Creek in the area of Evergreen. This area restriction came into effect on June 17, 2022, for the purpose of limiting the risk of human-caused wildfires in the area.
Effective at 12 p.m. (noon) on Friday, September 2, 2022, campfires will be permitted throughout the Kamloops Fire Centre.
---
Map of affected areas
---
More information