Together for Wildlife - Goal 1
All British Columbians have a voice in wildlife stewardship
We will strengthen and broaden relationships to make the engagement process more open, transparent and effective.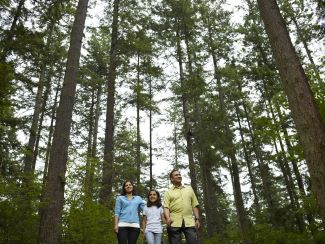 Wildlife stewardship is a shared responsibility and requires that everyone have a voice.
The Together for Wildlife strategy is the Province's commitment to develop inclusive and cooperative governance structures and to make existing engagement processes more transparent and effective.
We will build new relationships to ensure that we work in partnership with all British Columbians to improve outcomes for wildlife stewardship.
We commit to the following Actions 1-3 to achieve Goal 1
We established a Minister's Wildlife Advisory Council with members from across British Columbia. Council members are bringing together a wide range of expertise in natural resource stewardship and have a passion for wildlife and habitat. Council members include First Nations, the public, local government, academia, natural resources and other industry sectors, and conservation organizations.
The Council advises and supports the Minister on implementation of the Together for Wildlife strategy, as well as on new and existing provincial legislation for wildlife and habitat stewardship, provincial initiatives across government that affect wildlife stewardship, and other priority wildlife stewardship matters identified by the Minister.
Action 1 - work completed in 2020-2021
Appointed Council members and Co-Chairs
Developed a draft Terms of Reference
Supported Council meetings and Minister meeting with the Council
Action 1 - work underway/planned for 2021-2022
Support Council work planning and policy work
Seek advise from Council on strategy implementation
Support preparation and posting of a Council annual progress report
We will create or expand existing Regional Wildlife Advisory Committees to represent a variety of perspectives and provide opportunities for collaboration to improve wildlife stewardship. We will tailor committees to meet the unique needs and priorities of each region and ensure the committees can influence and be involved in processes that affect wildlife stewardship (e.g., land use planning, cumulative effect assessments, wildlife and habitat monitoring, etc.).
Regional Wildlife Advisory Committees will provide opportunities for dialogue with provincial government programs, industry, stakeholders, local governments, and the public that complement the government-to-government relationships the Province is committed to pursuing with Indigenous governments. Indigenous governments will be encouraged to join Regional Advisory Committees as the Province's government-to-government partners.
Action 2 - work completed in 2020-2021
Inventoried regional engagement bodies and collated Terms of References, where available
Began discussions with regional staff
Action 2 - work underway/planned for 2021-2022
Engage with First Nations, regional stakeholders and regional staff
Identify issues and opportunities to improve regional engagement
Identify linkages among related engagement initiatives in regions (e.g., Forest Landscape Planning, Modernized Land Use Planning, etc.)
We will increase opportunities for the public to learn about and engage on wildlife stewardship issues that are important to them. We will update and expand wildlife and habitat communications, conduct province-wide surveys to better understand priority issues and opportunities, and hold public open houses in different areas of the province.
Action 3 - work completed in 2020-2021
Developed a draft Internal Communications Framework and established a working group
Created a new T4W website
Began to modernize Wildlife and Habitat Branch websites
Developed communications materials in regions (e.g., infographics)
Completed Phase 1 of open data strategy through publication of data sets
Action 3 - work underway/planned for 2021-2022
Continue to modernize Wildlife and Habitat Branch websites
Create websites for advisory bodies (Minister's Council, First Nation Forum, Provincial Hunting and Trapping Advisory Team)
Explore options for social media
Conduct a provincial survey on public interests and attitudes regarding wildlife and habitat stewardship