Site Remediation News
Please note: We invite you to subscribe to this web page to receive News & Updates from Site Remediation.
Current subscribers of CS e-Link need not re-subscribe.
Site Remediation Subscription Service
The CS e-Link subscription service is moving to a new platform within the B.C. Government as of March 31, 2020. This will not affect current subscribers but you may notice a slight difference in the style of email from the new system. If you have bookmarked the old CS e-link page, you will want to replace that with a link to the Site Remediation News page.
The purpose of the Ministry of Environment and Climate Change Strategy's Subscription Service is to identify legal, technical, policy and guidance information related to the management and administration of contaminated sites in British Columbia which may be of interest to subscribers. Mention of non-ministry documents or presentations does not constitute ministry endorsement of their contents; only an acknowledgment that they exist and may be of interest to Site Remediation News subscribers.
To subscribe to this system, please enter your email in the "Subscribe Box" on the top right-hand corner of this page. Click Submit.
An email will be sent to your inbox to verify the request. Please follow the link to verify.
You will receive another short message welcoming you to the system.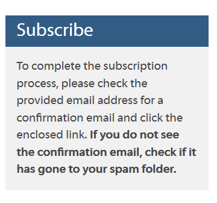 You can unsubscribe anytime by following the unsubscribe link on every email message.
---
​Listed below are the most recent messages sent out to subscribers.
May-August 2020
July 10, 2020
The Order in Council (OIC 368) for the Contaminated Sites Regulation (CSR) amendment was approved by Cabinet on June 24, 2020. Bill 17 "The Environmental Management Amendment Act" received Royal Assent in May 2019. The legislative amendments were to streamline the site identification process by making it more predictable and easier to understand.
This OIC is for the Stage 13 amendments to the CSR, which are required to bring Bill 17 into force. The CSR amendments will strengthen the site identification process and ensure that sites are investigated and remediated promptly after closure and prior to redevelopment. The revised site identification process will minimize administrative processes, improve clarity and ensure equal application of regulatory requirements across the province. Responsibilities for oil and gas sites are also addressed. There will be no ability to opt-out and there will be an automatic requirement to investigate a commercial or industrial site if a person is seeking redevelopment or wanting to shut down operations. Administrative Guidance 6 release options will still be available; although there will be a few minor changes involving high-risk sites and multi-phase development projects.
The amendments will allow for more focus of ministry resources on high-risk sites and overall compliance verification and enforcement, with the overall result of increased protection for human health and the environment.
The changes address issues raised during the initial consultation with industry, other ministries, local governments and Indigenous nations across the province. The ministry has a comprehensive implementation plan to help local governments, Indigenous Nations and others respond to the changes, including updated webpage information, revised policy documents and training opportunities.
The CSR amendments were deposited on June 29, 2020. Changes to site identification come into effect on February 1, 2021.
June 22, 2020
Land Remediation Section has posted a new job opportunity. This position will be supporting regulatory changes and implementation of revised soil relocation provisions in addition to work on site profiles, site registry, authorizations and compliance.
Job details:
Contaminated Sites Officer - Scientific Technical Officer R24
An eligibility list may be established for a future temporary and permanent position in Victoria or Surrey.
Currently available: 1 permanent position in Victoria. Surrey location may be considered.
Posting closing date: July 2, 2020, at 11:00 pm.
For complete details about this opportunity, including accountabilities, please refer to the job profile (https://bcpublicservice.hua.hrsmart.com/hr/ats/Posting/view/69967). For specific position related enquiries, please contact Valentina.Yetskalo@gov.bc.ca
June 15, 2020
The requirement for paper copies of reports has been suspended. For the duration of the public health threat, a complete submission for site services and site risk classification includes electronic copies of a completed Contaminated Sites Services Application Form (CSSAF) and relevant forms, reports, figures and tables. Payment for services must be received before the service is provided by the ministry. 'Additional services and functions' charged at an hourly rate will be invoiced upon completion of the service.
For a detailed description of the ministry submission requirements, fees and a new payment option, please visit the Apply for Services webpage.
Questions related to the revised requirements for site services should be directed to the ministry Client Information Officer (Environmental Emergencies and Land Remediation Branch) at csp_cio@Victoria1.gov.bc.ca.
January-April 2020
2019 Archive