Highway 97 - Peachland Transportation Study
We are exploring ways to improve safety, travel times and congestion moving in and through Peachland and the Central Okanagan region. The Peachland Transportation Study launched in 2015 and is now entering its second phase. It is part of the broader Central Okanagan Planning Study
We are studying ways to accommodate increasing traffic volumes that have resulted from the strong economic and population growth in the Central Okanagan. Improvements to the Peachland section of Highway 97 will ensure the highway better meets the mobility and safety needs of the region, both now and in the future.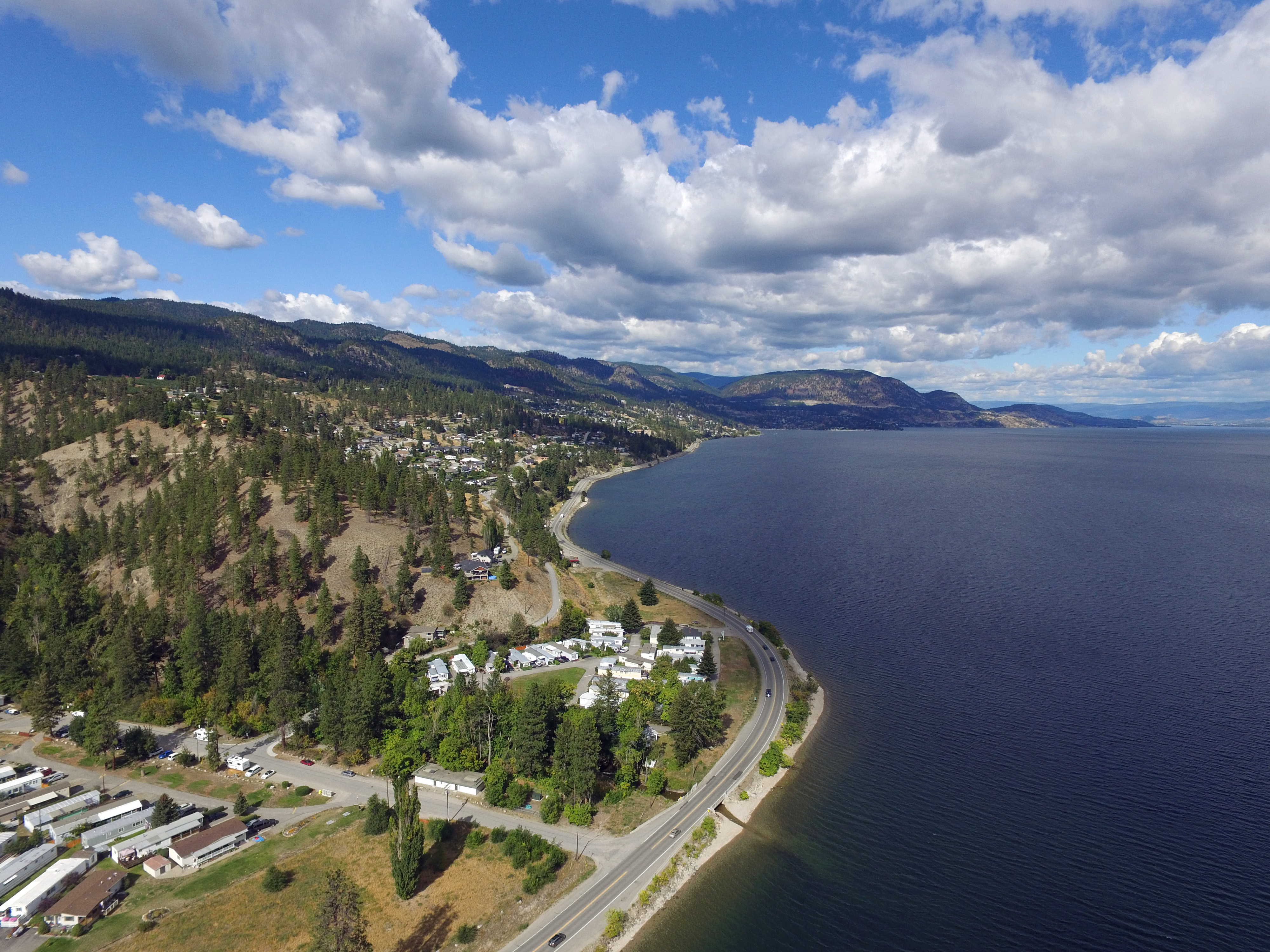 Phase I: What we did
In Phase I, we examined conditions along the current highway and future transportation needs around Peachland to develop an understanding of the transportation priorities and constraints in the region. Some of the findings include:
One-third of the traffic that starts in Peachland stays in Peachland
Highway 97 in Peachland is vital for both local trips within Peachland as well as long-distance connections to, through and from Peachland
Peachland hosts high volumes of visiting traffic, particularly in the summer months
Safety concerns associated with getting on and off the highway may increase at intersections as wait times grow (along with traffic volumes)
Community engagement was an integral part of Phase I. Initial engagement took place in 2016, where community members and stakeholders identified their ideas, values, considerations, and concerns about the corridor and future changes. They also shared feedback on the results of the conditions and performance assessment.
Based on these findings, the project team identified several options to improve traffic safety and address congestion in the region. We identified five options involving the creation of an alternate route, bypassing Peachland, and 14 segment options that would upgrade the existing highway. We brought these initial options to the public for feedback through two open houses in 2016.

Technical Screening
Equipped with feedback from Phase I engagement, the project team began a rigorous technical evaluation process through 2017-2019. The team screened each option for environmental impact, social and community impacts, traffic and travel demand, engineering feasibility, and cost. This process helped the team create a shortlist of options.
The team examined five alternate route options – formerly referred to as bypass options. We also explored fourteen existing route segment options, where we looked at different portions of Highway 97 to understand how to improve and enhance specific segments of the alignment. The initial alternate and existing route options were put through technical screening to determine if any of the options were too technically difficult to proceed with as part of the study.
Following the technical screening, we shortlisted three alternate route options, and three existing route option packages (each consisting of multiple segments). The existing route options packages were based on three different approaches to improve the existing highway.
Alternate route options:

AR-A – Westerly & High Elevation Route
AR-B – Central & High Elevation Route
AR-C – Lower Elevation Route


Existing route options packages:

ER-A – Maintain at-grade intersections
ER-B – Create grade separation with larger bypasses
ER-C – Creating additional grade separation with a larger bypass
Each of these short-listed options were then put through the ministry's Multiple Account Evaluation process.

Multiple Account Evaluation
A Multiple Account Evaluation (MAE) is a process used to identify key impacts and tradeoffs when making large-scale infrastructure decisions. For this project, the MAE assessed each alternate and existing route option on four key accounts and their associated criteria:
Customer service: which considers estimated traffic volumes, safety, effects on travel times, and accommodation for pedestrians and cyclists

Socio-community: which considers property, visual, noise, community impacts, and consistency with community plans where feasible
Environmental: which considers land and aquatic impacts, archaeological or historical impacts, and the impacts of greenhouse gas emissions
Financial: which considers capital costs, maintenance and rehabilitation costs, and property costs
The following graphics summarize the technical screening and MAE process as it was applied to the initial five alternate and initial 15 existing routes options. To review a summary of the technical and MAE screening results. Download the Phase I Screening Guide.
Findings
Based on technical screening and the MAE, the ministry identified AR-C (Lower Elevation Route) as the preferred alternate route option and ER-A (Maintain At-Grade Intersections) as the preferred existing route option package.
In spring 2019, the project team engaged with the project's community liaison and technical advisory committees, as well as the District of Peachland Council and Penticton Indian Band to refine the preferred options and ensure they better reflected the needs and considerations of Peachland.
Based upon this engagement, the ministry has re-introduced AR-4 as a preferred alternate route option for further consideration. AR-4 was one of the original alternate route options presented to communities in 2016. It is similar to AR-C, the Lower Elevation Route, except along the southern portion of the alignment where it extends further west into the Deep Creek valley before reconnecting with the existing highway. Though AR-4 was initially removed from consideration based on the initial technical screening findings, feedback from community representatives led to its re-introduction to the set of options shortlisted for further and detailed analysis.
To read a complete summary of the feedback received through the spring 2019 refinement process, please see our What we heard report.
The project team has now completed its comprehensive technical report which concludes Phase I of the Peachland Transportation Study. To read the report, please click here.
FAQs