Highway 97 Lake Country Planning Study (Glenmore/Beaver Lake Road)
The ministry has completed the Highway 97 – Lake Country (Glenmore/Beaver Lake Road) Planning Study which investigated and identified the future transportation needs of Highway 97 between Duck Lake and Lodge Road through the District of Lake Country.
While the study builds upon the completed Central Okanagan Planning Study work, it goes further to integrate a planning approach to better align transportation and land use planning within the study area. The study is also informing the regional transportation planning work underway through the Province's Central Okanagan Integrated Transportation Strategy.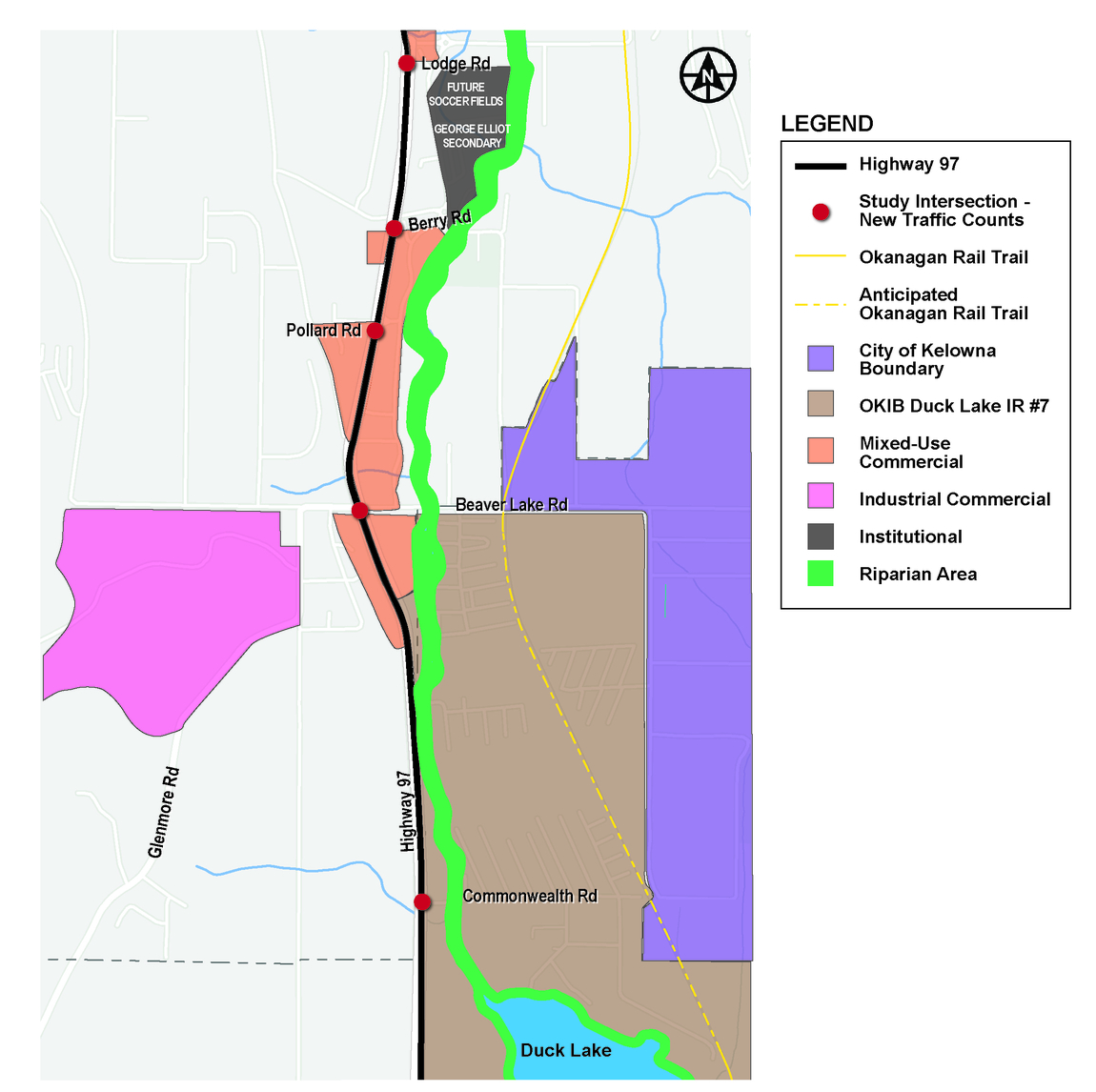 Status
The study is now complete and identifies key considerations for any further design and investigative work that may be undertaken in the future.
The study identifies four feasible short-listed, long-term options which were evaluated considering both the technical assessment and findings of a multi-account evaluation. Each option has potential to generate sustainable infrastructure solutions for the advancement of active transportation and transit improvements, as well as goods movement, traffic safety, and vehicular movement enhancements. Each short-listed option has pros and cons that will need further assessment to inform future decision-making, however, there is no funding currently committed for further design and investigation of these projects.
Study Results
Public Consultation
The Lake Country Planning Study involved significant engagement with First Nations and stakeholders including a Technical Advisory Committee (TAC), a Community Liaison Committee (CLC), municipal staff and elected officials, and the public. Input received throughout the project helped the technical team develop community-minded solutions to address the transportation and infrastructure concerns within the study area. Meetings and engagement events during the study included:
TAC and CLC meetings
Elected official updates
Okanagan Indian Band staff meetings

Certificate of Possession (CP) Holder

Public workshop and open house
Open House
An open house was held in February 2020 in Lake Country to give people the opportunity to provide input on potential interim and long-term safety improvements for Highway 97 through Lake Country.
All feedback received from the February 2020 public engagement was considered prior to finalizing the study.
Next Steps
The ministry will continue to engage with the Okanagan Indian Band, the District of Lake Country and the City of Kelowna to facilitate interim steps that will contribute to the progression of the short-listed options identified in the study, however, advancement of any further design and investigative work to develop the projects will be on hold until funding can be obtained.
The findings from this study will be incorporated into the Central Okanagan Integrated Transportation Strategy. In turn, the Central Okanagan Integrated Transportation Strategy will be informing priorities for future funding, which includes options identified in this study.