Central Okanagan Integrated Transportation Strategy
We are developing an integrated, multi-modal transportation strategy for the Central Okanagan to improve people and goods movement.
The Central Okanagan Integrated Transportation Strategy is the next phase of the Central Okanagan Planning Study (COPS) and the next step in the development of an integrated plan to improve the primary highway corridor through the Central Okanagan. The strategy will bring together the learnings gained from previous studies conducted by our partners in the region and build upon those outcomes to create a plan for the next 20 years.
The strategy will:
Integrate transportation and land use planning to support economic and community growth
Identify integrated, multi-modal (including walking, cycling, transit and driving) transportation solutions that meet the safety, cost, feasibility, sustainability, accessibility, and equity goal
Align with the goals of CleanBC Roadmap to 2030
Address areas of opportunity for collaborations that were identified in partner studies
Identify short, medium, and long-term projects that will drive incremental improvements along the corridor
Building Upon Previous Transportation Planning Work
The strategy will unite the findings across multiple studies to develop an integrated, comprehensive transportation and infrastructure plan for the Central Okanagan. These plans include:
Highway 97 – Westridge to Clerke Road Planning Study (2019)
Okanagan Gateway Transportation Study (2020)
By leveraging the work done in recent years by regional/corridor studies and other local community plans, the strategy will support transportation and community livability goals, in the Central Okanagan by:
Using a coordinated approach to planning and network improvements that promotes a thriving economy and prepares for future growth
Providing safe, efficient, affordable, and accessible mobility choices for all people
Encouraging the development of diverse, resilient communities that provide the amenities, housing, and quality of life people value
Supporting the Province's plans to address climate change and reduce greenhouse gas emissions through increased availability of sustainable options
Central Okanagan Planning Studies Timeline
Central Okanagan Planning Studies Map
Community Engagement
Public and stakeholder engagement is an essential part of the strategy's goal to create an integrated transportation plan. To ensure inclusivity in all aspects of the strategy, engagement will be guided by Gender Based Analysis Plus (GBA+). GBA+ considers many identity factors such as gender, race, ethnicity, religion, age and mental or physical ability, and how the interactions between these factors influence the way people might experience transportation initiatives. The strategy will be informed by engaging with:
Municipal representatives from local governments
Transportation and Engineering staff representatives from local governments
Indigenous communities
BC Transit
Community representatives
In addition, the strategy will use information collected from the public during previous planning studies, which conducted extensive engagement activities throughout the Central Okanagan.
Previously Conducted Public Engagement
Each of the previously completed planning studies that inform the Central Okanagan Integrated Transportation Strategy included a complete public engagement program. Over the last seven years, there have been:
12 public open houses
over 1,800 attendees
more than 2,600 surveys completed
approximately 2,200 comments made by members of the public
Responses from the previously conducted public engagement have been studied and will help to determine the strategy's recommendations.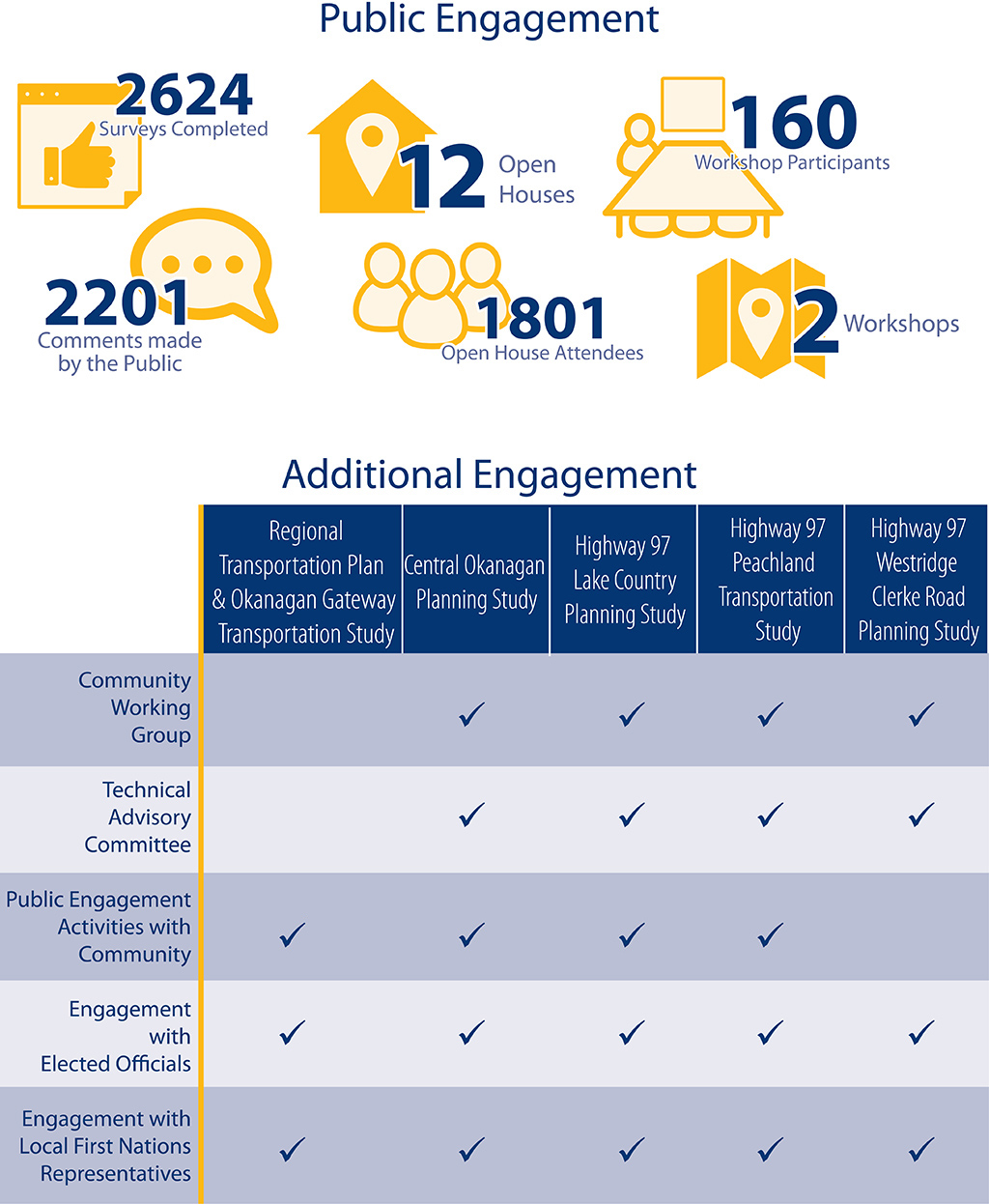 Future Opportunities for Public Engagement
The strategy will include a number of recommendations and an implementation plan for the next 20 years. As these recommendations are reviewed and priorities are implemented, the public will be invited to provide feedback as each project progresses.