BC Prosecution Service
As an integral part of the Ministry of Attorney General, the BC Prosecution Service will deliver on its core responsibilities in a manner that safeguards prosecutorial independence, and supports an effective justice system through communication, collaborative effort, and innovation.
The BC Prosecution Service's core responsibilities include:
Approving and conducting criminal and regulatory prosecutions
Initiating and responding to appeals
Providing criminal law advice to government
Developing policies and procedures on the administration of criminal justice
Liaising with the media and the public on prosecution matters
Any other function or responsibility assigned to the BC Prosecution Service by the Attorney General
The Criminal Justice Process
Prosecution files are managed as one part of the overall criminal justice system: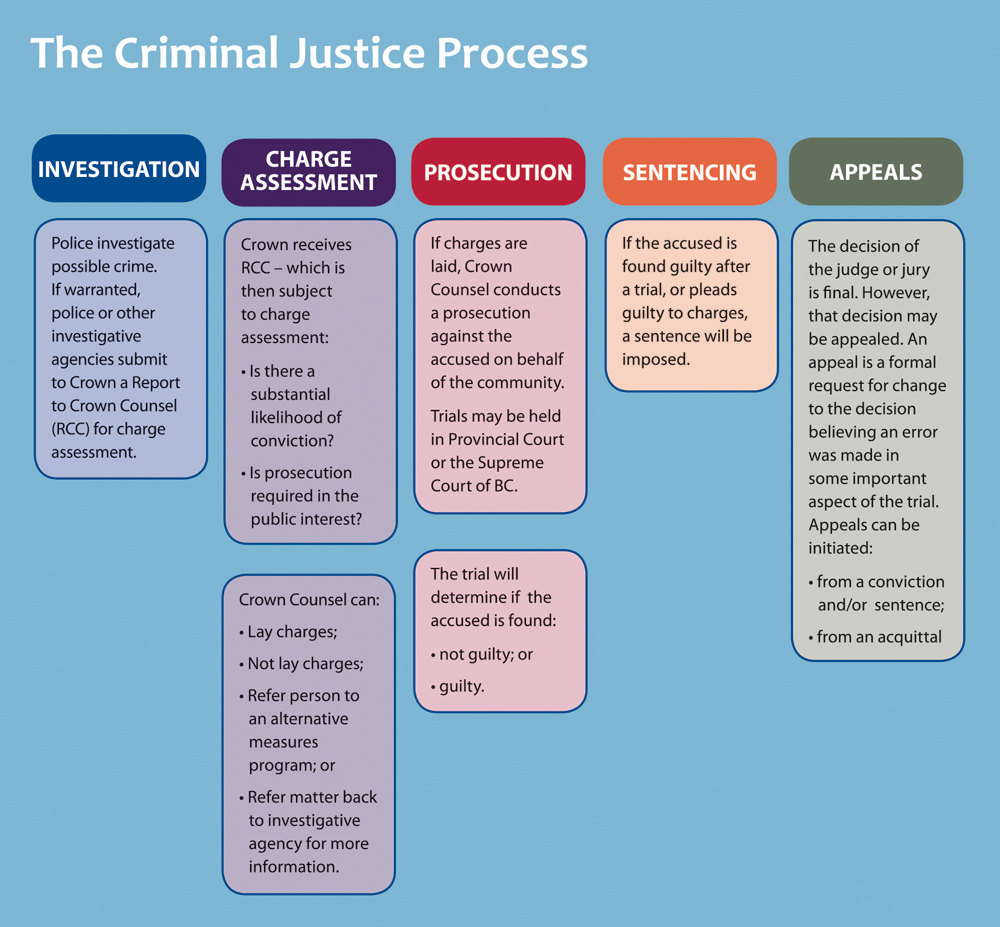 Independence of Crown Counsel
As mandated under the Crown Counsel Act, Crown counsel make their prosecutorial decisions independent of any outside influence.
Media Statements
January 31, 2019
Appointment of Special Prosecutor
Victoria - The BC Prosecution Service (BCPS) announced that on March 20, 2017, the Acting Assistant Deputy Attorney General John Labossiere appointed a Special Prosecutor in relation to allegations of theft of money from the constituency office of Chilliwack MLA John Martin.
January 25, 2019
Dangerous driving charge approved against Vancouver Police Officer
Victoria - The BC Prosecution Service announced that a charge of dangerous driving causing bodily harm has been approved against a member of the Vancouver Police Department in relation to an on-duty collision with a pedestrian on January 6, 2018.
December 10, 2018
Special Prosecutor issues Clear Statement re: Draft Multicultural Strategic Outreach Plan
Victoria - The BC Prosecution Service announced that Special Prosecutor David Butcher QC has issued a Clear Statement addressing his involvement in the investigation and prosecution of individuals following the receipt by the RCMP of a complaint arising out of the Review of the Draft Multicultural Strategic Outreach Plan, a report that was completed in March 2013 by the then Deputy Minister to the Premier.
December 5, 2018
New Special Prosecutor appointed in R v Strimbold
Victoria – The BC Prosecution Service announced that a new Special Prosecutor has been appointed following the withdrawal of Special Prosecutor Leonard Doust QC from the prosecution of Luke Strimbold for personal reasons.
November 20, 2018
Special Prosecutors appointed
Victoria – The BC Prosecution Service announced that David Butcher, QC and Brock Martland have been appointed as Special Prosecutors to provide legal assistance and advice to the RCMP in relation to an investigation being conducted into the activities of senior staff at the British Columbia Legislature.
November 14, 2018
No Charges Approved in Allegation of Theft by Abbotsford Police Officer
Victoria – The BC Prosecution Service announced that no charges have been approved following an allegation of theft of money by a police officer during a search of an Abbotsford residence pursuant to a search warrant.