Brian Walisser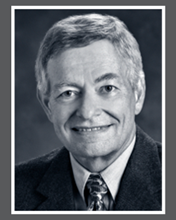 "Working in government gave me a rare opportunity to refine the structure of British Columbia's institutions for local public governance. These institutions touch all citizens in countless ways and it is very satisfying to think I may have helped make things just a little better for all."
Brian Walisser received a joint Legacy Premier's Award with Gary Paget in 2010 and was inducted into the Hall of Excellence in 2014. Gary and Brian shaped and improved B.C.'s unique local government system. Their efforts benefited regions, communities and people throughout B.C.
Together, Gary and Brian led or significantly contributed to milestone changes in B.C.'s local government system, including:
Establishment of a new model of resource town governance
Revitalization of regional districts
Rebirth of cooperative regional planning
Creation of a variable property tax rate system
Transformation of the Municipal Act
Working for the Local Government Department, Brian and Gary were critical to designing, strategizing, developing and implementing these vital changes. They uniquely combined the practical and conceptual to make a real difference for the provincial government, the local government system, the services, democratic institutions and development of each community and region, and ultimately, citizens throughout B.C.
While they were exceptional partners, they each made lasting contributions on their own.
Brian joined the department as a policy analyst in 1978 and built his legacy from shaping the policy and legislative framework that determines how communities and regions deal with the issues noted above.
He was a leader in shaping new legislation for local government grants, property assessment appeals and safety standards governance. He demonstrated innovation in professionalizing virtual policy development and support for the Provincial/Territorial Table of Ministers responsible for local government.
Like Gary, he was a mentor and a teacher. He supported strategic workforce planning in the BC Public Service as an early proponent of co-op students when few knew they existed.
Individually Gary and Brian authored many articles and together wrote Local Government Excellence through Collaborative Partnerships, an essential guide to local governance in B.C. presented at the 2006 United Nations' World Urban Forum 3.