B.C. Government Consultation Process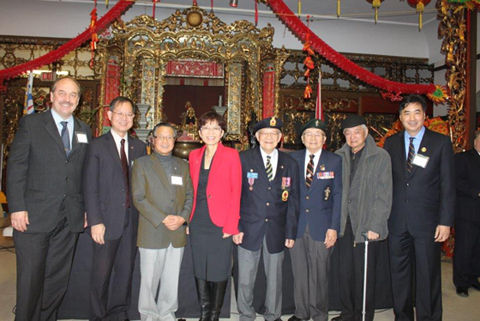 Victoria consultation, from left to right: Andrew Weaver MLA, Richard Lee MLA, Dr. David Lai, Minister Teresa Wat, Victor Wong,Gordon Quan, Jon Joe, and Thomas Chan
In late 2013, the Ministry of International Trade and Ministry Responsible for the Asia Pacific Strategy and Multiculturalism began a consultation process leading to a formal apology to Chinese Canadians for historical wrongs. Participants in the consultations were asked to consider what the apology should say and how it should be delivered. They were also invited to suggest legacy initiatives to help British Columbians understand the impact of these historical wrongs and the achievements of Chinese Canadians.
Between Nov. 17, 2013, and Jan. 27, 2014, seven public consultation forums were held in various communities throughout British Columbia. Four forums were held outside the Lower Mainland (Victoria, Kamloops, Kelowna and Prince George) and three in Metro Vancouver (Vancouver, Burnaby and Richmond).
Approximately 1,300 people engaged in the consultation process. Participants at the forums included staff and volunteers from large community associations, family and clan associations, merchants' associations, educators, veterans, academics, Freemasons, community service providers, students and youth, community elders, and a multitude of members of the general public.
Based on the information gathered, the historical context was summarized and a series of recommendations were prepared. A list of recommended legacy initiatives is outlined in the Final Report on the Chinese Historical Wrongs Consultation (PDF).
Purpose
The government will engage with British Columbia's Chinese community associations and individuals who were directly and indirectly impacted by prejudicial legislation to work towards offering an appropriate public apology, read in the provincial legislature and supported by all parties in the B.C. government.
Financial redress from the provincial government will not be considered by the minister. In 2006, the federal government acknowledged their role in legislative injustices with a parliamentary apology and ex-gratia payments to surviving head tax payers and surviving spouse of head tax payers only.
Goals
Hold seven community consultation forums to bring together relevant Chinese community associations and individuals directly impacted by historical wrongs, to seek input on the best approach in providing an apology.
Specifically, consultation forums will:
Seek input from community associations and individuals who were directly and indirectly impacted by historical discriminatory legislation.
Engage local representatives from a number of Chinese-Canadian communities to confirm consultation locations and receptivity.
Conduct focused consultations seeking comment, suggestions and advice regarding the wording and delivery of an apology from the legislature.
Reporting
The minister, in collaboration with members of the Opposition, will prepare a consultation summary following the conclusion of the consultation process that will include:
A brief synopsis of public comments, suggestions and advice.
Comments and observations from the minister.
Recommendations, including wording and delivery advice of any apology from the Legislative Assembly.