Manifests
The manifest tracks the shipment of hazardous waste – copies of which accompany the hazardous waste being transported from the point of generation, through transportation, and acceptance at an approved receiving facility. It documents the type and the amount of waste, who shipped it, who transported it, who received it and how it was handled.
Each party is required to complete his/her section of the manifest, sign off on the content, and distribute and retain the appropriate copies. The reverse side of the manifest provides instructions on how to complete and distribute the copies. The manifest may be completed by hand, typewriter or printer.
If the shipment originates in British Columbia, then the appropriate B.C. manifest, issued by the Government of British Columbia with a unique Identifier number, must be used.
Instructions
Find instructions on completing and distributing the manifest and manifest supplement forms:


Consignor (Generator): a person/company who a) produces or stores hazardous waste, and b) causes or allows more than a quantity of hazardous waste, as prescribed in Section 46 of the Hazardous Waste Regulation (HWR), to be transported from the property where it is produced or stored.

Carrier (Transporter): a person/company who transports more than the quantity of hazardous waste prescribed in Section 46 of the Hazardous Waste Regulation.

Consignee (Receiving Site): a facility who receives more than the quantity of hazardous waste prescribed in Section 46 of the Hazardous Waste Regulation.
HWR S.46(1) Prescribed quantities
| Hazardous Waste | Amount |
| --- | --- |
| Solids | 5 kg |
| Liquids | 5 litres |
| Compressed Gases (contatiner capacity) | 5 litres |
| Waste Oil | 210 litres |
| Waste Paint | 210 litres |
| Waste Batteries | 1,000 kg |
| PCB (liquid or solid) | Any quantity that contains greater than 500 g of PCB |
Manifest Supplement Forms
The Multiple Consignors Supplement Form, the Multiple Carriers Supplement Form and the Multiple Wastes Supplement Form may only be used for a single trip, not for multiple trips. In this case, 'trip' means the transportation of hazardous waste from the consignor(s) to the intended consignee or other intermediary site where the hazardous waste is off-loaded or stored.
The Manifest Supplement form (multiple carriers, multiple consignors or multiple wastes) is not a shipping document on its own and must be attached to a manifest.
Images of the Manifest (Movement Document) and Manifest Supplement Forms
General Manifest Form

Multiple Consignors
A Multiple Consignors Form is used in addition to a manifest when a carrier is collecting hazardous wastes with the same shipping name from more than one consignor – in order to establish a bulk load.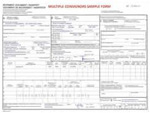 In B.C, waste carriers who collect hazardous waste of the same type from more than one consignor and deliver the completed shipment to a single receiving location must carry a completed manifest form with a Multiple Consignors Form (Form 3) attached. The form is intended to reduce paperwork by allowing the carrier to attach the completed multiple consignors form(s) to a single manifest rather than using a manifest for each consignor.
It is imperative that the cumulative total amount of waste in the load be inserted on the multiple consignors' form (last column on the right) after each pickup throughout the trip. This is a requirement of the Transportation of Dangerous Goods Act. Once the load is complete, the total amount of hazardous waste being transported to the consignee (receiver) must be entered on the manifest form.
Multiple Carriers
A Multiple Carrier Form is used in addition to a manifest when a shipment is transported by more than one carrier from a single consignor to a single destination (consignee).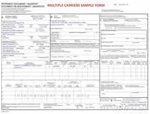 Multiple Wastes
A Multiple Wastes Form is used in addition to a manifest when there is not enough room on the manifest to record all the wastes being carried in one load from one consignor, and being delivered to one consignee.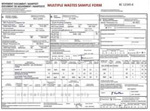 Where to Mail the Applicable Copy of a Manifest?
A list of the appropriate authorities and their contact information is given at the back the manifest. Depending on the version of your manifest form, the most updated address(es) may or may not be there.
For British Columbia, the applicable Copies of a manifest (Copy 1 and Copy 3) must be mailed to:
Via Mail: Business Service Branch
Ministry of Environment and Climate Change Strategy
PO BOX 9377 Stn Prov Govt
Victoria BC V8W 9M6
Via Courier: Business Service Branch
Ministry of Environment and Climate Change Strategy
3rd Floor, 525 Superior Street
Victoria, BC V8V 1T7
Phone: (250) 356-5044
When is a Manifest Form not Required?
A manifest form is NOT required when:
The wastes being transported are not dangerous goods or designated hazardous wastes, or it they are specifically exempted such as:

Dangerous goods that are defective, surplus or not usable for their intended purpose and are being shipped back to the manufacturer
Waste asphalt and tar used in the manufacture of asphaltic concrete and roofing materials
Radioactive dangerous goods
Waste wood products treated with pesticides registered under the Pest Control Products Act
Household refuse
Domestic sewage

The quantities of hazardous waste being transported are below the minimum thresholds as per S.46(1) of the Hazardous Waste Regulation.
A Manifest form is also NOT required when hazardous wastes are transported:
Solely within the property boundaries of the generator for a distance less than 100 km
On a public road for a distance less than 3 km
By a homeowner or a farmer from their home or farm directly to a waste management facility authorized by the province or municipality
Provincial Identification Numbers
Provincial Identification numbers – either prefixed by BCG or RS – must be entered on manifest forms as "Provincial ID No." when transporting hazardous waste in a quantity where a manifest is required. In the case where a facility is shipping hazardous waste in quantities that require a manifest but the facility does not require registration (i.e. a Provincial Identification number is not issued), then "N/A" can be entered as the Provincial ID No. on the manifest. Do not leave this section blank.