Passenger Transportation Registry
The passenger transportation registry provides public access to information about British Columbia passenger transportation licence applicants, licensed operators and application decisions.
Licensee Reports
See the listing of all current passenger transportation licensees who hold general and/or special authorization(s):
Find lists of special authorization licensees for taxi, limousine, shuttle and other passenger-directed vehicles, and inter-city buses
Find the Passenger Transportation Board Weekly Bulletin for summary of new special authorization applications and application decisions
These lists are provided for informational purposes only and are subject to change without notice.
Approved Ride-Hail Companies
There are five operating regions for ride hail in B.C. as determined by the Passenger Transportation Board.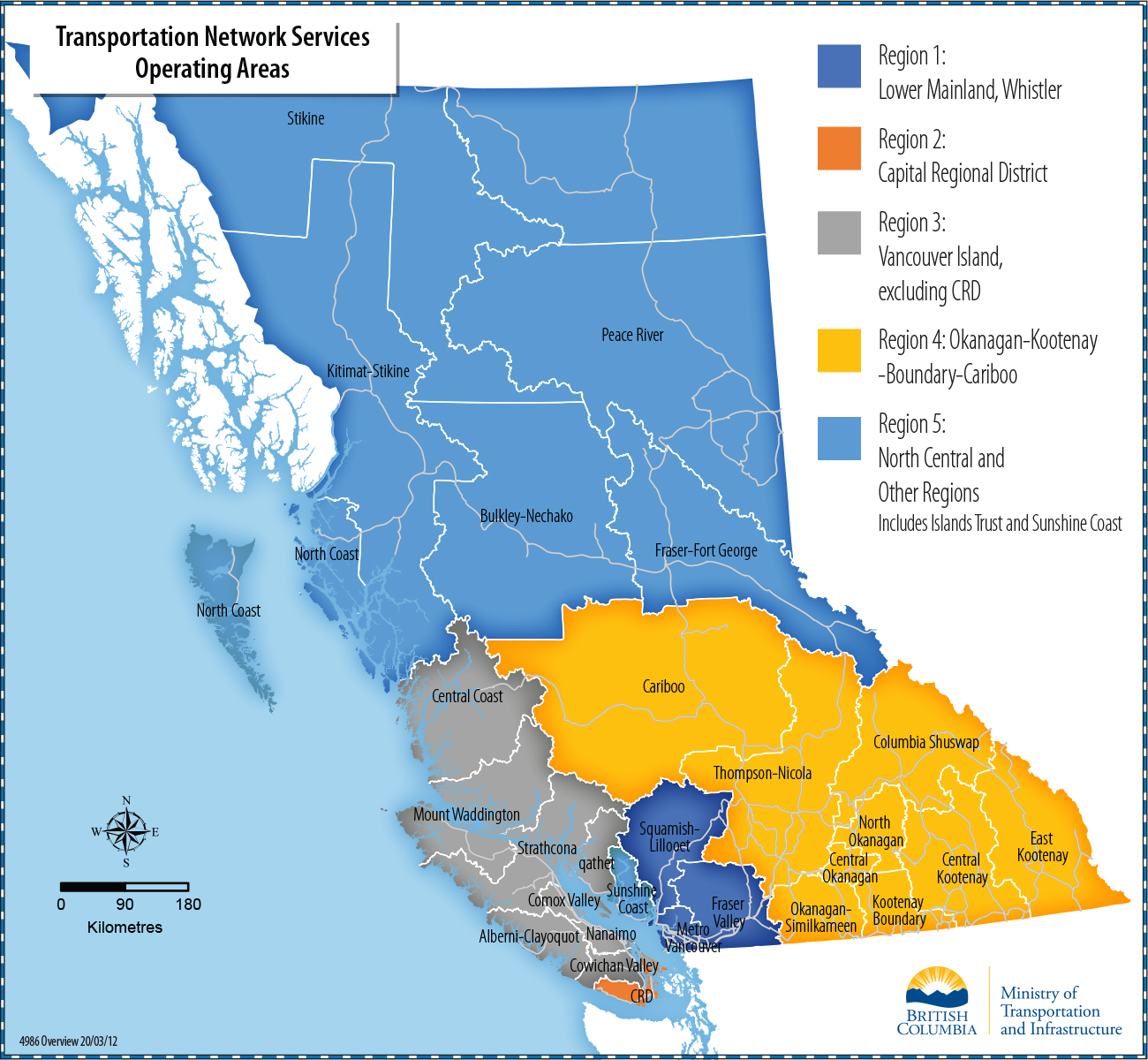 This table lists the ride-hail companies approved to operate in B.C.
Last updated: February 9, 2022
| Approved Ride-Hail Companies | Approved Operating Regions |
| --- | --- |
| Apt Rides | 1 |
| Black Top and Checker Cabs | 1 |
| Bonny's Taxi | 1 |
| Coastal Rides | 3, 5 |
| Hich | 1 |
| InOrbis | 1, 2, 3, 4, 5 |
| Kabu | 1, 2, 3, 4, 5 |
| Lucky to Go | 1, 2, 3, 4, 5 |
| Lyft | 1 |
| MDD | 1 |
| MetroRides | 1 |
| North Shore Taxi | 1 |
| Powell River Taxi | 3 |
| Prince George Taxi | 5 |
| ReRyde | 2, 3, 4, 5 |
| Ripe Rides | 1, 2, 3, 4, 5 |
| Safe Ride Sharing | 4 |
| Tappcar | 1, 2, 3, 4 |
| Transroad Airport Shuttle | 1 |
| Uber | 1 |
| Uride | 2, 3, 4, 5 |
| Vancouver Taxi | 1 |
| Vancouver Taxi Handicapped Cabs | 1 |
| Whistle! | 1, 3 |
| Yellow Cab | 1 |